A recent study from the University of California concludes that sleep can affect the rate of injury for athletes. Players who got less than 6 hours of sleep at night have an increased rate of injury during games. Sleep can help avoid accidents and help athletes recover quicker when and if injuries occur.
In our busy world we all feel like we don't have time to get the recommended hours of sleep our bodies need. This is especially true for athletes. 50% of athletes are poor sleepers and 28% have daytime sleepiness.
Athletes need longer, more quality sleep to be healthy and safer. There are products designed to help athletes sleep better, even if they already have an injury.
This is a sponsored post.
Contour Products offers a number of comfort products to help athletes (and everyone) sleep better. If you have a sports injury or pain, they have products specific for that too:
Head, Neck, Shoulders, Upper Back Pain or Injury
Use an orthopedic pillow, cervical roll, or bed wedge
Lower Back, Hips, Pelvis Pain or Injury
Use a lumbar cushion, leg support pillow, or seat cushion
Legs, Knees, Ankles, Feet Pain or Injury
Use a leg wedge or knee elevation cushion
Pillow for Back, Neck and Shoulder Pain
For back pain, neck pain, achy shoulders or muscle stiffness, the Contour Pedic Pillow (pictured in header image above) can help athletes (and everyone else) get better sleep.
This pillow has made a huge difference for my husband who has been suffering with a back injury for the past several weeks. This pillow actually cradles your head and neck to keep your spine aligned, something we can all benefit from – whether you are an athlete or not!
This is an incredibly comfortable pillow as it conforms to your unique shape. It won't make you hot either as it is made with temperature sensitive material.
My husband has had back pain for over a month, once he started using this pillow, he began to feel relief the next morning.  
You can purchase the Contour Pedic Pillow on Amazon.com for about $59.
Pillow for Head, Neck, Shoulders, Upper Back Pain or Injury
For head, neck, shoulder, upper back pain or injury, every athlete should have an OrthoFiber Pillow 2.0 on hand.
This pillow aligns the neck and spine to provide relief from pain in all these areas. It provides the support your body needs at two heights (one side is for regular support and the other extra support.
The middle section gently cradles your head whether you are sleeping on your side or back. This cradling support not only helps support your head and neck while properly aligning your spine but it also helps eliminate waking, so you get a longer, restful sleep. 
You can purchase the OrthoFiber Pillow 2.0 on Amazon.com for $34.
Pillow for Legs, Knees, Ankles, Feet Pain or Injury
For any pain or injury involving your legs, knees, ankles, or feet, try a Cool Leg Pillow.

A leg pillow helps align your back while stabilizing your pelvis. I have knee pain now and then and when I do, I use this leg pillow. It helps relieve pressure from my knees and joints while I sleep. It is actually a lot more comfortable than sleeping without anything or with an ordinary pillow between my knees/legs.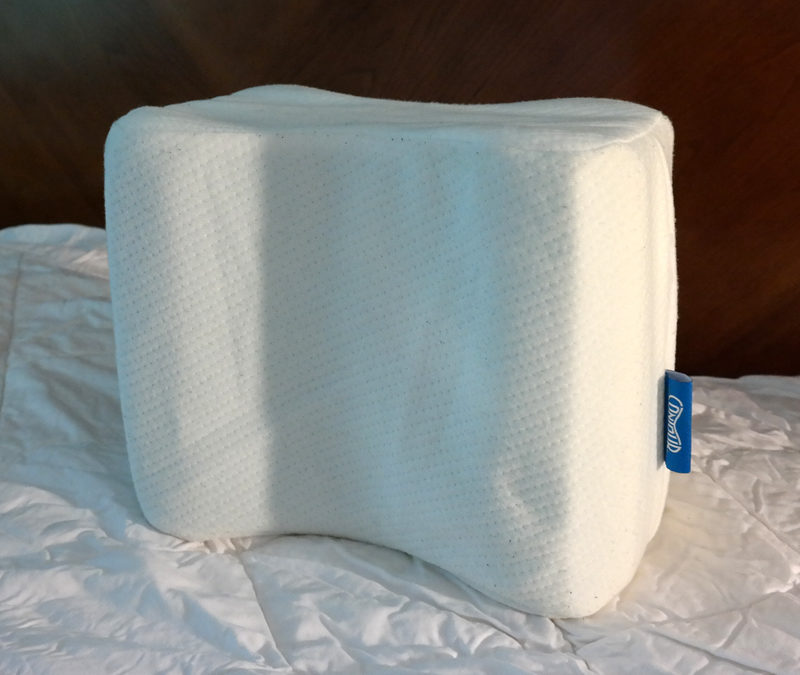 Essentially what this pillow does is it keeps your top knee from falling forward while you are sleeping. It is super comfortable to use if you are already a side sleeper. You won't even notice your using it except that you'll feel the difference. I really like how it keeps my legs, hips, and back aligned. 
You can purchase the Cool Leg Pillow on Amazon.com for about $23.
I talk about the benefits and necessity of sleep often on my blog as adequate sleep is important for health at all ages. This is especially true for athletes who push their bodies to the limit. If you or your child are athletes, don't underestimate the need for adequate sleep every night to avoid injury or the benefits of quality sleep for healing of those injuries. Check out all the sleep products from Contour Products to find your best fit.