I love the holiday season because it means spending more time with family and friends. This also means being exposed to more germs and sickness. Yikes! I've found that preparing your body with the best possible defense is the best way to keep your family healthy over the holiday season.  I've found a great line-up of organic immune boosting products from Pure Synergy that is just 'what the doctor ordered' this holiday season!
This is a sponsored post.
Pure Synergy for Immune Health
All Pure Synergy products are organic and provide exclusive extraction and concentration processing to provide you with potent and effective protection. It is a natural way to fight sickness and boost your immune system.
If you are only going to use one product this season, I suggest SuperPure Enchinacea. It is an organic triple extract featuring our exclusive CO2, H2O/ethanol, and fresh juice extracts. This maximizes the power of Echinacea for immune-boosting benefits.

Pure Radiance C is a must for everyone. It is a 100% natural form of Vitamin C with health-enhancing phytonutrients for the full Vitamin C benefits.
Super Pure Beta 1,3 Glucan gives you 500 mg of pure Beta 1,3 Glucan – the highest concentration to boost your immune system, support healthy aging and protect your whole body this cold and flu season. 
Enzyme Power helps protect your digestion for overal wellness. These plant-based enzymes aid in healthy digestion and occasional discomfort & bloating from good intolerances – perfect for this season of over indluging and eating foods that your body aren't accustomed to on a daily basis.
Rapid Rescue is just what you need when you start to feel like you may be getting sick or when you know you've been exposed to sickness at gatherings, parties, or while traveling! The immune extracts help support a straong and healthy recovery that your body needs.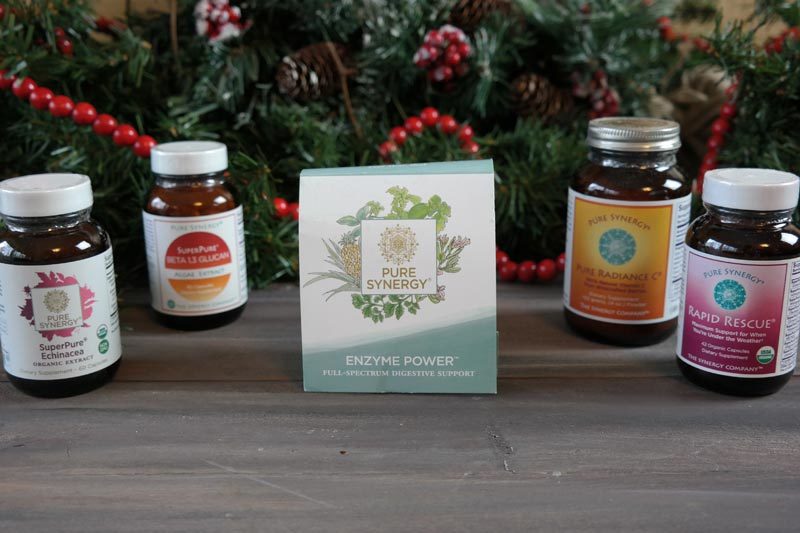 You can purchase Pure Synergy products on the Synergy website. Shop now through December 31, 2018 for FREE shipping plus 10% off!!