I was able to get a sneak peak at the new DesigNation line inspired by St. Barth's. The line is designed by the renowned American fashion designer, Peter Som and will be in stores and available online early April.
I participated in an Ambassador program on behalf of Mom Central Consulting for Kohl's. I received Kohl's gift cards and sample pieces to facilitate my posts and as a thank you for participating.
Peter Som at Kohl's
One look at the Peter Som line at Kohl's and you feel whisked away to an island getaway.  I really like the laid-back, yet stylish look of the Peter Som pieces from the DesigNation collection that I was sent to check out. Som's style is reflective of the French island of St. Barth's in the Caribbean.
With the bitter cold weather we are still experiencing in Ohio, this line of clothing is even more enticing! Picture yourself walking the white sandy beaches or sightseeing in this lovely Peter Som striped romper. The fabric looks and feels so luxurious, yet comfortable. Since these are just samples to review, I wasn't able to try on the Size 4 but you can get the idea with the photo below.
Nautical stripes are in style this Spring, making this a very trendy piece to own this season. I like the bright, vivid combination of colors too. The bottom closed left shoulder detail makes for a finishing touch. I could see myself wearing this sight seeing this Summer, to dinner, church, or any outdoor outing.
Whether on a beach or anytime in Ohio this Summer, the Peter Som Pineapple Graphic Tank is perfect for adventurous days in the heat!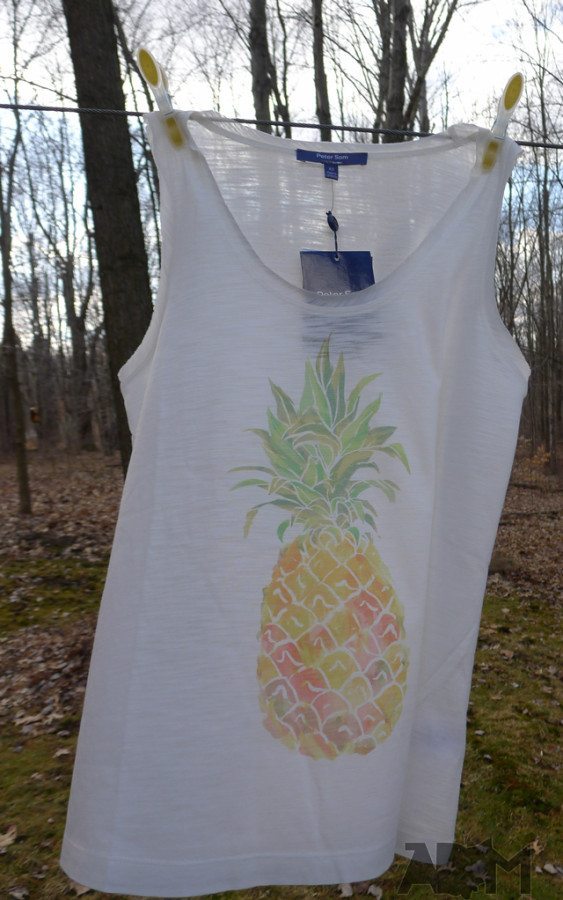 This light weight tank would look cute with shorts, capris, jeans, or even a skirt.  I enjoy playful, yet stylish clothing and this Peter Som tank is both.  I'm not a size XS, but this tank is relaxed enough and flows well for a quick picture in the 19 degree temps we had today! I plan to shop next month for a size medium while giving this one to my sister.
I think the silver statement necklace with matching earrings makes this an even more fun piece of clothing to wear, although something more simple would be just as suitable for this casual piece. From taking my kids to the park to dinner out, this tank could be worn just about anywhere this Summer.
The Peter Som Tile-Print Halter Dress could easily be worn casual with sandals or dressed up with heels for dinner out at the beach or anywhere this Summer.  This dress is totally me, the pattern is interesting but not too much. Again, I like the addition of the nautical stripes on this piece with the always classy black and white colors.
The rope tie belt with gold ends is a great finishing touch. A statement gold necklace with bangle bracelets and stud earrings would really dress this outfit up for an evening out. This is a lovely dress that would be perfect for a Summer wedding, dinner out, sight seeing, church, picnic, and more – it just depends on how you accessorize.
I can already tell that Peter Som's DesigNation line at Kohl's is going to offer timeless pieces that can be enjoyed anytime and anywhere. It is the kind of line that reminds you of an island getaway in both style and comfort.
If you like these styles, you'll be excited to hear that Kohl's is offering a pre-sale April 4-5th on the Kohl's website.  You can start shopping online on April 7th and in stores starting April 10th. I can't wait to see the other pieces from this collection next month!
What do you think so far about the Peter Som line?