We love our dogs and want them to be happy and healthy for many years to come. Does your dog get the nutrients he needs every day? Plenty of dog food lacks the necessary nutrients and vitamins our dogs need. We just introduced FetchFuel Squeezable Nutrition™ supplements to our dog, Cali. The difference has been unbelievable! Seriously!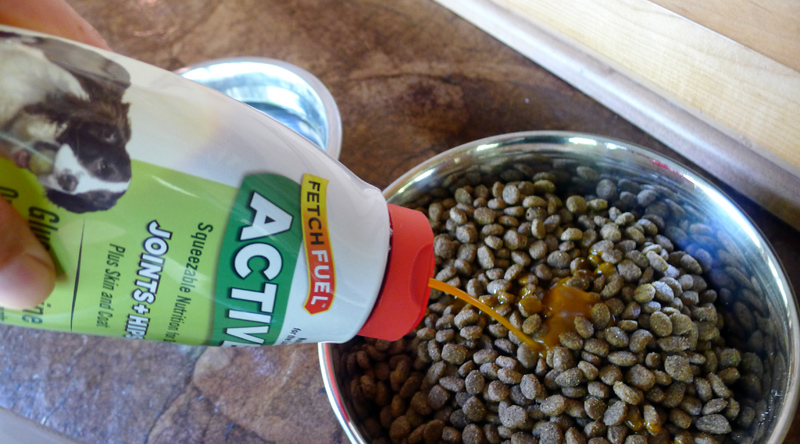 I received product to facilitate this post.
As our dogs get older, they show signs of aging like we do – they don't run as fast, their skin and coats are dull and they loose their appetites.  Even young dogs can suffer from issues like joint and hip pain, like our dog Cali. Cali is only 18 months but has never jumped or ran like our previous dogs. We affectionately call her our 'Grandma Dog' because she acts like an older dog.
We started giving her FetchFuel supplements. My kids love giving Cali her squeeze of each of the below because they like making Cali happy. Cali LOVES the flavorful sauces!
What I was most excited for her to try was the FetchFuel ACTIVE Joints + Hips formula. This formula is packed with 600mg of Glucosamine and over 275mg of Omega 3, 6, and 9 fatty acids. This combination helps support joints and hips to help maintain mobility. It was only 2 weeks after we started using the FetchFuel Active Joints + Hips that we noticed a difference – a BIG difference. While taking a hike in the woods with my husband and son, Cali started running up and down hills, jumping over logs, and was more playful than ever. I didn't believe them – this is NOT our dog. The whole family went the next day to witness the transformation. It was amazing – she was running and jumping like any 18 month old puppy should!
Before FetchFuel, Cali would rather sit in the back yard watching over her domain than run after the deer, chipmunks, and squirrels.  Not any longer! She is jumping at the windows and doors in order to get outside and run! The blend of high quality Glucosamine, Omega rich oils, antioxidants, vitamins and minerals has really helped her. I'm so glad we found FetchFuel. We will keep her on it from now on, I know she'll need it especially as she gets older.
We've also been giving Cali OMEGA, the Skin & Coat formula.  This is Cali's favorite flavor, she eats the dog food with that squirt first! It is delicious (for dogs) blend of 100% natural, omega rich wild Alaskan fish oil, olive oil, and organic coconut oil that is good for the overall wellness for any dog. It specifically helps to support healthy skin and coat, joint health, and strong heart.
If your dog has a sensitive tummy, try DIGESTION. It is packed with fiber, prebiotics, antioxidants, vitamins and minerals for support your dog's diet.
FetchFuel is a convenient way to boost your dog's nutrition. Plus, it is produced in the USA so you can feel good about that too. You can purchase FetchFuel products on the FetchFuel website and Amazon.com. 100% satisfaction guaranteed!