Our puppy Cali has a nickname unusual for a 1 year old puppy: Grandma. Why? Because she moves around like a grandma. She's slow, lazy, and doesn't jump around like a puppy.  She is healthy, just lazy – or so we thought. Recently, her behavior has done a 180 degree turnaround.
A few weeks ago, my husband and son took her for a walk at Virginia Kendall Ledges. Anyone that knows this park knows that there are many step hills and rocky paths. Normally Cali walks with us, maybe wondering a little off the path. She's exhausted once she gets home and sleeps the rest of the day. Not this time. They came home bragging about how Cali ran up and down the hills, played in the creek, and climbed steep inclines with ease. I didn't believe them. We went back the next day and I was a believer.  Compared to where she was, she is now an Olympian!
What's the difference? One simple product…
I received product to facilitate this post.
About a month ago, we starting adding FetchFuel to Cali's dog food. FetchFuel is "squeezable nutrition" for dogs, giving them the nutrients that they may not otherwise get with their everyday dog food. We all love our dogs and give them the food that we think is healthy for them but sometimes food isn't enough – just like humans that take vitamins and supplements.  Olympic athletes know the equation for success = nutrition + exercise. It's the same for our furry friends.
FetchFuel is nutrition-packed sauce that dogs love! My kids love giving Cali her FetchFuel because it makes her so happy. It tastes delicious to her, she eats it right up. No wonder, it's made in the USA with high quality, human grade ingredients!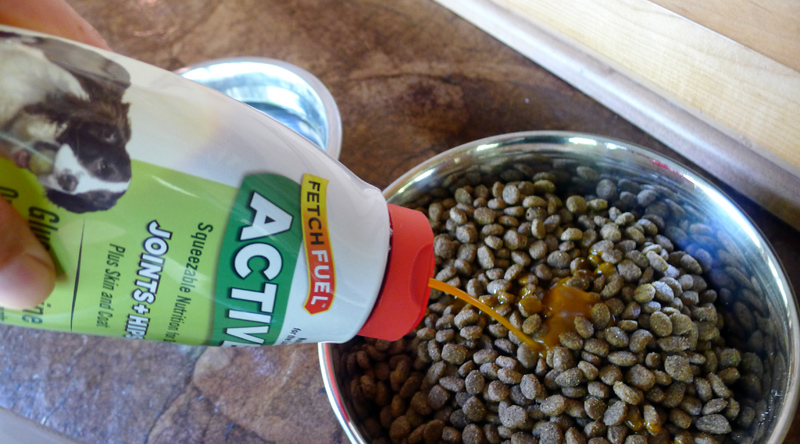 I know that for our dog, the FetchFuel Active Joints has made all the difference. Apparently her body needs an extra helping of Glucosamine, Omega 3, 6, and 9 fatty acids to support her joints & hips. I know she'll be taking this product for the rest of her life and I'm ok with that. It is just a quick squeeze every day in her dog food. It has restored to her the agility of the puppy she is. Imagine how it would help dogs with arthritis and other mobility issues. This combination has been great for her already and will only continue to improve her health by supporting healthy cartilage as well as being an anti-inflammatory product.
Cali goes crazy over the taste of the FetchFuel Omega  which is packed with 100% natural, omega rich wild Alaskan fish oil, olive oil, and organic coconut oil. It's the fish oil that she's crazy about, I'm sure of it! This product also is good for joint health as well as heart health, and overall wellness including a shiny coat.
If your dog has a sensitive tummy, check out FetchFuel Belly. It is made to sooth a sensitive tummy. It is also a good way to switch between new foods. This formula is packed with the fiber, prebiotics, antioxidants, vitamins, and minerals that your dog needs for overall good health.
I can't stress enough what a remarkable difference FetchFuel has been for our dog, Cali. She is like a new dog! She has more energy than ever, she is more active, and sleeps less. She's even trimmed up a bit after using this product for a full month – her nickname has also been fatty because she's thick for a puppy but it was because she wasn't getting the exercise she needed.
Now Cali takes longer walks with us and she plays in the yard 100X more than before. We owe it all to FetchFuel! Her nickname is no longer grandma!
You can purchase FetchFuel on the FetchFuel website as well as on Amazon.com.