For most of us, our dogs are part of the family. We have two dogs with their own unique personalities and quirks – just like the rest of us. Both have captured our hearts and we want to give them long, healthy lives. To do that, we try to give them what they need – healthy food, exercise, socializing, and play time.
One thing that I've been struggling with is what to feed them. Our older dog is on thyroid medication and is overweight. Our new rescue pup had tummy issues. I've tried numerous foods for them – there hasn't been a one-size-fits-all solution for them and they continue to beg for human food.
I've even tried to make my own dog food based on recipes I found online. I cooked food for the dogs for over a year trying to get our fat dog healthier and thinner. Didn't work. I think one of the recipes actually sent our new pup to the vet with her belly issues. I'm not an expert but want to give them good nutrition for good health.
This is a sponsored post.
After I got both off super expensive prescription dog food (that they hated) I decided to give ddd Just Food for Dogs a try, after all, it is the No. 1 Vet-Recommended Dog Food…JustFoodForDogs.com! I've gotta trust the experts from now on because what I was doing wasn't working.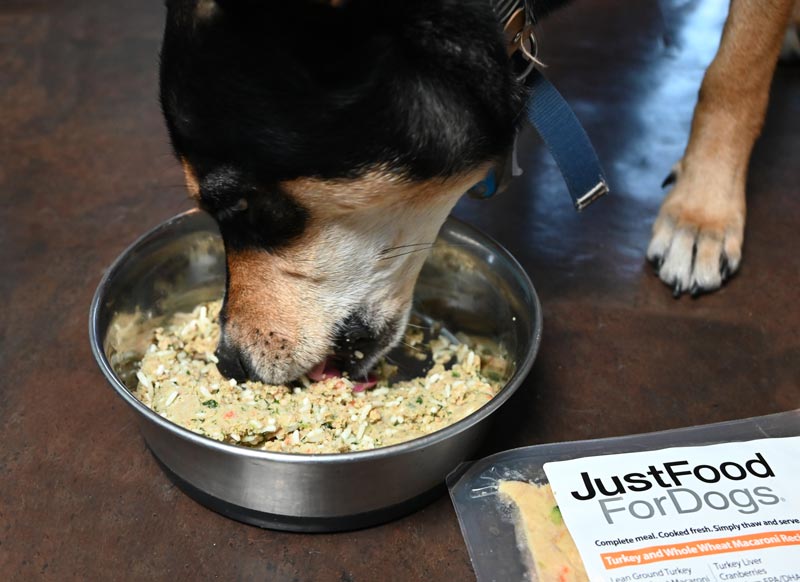 JustFoodForDogs: Fresh Dog Food, Delivered and Made, Using Only Real Food
Wow, what a difference Just Food for Dogs is doing for both dogs. Of course they are beyond happy at meal time now because the food is fresh made by expert nutritionists and vets. It's made with real food that makes my dogs feel happier, more content, and have more energy (which is what our fat dog needs!).
We began transitioning to fresh food a little at a time, it takes 5-10 to fully switch over. The dogs thought it was a big treat! They couldn't believe that they were going to actually get to eat this food for real! They chow down now and seem to remain fuller longer than with other foods.
With fresh dog food, you'll probably see all sorts of benefits in your dog including less dog odor, well-formed stool, brightness in eyes, and more energy. My lazy, fat dog is now starting to run more and seems happier.
Just Food for Dogs has a variety of flavors to choose from for the different needs your dogs might have.  You can see the difference and your dog will taste the difference in fresh food. Just Food for Dogs only uses fresh whole food in their recipes including wild-caught cod, restaurant quality meat, and local produce. The food is shelf safe for 2 years and don't require refrigeration until opened.
They also have a DIY Version that allows you to give your dogs their proven effective proprietary nutrient blends that they need with ingredients you mix with at home.
The reason my attempt to making DIY dog food before failed is because they were not getting the nutrients they needed.  Although I like the convenience of the shelf-ready to eat version, The DIY Version is something I think I'll carry on with as I'm feeding two dogs and enjoy cooking in the kitchen already.
I'm already seeing good results with my dogs and plan to talk with our vet on our next appointment about the food. I'm sure he will see results in both our dogs by then just as we have. If you have a dog that you want to give superior nutrition to, I suggest talking to your vet, talking to a vet at Just Food for Dogs (866.726.9509 or live chat on their website), and/or get it a try.
Click Here and Save 20% on Your First Order at JustFoodForDogs.com