My son is passionate about frogs and geckos, he has his entire life. Before he purchased his first reptile, he did heavy research online. His go-to site for how-to guides, videos, and more was and remains Josh's Frogs. They are the largest producer of captive bred poison dart frogs in the USA. They are passionate about breeding healthy dart frogs, geckos, and more.
I surprised my son with a trip to Michigan last month to visit Josh's Frogs! I scored huge mom points with this surprise. Josh's Frogs offers public tours once or twice a month, we were lucky enough to get a personal tour with Zach at Josh's Frogs.
We learned SO much and my son is even a bigger fan of Josh's Frogs after the tour.
This is a sponsored post.
Josh's Frogs Tour
Josh's Frogs was founded in 2004 from dart frog hobbyist and vivarium enthusiast, Joshua Willard. It quickly grew to become the largest producer of captive bred poison dart frogs in the USA – possibly the entire world.  Our tour guide, Zach has been with Joshua pretty much from the beginning. If you watch any of the education videos, you'll recognize him. He is a wealth of knowledge and my son was like a sponge soaking it all up during our tour!
Zach was kind enough to spend a couple hours with us showing us all of the breeding and care rooms throughout the huge Owosso, Michigan building. There was room after room of many varieties of frogs and toad from all over the world! Plus, geckos. Plus, feeder insects. Plus, a greenhouse!
Josh's Frogs never sells wild-caught animals. They only breed captive animals. This is part of their Conservation through Commercialization philosophy. Simply put, captive bred animals takes the pressure off of the need for wild caught animals. If Josh's Frogs can keep up with the demand, then species in the wild can stay in the wild. I love that!
Poison Dart Frogs
My son first fell in love with poison dart frogs at the Akron Zoo as a young boy. He loved the vibrant colors, their size, and probably the fact that they were poisonous. It wasn't until the last couple years that he learned that poison dart frogs are not poisonous when captive-bred. They are only poisonous in the wild due to certain chemicals found on insects they eat in the wild.
You won't find more varieties of Poison Dart Frogs anywhere other than Josh's Frogs.
With so many choices, you may wonder what frog is best for you. Josh's Frogs will help you! Their website is full of helpful information on what differentiates each dart frog from another and what you need to care for them.  Their website will help you decide what dart frog is right for you. Choose wisely because you can't mix dart frog species. A mix of colorful dart frogs may seem exciting but they can get quite aggressive and just mixing them could harm them. The more educated you are, the happier your frogs will be.
This is the dart frog shipping room. Each frog is carefully labeled, healthy, and ready to come home to you.
Once you select the dart frog you want online, you will see a care sheet so you know exactly what you need to properly care for your dart frog. Your dart frog (or any other frog) will be delivered overnight for the health of your animal. The pricing is the same for multiple frogs, so you might as well buy them all at once if you plan to buy more than one.
Below is a frog ready to be packaged and shipped.  Don't worry, the box comes with heavy insulation, gel packs, heat or ice and more to ensure a safe delivery. They've been doing this for 14+ years for thousands of animals. It will arrive safe.
I've never seen so many varieties of frogs and toads! Below is a White Tree Frog, isn't he cute?! My son has a tree frog and just loves watching him climb. The care for a tree frog is very different than a dart frog and never should be mixed.
Josh's Frogs also sells Pacman Frogs. My son's first frog was a Pacman Frog. They are curious creatures and an inexpensive option to start your frog collection. They are very easy to take care of and easy and cheap to feed. They can bite and should be treated as a display animal and not held often.
I was most excited to see all of the various tadpoles during our tour. Some tadpoles are communal and live together is a large tank while others prefer to be left alone in smaller containers. Josh's Frogs has care for tadpoles (and all animals) down to a science with detailed labeling on tanks, comprehensive data files, and individualized care. Each part of the business has their own expert employees caring for the animals. The employees are just as passionate about frogs with people from all over the country seeking out Josh's Frogs for employment – and even out of the country.  Everyone at Josh's Frogs is passionate about their animals and providing you with a healthy animal.
What I am most impressed by Josh's Frogs is that their passion doesn't end with the sale of a reptile. They are passionate about educating the consumer on how to properly care for your pet and have everything you need to care for your pet on their website with hundreds of How-To Guides and videos. My son enjoys their social media channels for even more behind-the-scenes advice, expert guidance, and inspiration!
Geckos at Josh's Frogs
My son has 5 geckos of various kinds. I personally love his geckos, they are so fun to watch and hold. Josh's Frogs have a variety of geckos for sale including crested geckos, mourning geckos, and Chinese cave geckos. 
There were some geckos I've never even hear of like the Chinese Cave Gecko.
My son is actually trying to breed two of his crested geckos – I'm so proud of him! We were able to see  geckos eggs in two different stages during our tour. How cool is that?!
We were able to see the shell of one cracking open too. What I was SO excited to witness was this 1-day old crested gecko. Isn't he absolutely adorable?! He's so tiny, resting on Zach's thumb. It will be a while before he is available to go home with anyone as a pet but I know he'll be in the best possible care there.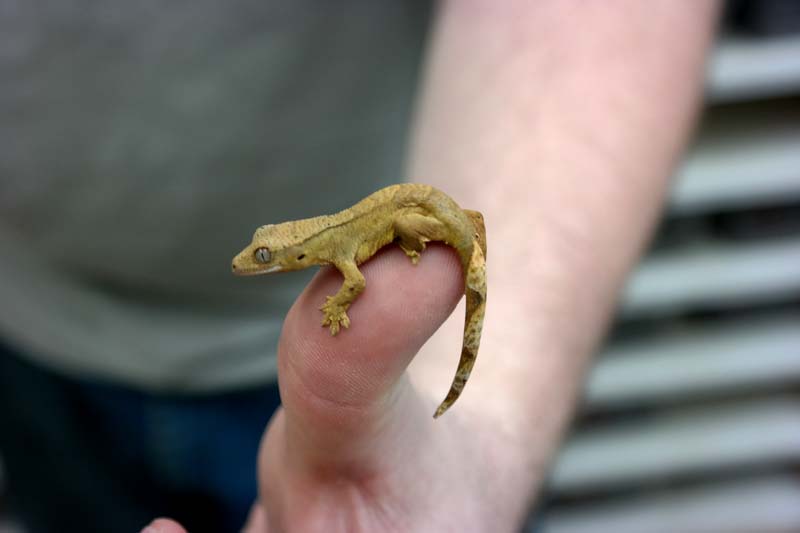 There are several varieties of geckos that are not even ready for purchase at Josh's Frogs. Josh's Frog is always on the look-out for more animals to provide their customers. They have many certified breeder partnerships to allow them to breed numerous kind of animals for the customers. It seems that over time as animals become more and more popular and then routine, people seek out new species. Josh's Frogs is committed to keeping their customers satisfied by producing these captive bred animals for them – so they don't seek wild-caught. When working with a partner, those animals are quarantined for at least 6 weeks until it is verified that they are disease free. Josh's Frogs breeds their animals naturally, with their natural cycles, not through using hormones. I like how responsible and loving Josh's Frogs is to their animals. I feel good about purchasing their animals because I know and have seen the love and care they put into every animal.
Food for your Frogs and Geckos
Josh's Frogs has everything you need to care for your frogs and geckos, including food. They have perfected the breeding live insects and feeders (crickets, fruit flies, beetles, larvae, mealworms, hornworms, isopods, roaches, and more). That means you'll receive healthy feeders every time at a fraction of the price you'll pay at the pet store.
My son has had geckos (5) and frogs (4) for about a year now.  I can't tell you how many times we've had to run to the pet store (45 minute round trip) at the last minute because he was out of crickets or food. He has gotten better now that he knows better how much his creatures eat AND because we order from Josh's Frogs. You wouldn't think that crickets could be a line item in your budget but when you are feeding multiple animals multiple sizes of crickets, it does. With Josh's Frogs, the price for crickets at Josh's Frogs is literally 400% LESS than the pet store. I love that! Plus, it is more convenient to have them delivered than driving to the store.
Live Plants for Vivariums
Josh's Frogs has an entire floor where they grow live plants for both indoor decor for you and for your pet's vivariums. Choose live plants based on the animals you will be housing.  Josh's Frogs makes it easy to create a natural habitat vivarium for your pet based on the type of animal. They even have bundles for vivaria that makes it even easier. My son was in plant-heaven at Josh's Frogs. There were rows and rows of beautiful plants.
Dart Frog Tank Set Up
This is what my son purchased for his dart frog tank. He chose several gorgeous bromeliads, a lipstick plant, Neregelia Tiger Cub and Wee Willy, ABG mix, live oak leaf litter, false bottom, and substrate barrier. Don't worry if you don't know what you need for your pet, Josh's Frogs will help you.
We used the above supplies to set up a 20″ long aquarium (with lid) for Elijah's 2 Dendrobates Tinctorius poison dart frogs. They helped us know exactly how much of each item we would need based on the size of our aquarium and pet. If you don't know what you need, ask via live chat, by phone, or email if you can't find what you are looking for on their website. They are committed to excellent customer service. I met the customer service team, they love their pets and have several tanks in their offices!
Aren't these little guys adorable?
After the long drive home from Michigan, I was exhausted! Not my son, he set up his tank that night and did an amazing job! Having a live vivarium vs artificial plants makes a world of difference. It is actually nicer for the animals and easier for you to keep clean as it all works together naturally.
Check out my son's Dendrobates Tinctorius poison dart frog tank!
I love it so much that I'm going to have him create a smaller one for me to have in our living room. They are so, so adorable.
If you are looking for a poison dart frog, toad, or other frog species, check out Josh's Frogs for the healthiest and most variety. Also, if you are looking for a new gecko! Don't forget, you can purchase all of the tanks, setup materials, and food from Josh's Frogs too.
Check them out on social media for the latest tips and advice on animal care!
Josh's Frogs Facebook – Pinterest – Instagram – Twitter – Josh's Frogs Plants Facebook
Josh's Frogs
222 S Elm Street
Owosso, MI 48867
Phone: 800-691-8178 (Reps available 1pm-5pm Eastern, Monday – Friday)
Contact ahead of time for public tour schedule. If you are local, you can pick up your order for FREE at their location.
Many thanks Zach for the amazing tour!