There is something so exciting about finding out you are having a baby. We found out back in July that we were expecting! This baby will make number 3.
Doug has been hard at work and school so he hasn't been able to make it to any of our OB appointments. It has really made him feel like he wasn't part of everything so I thought what better way then to have a 2D/3D/4D (4D is 3D in motion) elective ultrasound.
So we decided to check out Baby Waves.
I received services to facilitate this post.
Baby Waves
I found Baby Waves and knew this would be a perfect fit. The office for Baby Waves is small and cozy. I love that even though they are small, they are very family friendly. We could have brought some of our extended family with us, children and all!
We opted to just the two of us go, since we wanted a moment to share together. Upon arrival at Baby Waves, we were greeted warmly by Jo Ann. She welcomed us and seated us in the Baby Waves waiting area.  I loved that there were beanbags on the floor for kids! It was a fun touch in addition to the beautiful maternity and newborn prints on the walls. We didn't wait long at all before it was our turn to be seen. We went in to the room and couldn't wait to see our baby.
Old Wives Tales
We were hoping to see our babies gender at first though baby was hidden behind the placenta so we discussed some old wives tales while we tried to get baby to move here are a few we came up with. Baby Waves doesn't promise that they can see gender or even babies face but will invite you back to try again!
If you are having a girl you will have more blemishes as she steals your beauty. I am having more facial breakouts..Maybe a girl?
If you have dreams that you are having a boy, baby is a girl. If you dream about having a girl, baby is a boy. Dreams show the opposite of what you are having. I have had dreams of boys, girls and twins! But we have seen only one baby.
If you had a smooth pregnancy with no morning sickness, it's a boy. If you were sick or felt really nauseous during your pregnancy, it's a girl. Well I haven't thrown up or been nauseous… Maybe it's a boy?
It is believed that if you are craving salty foods while pregnant, you are having a boy. If you crave sweets, fruit, and orange juice, you are having girl. I have had both but I could live off orange juice! Maybe it's a girl?
Has the hair on your legs grown faster than normal? If it's growing faster than it did pre-pregnancy, you're having a boy.  I feel like I could shave daily! So maybe it's a boy?
Finding Out Gender
After some words from Daddy our baby finally moved so we could see! We looked at baby's feet and hands. Nothing is cuter then seeing their little tiny toes. After a few funny moments we finally got a few good shots and I was looking and said  " Umm do I see 3 white lines?". The technician laughed and said " Yes, Mama it's a girl!" I started crying and I think Doug was in shock. We are so excited to be bringing a little girl into our lives.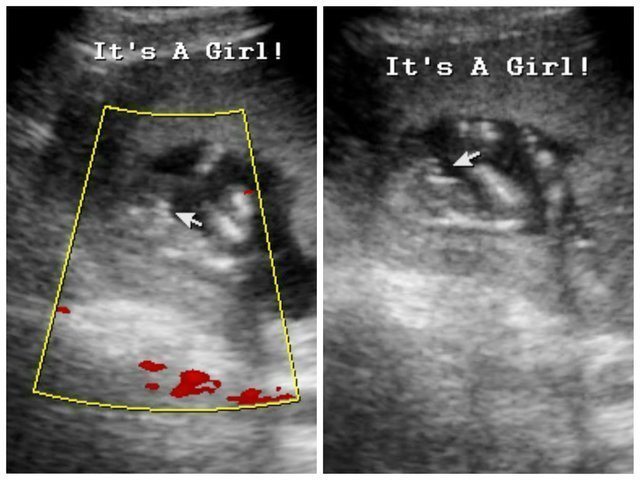 Photos and More
We got to sit with Jo Ann and look at our pictures and choose what we wanted printed and got a cd with the pictures and one with the video. In addition to those, Jo Ann includes an adorable page for your baby book. What you receive will vary based on the package you select. We are opting to go back and get another 3D/4D Ultrasound later so we can see our babies face better once she has plumped up. We will also select on of these adorable stuffed animals with our daughters heartbeat in it!
Want to See Your Baby?
Contact Baby Waves to see your little one!
Telephone: (216) 986-9283
E-mail: babywaves@att.net
5000 Rockside Road • Suite 530
Independence, OH 44131
Connect with Baby Waves on Facebook
Giveaway!
Baby Waves has gratuitously offered to give one of our lucky readers a "Just Looking" 2D Ultrasound AND a small heart beat plush animal with their baby's heart beat.  So you too can take a peek at your little one!
a Rafflecopter giveaway

This promotion is in no way sponsored, endorsed or administered by, or associated with, Facebook. In order to comply with the latest Facebook Promotion Guidelines (revised 5/11/11), the following statements are true:
* Giveaway participants release Facebook from any responsibility whatsoever.
* Giveaways on this blog are in no way sponsored, endorsed or administered by, or associated with, Facebook.
* Giveaway participants are providing information to this blog and giveaway sponsors only; not to Facebook
30 Day Winning Rule applies. For complete contest rules, please see our Contest Statement and Blog Disclosure.
Contest ends at 11:59 pm EST on October 19, 2014 when a winner will be drawn at random. I will notify the winners and they will have 36 hours to respond or another winner will be selected!
This was not a paid post. All opinions and views are my own. Thank you Baby Wave for facilitating the services for this review and giveaway.