As a parent, we want our kids to be strong, confident, and happy. One very important skill set that young kids need to develop is their Gross Motor Skills. (Gross Motor Skills is all about the the movement and development of the large muscles of the body.) Babies start developing their gross motor skills as they learn to control their head and torso.Kids ages 3-5 are developing their gross motor skills every day as they learn to use their large muscles in their arms, trunk, and legs.
Developing good gross motor skills is important not only for their health but for developing future skills. Developing Gross Motor Skills can be easy and fun when you provide various opportunities for your kids to exercise these skills. Gross Motor Skills  improve over time with practice and encouragement from you.  Without good gross motor skills, kids may struggle with fine motor skills.
Develop Gross Motor Skills through Play
The American Academy of Pediatrics Clinical Report, The Importance of Play in Promoting Healthy Child Development concludes that "Play is a cherished part of childhood that offers children important developmental benefits and parents the opportunity to fully engage with their children." This is a great article on play, if you have a chance read it.
Kids need time to actively play to develop their balance, body awareness,  muscle coordination, and spatial orientation. Activities such as riding on toys, climbing on playsets, going up and down slides, throwing balls, kicking balls, catching balls are all fun ways for kids to develop their gross motor skills.
Get outside and enjoy physical exercise with your kids. Kids learn from example, don't be afraid to play on the playground with your kids, showing them all of the activities there are for him.
Elijah perfecting his Gross Motor Skills with Climbing
Although climbing should be monitored and safe for kids, climbing does develop gross motor skills. Elijah loves to climb, I've called him my little monkey since he was small.  He finds something to climb no matter where we are!
Here is a picture of him trying to climb one of the many rock walls at one of the Akron Metroparks.
Ok, so maybe climbing statues at the Akron Zoo isn't the safest but I was close and even able to snap this cute picture of him. 😉
Of course, he can be found fighting crime as Spiderman on his playground as well!
Playsets Help Develop Gross Motor Skills
In my opinion, there are 2 key components to developing gross motor skills 1) Exercising 2) Practice.  Finding a place and time for your kids to exercise can be as easy as going outside to your own backyard if you have a playset or your neighborhood playground. By having a playset in your own yard, your kids will 1) get plenty of exercise every day because it is so convenient and 2)  get plenty of practice everyday.
I've found that when we built our Backyard Discovery Patriott Playset back in April, my kids played and played and played on it in mostly traditional, safe ways. Over the summer, they grew more and more confident on their playset. With their confidence in their skill level and what the playset can do, they began discovering more opportunities to "build their gross motor skills" ie. have fun! They climb on the playset on the outside edge of the 1st level all the time. See Spiderman picture above. As long as it is safe, you are watching your kid, and they want to climb, encourage it!
My kids also Love their slide! Both going down and up it! Our rule is at home it is ok to climb but not at the public playground.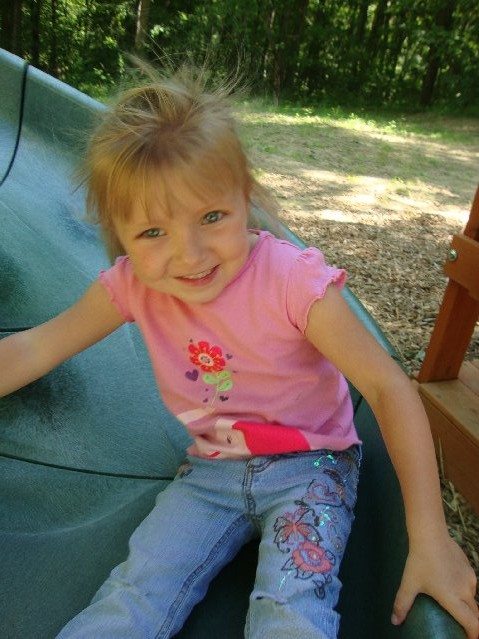 We love the convenience that our playset from Backyard Discovery gives us. Our kids are outside playing everyday, building muscles, confidence, and their imaginations! Backyard Discovery has an excellent selection of affordable playsets that are sure to delight and engage any kid! Check them out.
This was not a paid post. My own opinions were used based on my perceptions and experience. Thank you to Backyard Discovery who supplied the product for review and the ongoing relationship with AkronOhioMoms.com. Check out the great selection of playsets from Backyard Discovery at www.swingsetsonline.com.