Happy Earth Day! How do you plan to celebrate? Plant a tree?
That's all I can remember as a child, we would get saplings from school and would plant them when we got home from school. My dad was a pastor, so we moved a lot. I never got to see a single tree grow in our yards. I wonder if any survived…
Whether you choose to plant a tree or not this Earth Day, it is the perfect day to celebrate the outdoors with your kids. Take a walk, explore, plant some seeds, plan a garden, and fall in love with nature.
One way that my family enjoys nature – and Earth Day – is by learning and exploring – the two go hand and hand. We take advantage of our local MetroParks and the Cuyahoga Valley National Park on an almost daily basis during warmer weather. It keeps us active and great for family time.
When my kids were just toddlers, I came across pocket naturalist guides at the Nature Realm Gift Store in Akron. My son begged me for one. He still has it – 6 years later – as well as others!
It is the one educational product that is meant to be taken outdoors and explored with. They fold up to fit in your back pocket and are laminated to keep protected from mud and anywhere else your adventure takes you.
To celebrate Earth Day, a new educational product is being announced called the Jeff Corwin's Explorer Series Pocket Naturalist Guides. So, essentially, you can celebrate Earth Day by exploring with Jeff Corwin!
It is so awesome to have Jeff Corwin's 20 years of insight packed into each guide. Each pocket guide reveals how the animals are built, how they behave, their worldwide distribution and why their survival is important to us as a species.
I think any child – or adult – would be interested in the above wild animal pocket guides. They are full of interesting facts, details, and photos that you won't find anywhere else. You'll learn so much in just one pocket size guide that you'll feel like an expert – and so will your kids.
My son's teachers are always amazed at the details my son knows about animals – it's his thing. Pocket guides from Waterford Press have taught him so much from toddlerhood on!
Waterford Press offers guides by state and region too. We like these the best!
We use our Ohio Birds guide on a daily basis as we watch the birds that fly in to our bird feeders. It is exciting to learn the names of the different birds that visit our feeders.
The above guides will be fun to explore this year, learning the butterflies and moths, that flutter about. We'll bring the  Ohio Wildlife and  Ohio Trees and Wildflowers guides with us on our trips to the parks. It is a fun way to explore nature and learn.
As you see below, the Ohio Wildlife guide gives photos and a few details on each creature that can be found in Ohio. This is a great overview to learn the basics while other guides that are specific to one kind of animal gives more details.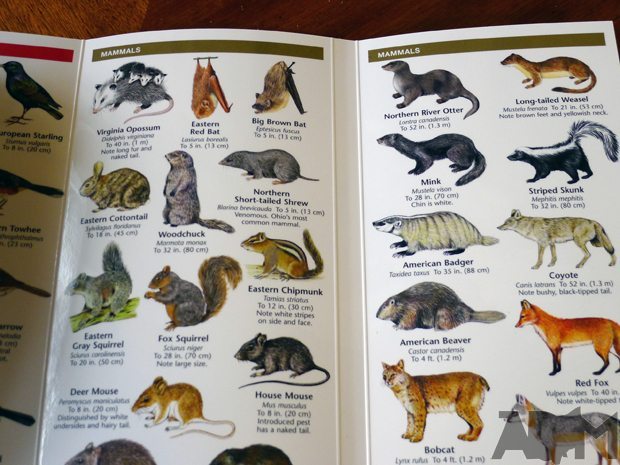 Since we like to hike and camp outdoors, I thought the below guides would be fun to read through and even keep in the car with us, especially the Emergency First Aid guide.
My kids are going to LOVE the Animal Tracks guide! As we walk through the woods, we always come across foot prints. Many of them we already know but the below guide – with ruler – will help us figure out the ones that have remained a mystery until now.
I wonder if we'll come across bear prints?! Yikes! Oh, and of course the we all want to know whose scat is whose when we come across it in the woods! ha!
Seriously, the Emergency First Aid guide is a good resource to have packed in your diaper bag, purse, travel bag, and car – for just in case. Just be sure to look it over before an emergency happens.
You can purchase the brand new Jeff Corwin's Explorer Series Pocket Naturalist Guides starting TODAY at Barnes & Noble, on Amazon.com and other outlets across the nation.
The guides make great gifts and add-on gifts for birthdays of explorers! They are fun surprise gifts that will get your kids off the couch or computer and into nature to explore! What could be better? Unplug.
Waterford Press puts the world in your pocket.
Win 4 Jeff Corwin's Explorer Series Pocket Naturalist Guides
You have the chance to win Jeff Corwin's Explorer Series Pocket Naturalist Guides!
a Rafflecopter giveaway

This promotion is in no way sponsored, endorsed or administered by, or associated with, Facebook. In order to comply with the latest Facebook Promotion Guidelines (revised 5/11/11), the following statements are true:
* Giveaway participants release Facebook from any responsibility whatsoever.
* Giveaways on this blog are in no way sponsored, endorsed or administered by, or associated with, Facebook.
* Giveaway participants are providing information to this blog and giveaway sponsors only; not to Facebook
30 Day Winning Rule applies. For complete contest rules, please see our Contest Statement and Blog Disclosure.
Contest ends at 11:59 pm EST on May 5, 2014 when a winner will be drawn at random. I will notify the winners and they will have 36 hours to respond or another winner will be selected!
This was not a paid post. My own opinions were used based on my perceptions and experience. Thank you to Waterford Press who provided the products for review and giveaway.