As Easter approaches, we sometimes get caught up into the excitement of the Easter Bunny, coloring Easter Eggs, and Easter Baskets. Oftentimes, we find ourselves trying to remind our kids the true meaning of Easter while not really setting a good example for them to follow. As parents, it is our responsibility to teach our children about our beliefs and God, how else will they learn?
As a Christian Mom, I find it important to teach my kids the true meaning of Easter. Sure, we will see the Easter Bunny and go on a couple Easter Egg Hunts this year, but we will also attend Good Friday Service and Easter Sunday Service. We will talk about the crucifixion of Jesus Christ, why He died for us, and how he rose again on Easter Sunday. I will also add The Lord's Prayer with commentary by Rick Warren to their Easter Baskets.
The Lord's Prayer with commentary by Rick Warren Review
Although the The Lord's Prayer with commentary by Rick Warren is not about the Easter Story, it is the prayer that Jesus taught us to pray. Prayer is the foundation in life that should be taught as early as possible. We have prayed with our children since they were first born, and it has been a joy to hear their hear-felt prayers. Sure, many of my kids' prayers include thanks for their favorite toys, playground, and toys again, but kids are real and honest.
When kids pray, they are 100% honest with God. They tell Him what is on their hearts and mind. We would do well to learn from our kids and their honesty instead of praying for what we think we should pray. It is a delight for me to hear what is really important to my kids by hearing their prayers. It always makes my heart swell when they thank God for their mommy. I'm not always on the list but you can be sure that "all the good food we eat, all the animals you made, and the woods" are always included in my kids' prayers for some reason.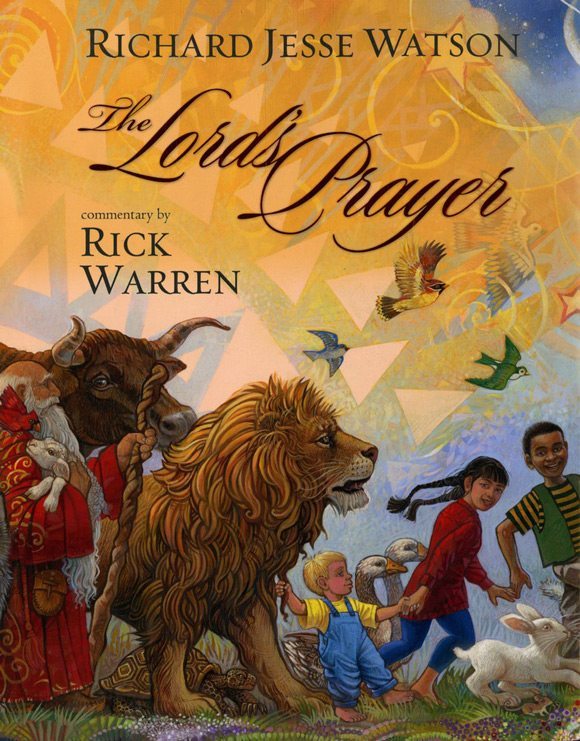 Back to the book…You may know of Rick Warren, he is the author of the #1 bestselling hardcover book of all time, The Purpose Driven Life. If you haven't read this book, grab a copy for yourself this Easter, it will change you life. Rick Warren writes a lovely foreword on "The Lord's Prayer" about our responsibility as parents to teach our children to pray and to learn from them as well.
Video on The Lord's Prayer with Rick Warren
[youtube]http://www.youtube.com/watch?v=fzcupvvEBRM[/youtube]
THE LORD'S PRAYER by Zonderkidz is a beautiful picture book that kids of all ages can enjoy. It's not a baby picture book, but a beautifully illustrated book that will connect modern day kids to the timeless Lord's Prayer in King James Version at that! Each page is beautifully illustrated by Richard Jesses Watson who is able to capture the essence of childhood and their love for Jesus page after page. Each page gives kids a short portion of The Lord's Prayer to read coupled with a vibrant, detailed picture of kids reflecting what the phrase is talking about. This book gives new life to The Lord's Prayer in a way that kids can understand and relate.
This book is 40 pages long for kids ages 4-8. I personally think that you could start reading this to your baby and toddlers as well. It will capture your child's interest right away with the illustrations and be an easy tool for parents to use to teach kids The Lord's Prayer.
Illustrations in The Lord's Prayer by Richard Jesse Watson
I especially enjoyed 2 illustrations. The first is also the cover but I love it because it talks about "as it is in Heaven". My kids have experienced 3 great-grandparents' death over the last several years. With funerals and death, we talk about the joy we have as Christians for Heaven. We get all sorts of questions, some quite thoughtful about Heaven. I feel that this illustration is breathtaking in capturing what it will be like in Heaven, even for kids that have gone on before us. I just love how the toddler is holding onto the Lion's mane.
Also, the page with the phrase "For thine is the kingdom" is a beautiful illustration of pure joy that kids exhibit. I see my little girl in the picture of the girl in the tutu and my son in the picture of the boy climbing the tree.
Be sure to teach your kids this Easter the true meaning of the holiday, lead by example, and add something like The Lord's Prayer by Rick Warren to their Easter Baskets. The lessons taught in it will be far more long lasting than the chocolate Easter Bunny.
Buy The Lord's Prayer by Rick Warren
You can buy The Lord's Prayer on the Zonderkidz website, in stores nationwide, or on Amazon.com. List Price: $16.99
Win The Lord's Prayer by Rick Warren (2 prizes!) (Closed)
Updated: 4-15-11 Winners Announced: Annette and Toni Alabakovski
Zonderkidz is offering 2 lucky winners their own copy of The Lord's Prayer by Rick Warren.
30 Day Winning Rule does NOT apply to this contest. For complete contest rules, please see our Contest Statement and Blog Disclosure.
Contest ends at 11:59pm EST on April 21, 2011 when a winner will be drawn at random and announced the next day. When commenting, please include your email address (not visible to public). I will notify the winners and they will have 36 hours to respond!
This was not a paid post. My own opinions were used based on my perceptions and experience. Thank you to Zonderkidz who provided the products for review & giveaway.