If you have ever been pregnant, did everyone seem to ask you if you were going to be breastfeeding your new little cherub?  I remember getting asked that question and while I was hoping to exclusively breastfeed J-Girl, it just didn't happen for us. I was heartbroken but felt comforted in the fact that she was still going to be nourished and be healthy. When it was time to pick out bottles I just used what all my sisters had used for their kiddos, they did the trick but they weren't anything to write home about!  When I was asked to review the new mimijumi bottles I thought that it would just be like any other bottles on the market. I was wrong.
Getting to know mimijumi
Mimijumi was founded by a team of psychiatrists and design team with a goal of creating infant care products that revolutionize the parenting process and feeding experience. The company based in Nashville, TN strives through simple, safe design and production to create the infant care essentials for both baby and parent. The design is based on the psychological dynamics of feeding and soothing bottles as transitional objects. Their "Very Hungry" bottle was conceived as a natural, modern and stylish complement to breastfeeding moms.
Very Hungry Bottle Review
First thing that caught my attention when I opened the box was the fabulous packaging design!  Being a designer myself I appreciate a fun and functional design with simple and straightforward design elements that complement the product not take away from it.  Seriously though, a milk box carton is too cute!  The "Very Hungry" baby bottle design is very breast-like in appearance and in texture, so that when you start with the "very Hungry" bottle your child will less likely to have problems with going from the breast to bottle.
This bottle would be ideal for bottle picky babies, newborns have gravitated to this form of feeding which is an aid to prolong the breastfeeding experience. The unique nipple used on the mimijumi bottles is more like mothers breast and the baby has to "latch" onto the bottles nipple to express milk. I think that this is a very important feature that mimijumi has honed in on as I know when I used bottles with J-Girl she didn't have to latch on to get any milk out of the bottle, so trying to keep breastfeeding and using the bottle did not work for us in the end. I am glad to know that with the next baby I will be able to help remedy this problem using the mimijumi's "Very Hungry" bottles.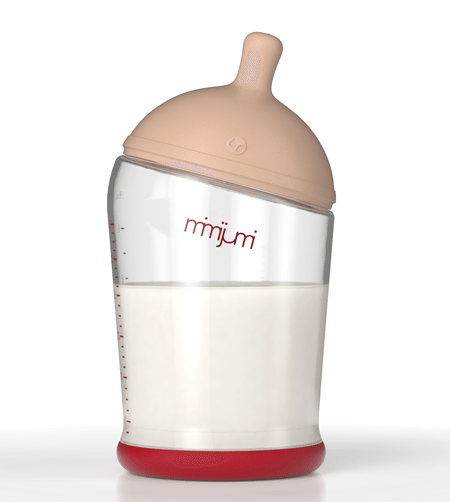 7 things I love about the mimijumi "Very Hungry" bottle:
manufactured in Austria, mimijumi bottles are made form Swiss polyamide plastic and ensure a toxin free experience without BPA
promotes and complements breastfeeding relationship between mother and baby
mimijumi is the brainchild of a physician father and psychiatrist who spent two years creating this bottle design
baby bottle is breast-like in appearance and texture to create the most natural feeding experience possible
features an easy to clean nylon bottle, wide mouth for easy filling, a screw on one piece nipple and a non skid base
available in 2 sizes; "Very Hungry" bottle (8 oz) and "Not So Hungry" (4 oz) and also has 3 different flow nipples available
To purchase or learn more about mimijumi:
To see what other products mimijumi have to offer or to just do a little research about the company and the product I featured please visit their website. To purchase mimijumi products visit their website store through newmomshop.com or check your local retailers nationwide.
Win a "Very Hungry" Bottle:
Great opportunity to win a mimijumi "Very Hungry"  (8 oz) bottle for that little one in your life! $16 value Start the transition from breast to bottle the easy way with mimijumi products!
This promotion is in no way sponsored, endorsed or administered by, or associated with, Facebook. In order to comply with the latest Facebook Promotion Guidelines (revised 5/11/11), the following statements are true:
* Giveaway participants release Facebook from any responsibility whatsoever.
* Giveaways on this blog are in no way sponsored, endorsed or administered by, or associated with, Facebook.
* Giveaway participants are providing information to this blog and giveaway sponsors only; not to Facebook.
30 Day Winning Rule applies. For complete contest rules, please see our Contest Statement and Blog Disclosure.
Contest ends at 11:59pm EST on June 3, 2012 when a winner will be drawn at random. I will notify the winners and they will have 36 hours to respond or another winner will be selected!
This was not a paid post. My own opinions were used based on my perceptions and experience. Thank you to mimijumi for providing the product for review and participating in a giveaway.