It is getting colder and colder outside and it is just the start of Winter!  The need to stay warm without spending all of your money on heating bills is a challenge. Personal heaters can be unsafe and run up your electric bill. What can you do?
Try the Made in the USA, EdenPURE® Infrared Space Heaters!  Not only do they keep you and your home warmer from floor to ceiling but they are safer than traditional space heaters.
EdenPURE has a facility right in Canton, Ohio, so I'm excited to share with you about their products! They have heaters of all sizes and needs, all available through Sears. Bob Vila and Richard Karn both endorse and use EdenPURE heaters, so it is a brand you can trust.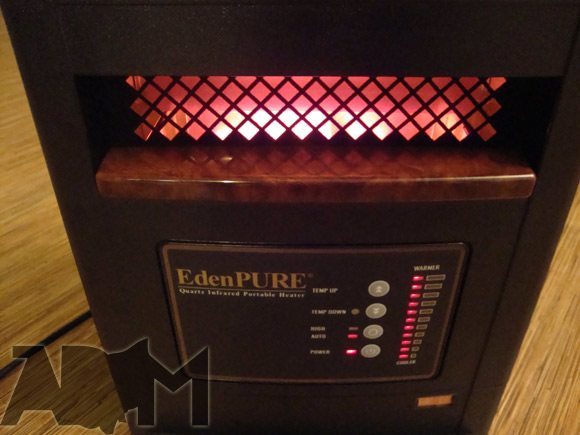 EdenPURE US Personal Heater Review
I had the opportunity to review the EdenPURE US Personal Heater, manufactured right in Canton, Ohio. I have had many personal heaters in my life. All have left me either HOT right on my legs or COLD when I finally turned it off. The biggest difference that I have found with EdenPURE is the consistent heat that heats up the entire room, not just the path in which the air flows like other heaters.
This personal heater is great for the office, bedroom, or even a semi-closed off room like a living room. It heats up a space up to 350 square feet with ease. We use it in our living room as it is primary closed off. It is especially nice when the kids are playing in the living room or we are cuddling up on the couch for movie night.
The EdenPURE Personal Heater is black with burled wood accents, a nice look for any room. It isn't too heavy so it can easily be moved from room to room.
This heater heats a room between 60-80 degrees, based on your preference. You can set the heater to the temperature you like and it will do the rest. Once the temperature is achieved, it will shut off until it needs to turn itself back on. The heat that comes out of the EdenPURE is produced by both copper and infrared, giving you a warmer, lasting heat. Plus, the heating elements never come into contact with the housing unit so it is safe to be used around kids and pets!
It's quiet too – which is very important when working in an office or watching a movie.
Save money on your heating bills
EdenPURE heaters save you money on your heating bills because you are putting the heat right where you need it. You can adjust your heating needs to where you are.
For instance, in our home, my husband is in the office all day so that is where we could heat. Then, when we are all home, we can turn on our traditional furnace or just heat the bottom floor or rooms we are in with a larger scale EdenPURE heater like the Signature Edition. It heats 1,000 sq feet with copper and infrared heating design, and includes a customized humidifier and air purification ionizer.
Buy EdenPURE Heater
You can buy the EdenPURE Heaters at your local Sears and on Sears.com. You can buy with confidence with their 60 day no risk money back guarantee and 3 year warranty on parts and labor.
If you are local to the Akron area, there is even an EdenPURE Factory Outlet Store across from Chapel Hill Mall in Cuyahoga Falls, Ohio! A great place to stop by for last minute Christmas shopping!!!
Eden Pure has a store across the street from Chapel Hill Mall
This was not a paid post. My own opinions were used based on my perceptions and experience. Thank you to Coleman who provided the product for review.