If you are looking for an app that goes beyond ABCs and 123s while still getting your child ready for preschool and kindergarten, check out the new Captain McFinn's Swim & Play app. This LIVE interactive app is entertaining as it engages your child in games and learning activities centered around social and emotional skills.

This is a sponsored post, all opinions are my own.
See the lady in the submarine? She offers real live interactive guided play with your child. She makes suggestions and responds to the decisions your child makes within the games. Captain McFinn & Friends is the only children's entertainment brand featuring LIVE interactive guided play. It's really quite amazing!

My daughter and her younger cousins had fun playing this this app all weekend long! It was so cute to watch them work together on the games and activities.

There are 250 animated hot spots in this new McFinn app, the previous, wildly popular version only had 100, so this is a huge upgrade. What my daughter, niece, and nephew liked most was the interactive McFinn characters!
As a mom, I really like the positive message this app teaches. There is a huge emphasis on manners, kindness, sharing, playing as a group, and other social skills.
How fitting that being polite and playing as a group is the theme since there were 3 and sometimes 5 kids checking this app out at the same time this weekend!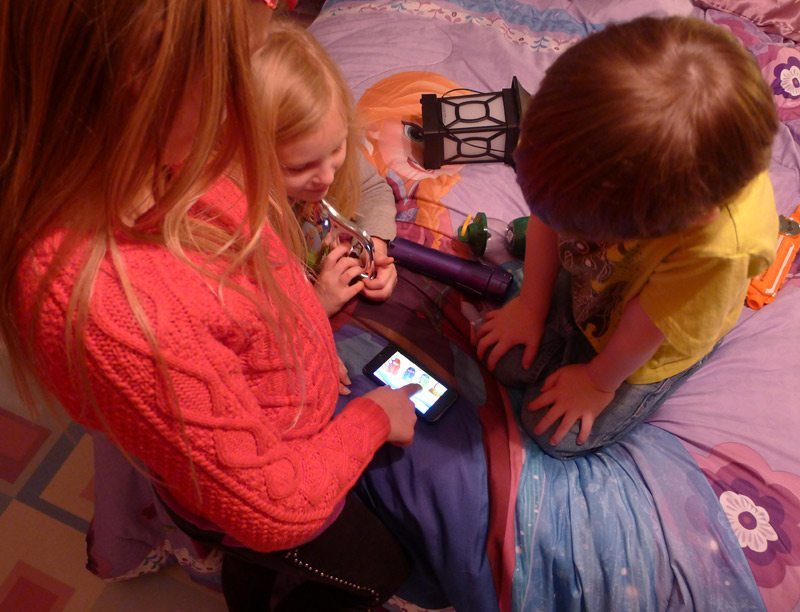 All of these social and emotional skills are vital for happy kids at home with siblings and at school. Captain McFinn is designed for preschoolers ages 3-5, but it is so fun that even older kids like playing it. The lessons are valuable at any age.
October was Bully Awareness Month, my son and daughter had programs all month long at their schools talking about bullying. It is a serious issue in today's school. Captain McFinn's Swim & Play app has a whole section designed to focus on preventing bullying behaviors at the Riff Raff Reef.
There are actually 3 alternations worlds in Captain McFinn's Swim & Play app including:
Sand Dusty Reef, Captain McFinn's home
Riff Raff Reef, focus on preventing bullying behaviors
The Unsmashable Cross Section, a sunken ship that focuses on using proper manners in everyday life.
If your child is goal-oriented like mine, they will like the badges that they can learn after completing activities too! They like hearing the game cheer for them too like in this video below.
Take your preschooler on a magical underwater world of adventure with this live, interactive app! It promotes good social and emotional life skills as well as kindergarten readiness!
Previously available by subscription only, Captain McFinn's Swim & Play now sells for just $2.99 in the Apple Store and through Google Play.
Get social with Captain McFinn on Facebook, Twitter, Pinterest, YouTube, and Instagram.
This post is part of a sponsored campaign for Captain McFinn's Swim & Play App. I received compensation for my participation, but my review and opinions are my own.