I participated in an Influencer Activation Program on behalf of Influence Central for Sprint. I received a sample device to facilitate this review.
Check out my new Sharp AQUOS Crystal Smartphone. Isn't it gorgeous? As soon as I turned it on, I was head over heels for the 5-inch edge-to-edge HD screen! It makes it fantastic to watch videos, take pictures, check emails and get caught up on all my favorite blogs.  Beyond that, the sleek, compact size makes it perfect for both work and pleasure – excellent for anytime or anywhere.
You may not have known that Sharp, the one-of-a-kind electronics company is now in the smartphone business. They just joined with Spring to offer the groundbreaking AQUOS smartphone with amazing picture quality and vibrant display.
As a mom, I take a lot of pictures and video with my smartphone. I need an intuitive, easy-to-use camera that is ready to snap a picture of memories-in-the-making at any given time.  The AQUOS offers 8MP rear-facing and 1.2MP front-facing camera as well as advanced photo features to make all your snapshots look like they were taken by a pro! I don't always have a camera with me but I always have my smartphone. The AQUOS can capture life's first moments like climbing to the top of the rope climb at gymnastics to school programs and more.
Now that we are in the middle of Winter, it gets dark sooner, leaving us with less natural-light for pictures. The AQUOS make nighttime shot easier with Night Catch. Night Catch actually brightens the subject and background for all your darker, nighttime shots. With our overcast afternoons and evenings, this is perfect for Ohio!
I took this adorable picture of my puppy while she was hanging out by the Christmas Tree last night.
There are also handy features like shutter smile detect that will automatically take a picture when a smile is detected. This is perfect for group pictures or when trying to catch the smile of a child that isn't generous with smiles!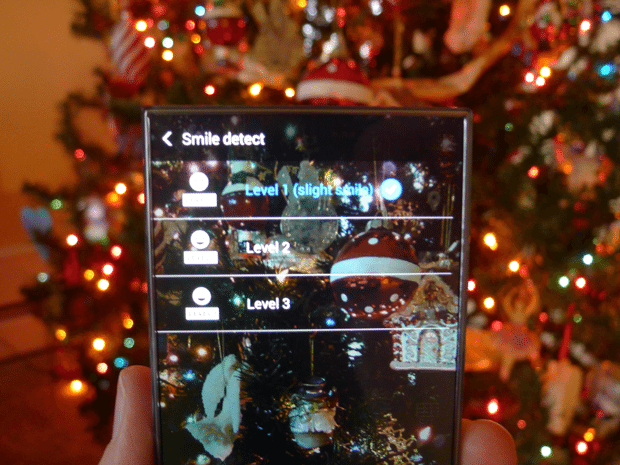 There are even 3 settings for Food Photography since we all seem to like to take photos of our food at restaurants or the killer recipe we perfected to post on Facebook!
I know I'm talking a lot about the camera on the Sharp AQUOS Crystal but it is important to me, as a mom to capture life's candid moments, no matter where I am!
The Sharp AQUOS Crystal smartphone has become my go-to device no matter where I am – at home or not. Google Mobile services come already loaded in the phone and works right away. I use Google Search about a million times a day – I search for carb counts for food all day long for my son who has T1D, I use it to check the weather, homework help for my kids, driving directions with Google Maps and Navigation, Google+ for staying connected to people and great posts,  YouTube for videos, work on files, and so much more.
I always turn on Wi-Fi on my smartphone to cut down on the data used on my phone. With this phone, I can use my home (or public) Wi-Fi for data, text, and phone calls! This can drastically reduce monthly bills by utilizing Wi-Fi wherever you go. I use this feature a lot since data plans can get expensive when you use it all the time like I do or when you have kids watching videos, downloading new games, and playing online when your not using the smartphone! I'm at my kids' schools all the time, instead of eating up my data, I use their Wi-Fi all the time!
Even if I'm not making a call or browsing online, I have the AQUOS on for music. I connect to my Pandora account – via Wi-Fi – and listen to music all day long. The sound quality is crystal clear and amazing because the phone has Harman Kardon's LiveStage! You know it is going to sound awesome if it is Harman Kardon! I don't have any source of music in my kitchen, so I always have the music on while preparing meals! If it is a song my kids like, they come running into the kitchen and sometimes will even stay in the kitchen and help! bonus! This phone is much better than other phones that I've had that didn't have Harman Kardon sound – this is like listening to a dedicated music device.
There is so much this sleek smartphone can do – the features go on and on and on. I'm still exploring it all! You can even take screenshots with a simple swipe and share with friends with an embedded URL automatically saved. It makes it easy to share with others or just save what you want from your phone to work on later at home.
I've used this phone all over Summit, Medina, and Stark counties this month and have had excellent reception and service for both voice and data. As an added benefit, Sprint is running the Sharp AQUOS Crystal smartphone over the Spring Spark network, which enhances it's LTE service with peak wireless speeds of 60Mbps!
If you are looking to upgrade your smartphone this season, check out the new Sharp AQUOS Crystal smartphone for yourself or as a gift on Sprint.com.