This Summer, my son was diagnosed with Type 1 Diabetes. We switched pharmacies to CVS because they had all of his supplies in stock, every time. This was a necessity for us. I don't remember the last time I shopped at CVS before this Summer. 
I received a promotional item to facilitate this post.
When I walked through the doors for the first time, I noticed their signage that CVS Quit Smoking. They stopped selling tobacco products to customers because it isn't healthy. It makes so much sense. Why would a pharmacy that has the goal of making people well sell tobacco that kills 480,000 Americans a year, costing the nation $289 in health care bills and lost productivity each year. Did you know smoking kills more than alcohol, AIDS, car accidents, illegal drugs, murders and suicides all combined.
I felt good switching to CVS because I have many family members that have been affected by tobacco. Including my grandfather who died from emphysema from second hand smoke. Many, young and old smoke on my mother's side of the family. They are addicted, really addicted. I hate seeing my grandmother try and try to quit only to fail time after time.
Tobacco is a serious problem. It is available widespread across 375,000 retail stores nationwide. What message is this give to our kids? That tobacco is normal and acceptable? 90% of adults smokers began before they 18.
The Tobacco-Free Retailer campaign is challenging America's retailers to help save lives by not selling tobacco products in their stores. The goal is a tobacco-free generation.
I started looking at other stores that went tobacco free on the ShopTobaccoFree website. You can search by your zip code to get a list of tobacco-free retailers in your area. There are a ton of locations in Summit County including CVS, Medicine Shoppe, ALDI, Target, and Roses.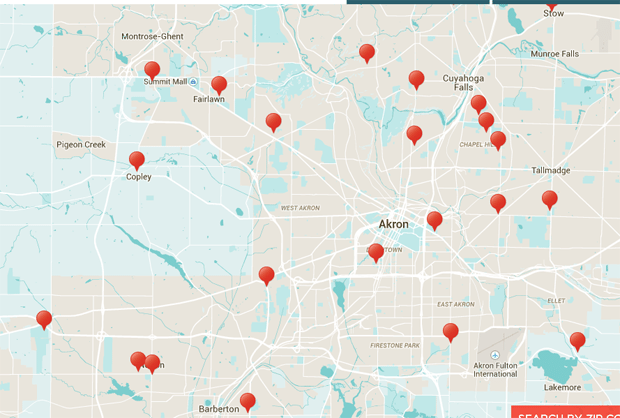 At first, I was impressed by the number of stores that are already tobacco-free until I thought of all the ones that aren't. Let's talk about key stores that we shop like Rite-Aid, Walmart, and Walgreens. What if they went tobacco-free too! It seems like an overwhelming task to get all 375,000 stores to go tobacco free, where would we even begin??
The Shop Tobacco Free campaign is making it easy for you to get involved.
Shop Tobacoo Free and let those stores know why you are shopping there – Click on the below or go to ShopTobaccoFree website to socially thank retailers for going tobacco-free.

Tell other stores to go tobacco free. You can tell them socially by clicking on the below icons on the Shop Tobacco Free website. How easy is that?
Then tell the retailers with a click of your mouse to stop selling tobacco with a post on their facebook page or a tweet using #ShopTobaccoFree
Do you feel as strongly as I do about the dangers of tobacco? Do you want to tell tobacco companies to stop spending 80% of their annual budgets ($8.8 million) on point-of-sale marketing to grab the attention of our youth for impulse tobacco sales? 2,800 US kids try their first cigarette every single day. Let's do our part as moms to save this next generation from the dangers of tobacco. Share your thoughts socially with #ShopTobaccoFree
Connect with Tobacco Free Kids on Facebook,  Twitter, and Instagram.