Are you looking for a stylish and cleaner approach to hand washing at home? The simplehuman sensor pump is a beautiful automatic soap dispenser for your kitchen or bathroom. You can program the sensor pump to dispense the exact amount of soap, sanitizer, or lotion that you would like. Plus, the silicone value prevents any excess drips on the counter or clogs in the dispenser.
The convenience and cleanliness of using the simplehuman sensor pump is amazing.  I installed our sensor pump in our kitchen and I plan to buy another for our guest bathroom. For the kitchen, it is a life saver. With the sensor pump, you'll never have to touch your soap dispenser again with your messy hands. This is especially helpful when preparing raw meats like chicken!
Check out the simplehuman sensor pump in action

Filling soap in simplehuman sensor pump
The simplehuman sensor pump has a generously sized opening so filling soap is easy. So is cleaning!  simplehuman has a supply of soap specially formulated to work exceptionally well in the sensor pump, however you can fill it with other soap, sanitizer, or lotion.  The simplehuman sensor pump comes with a sample of the moisturizing liquid hand soap. It has a light lavender scent and feels soft on the skin.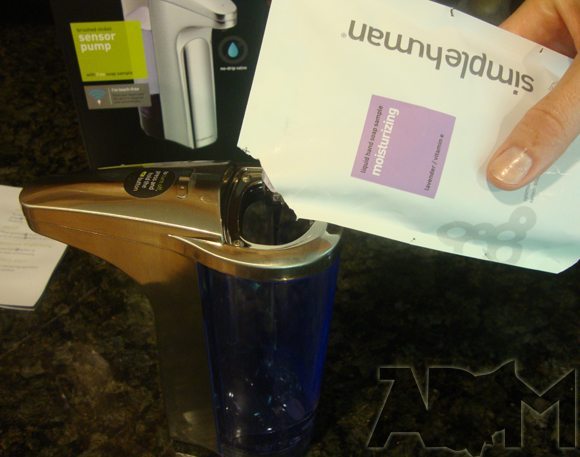 How to Use the simplehuman sensor pump
I have the simplehuman sensor pump in our kitchen, but like I said, we like it so much that I plan to add one to our guest bathroom as well. I wondered at first how my kids would react to the sensor pump. I worried that they might like it so much that they would waste the soap. Thankfully, that has not been the case.
Simply place your hand under the sensor to dispense the soap.  It takes just a split-second and the soap dispenses.
My kids don't waste it, in fact, they always use the same amount every time they wash their hands because I control the flow. The sensor pump doesn't continue to dispense soap until your hand moves away, it stops at the precise level you set it at.
What I like most about the simplehuman sensor pump is that it is a touch-free way to prevent spreading harmful germs. The dispenser and counter stays clean too.  I also like how stunning it looks on my sink.
Like simplehuman on Facebook
Follow simplehuman on Twitter
Buy simplehuman sensor pump
You can buy the simplehuman sensor pump in either brushed nickel or black for $44.99 on the simplehuman website. Get FREE shipping on all orders $49 or more. Also available and on Amazon.com.
This was not a paid post. My own opinions were used based on my perceptions and experience. Thank you to simplehuman who supplied the products for the review.