I love being Mom to my two kids. They bring me so much joy every single day. I love watching them grow into the young man and woman they are becoming.
Motherhood isn't easy, even with the best of kids. 😉  It is a tiring job making sure everyone is fed, has clean clothes to wear, homework done, play dates planned, sports practice attended, house cleaned, dinners made, lunches packed, and the list goes on and on and on.
I know I often talk about my kids being Type 1 Diabetics, this new diagnose for both of my kids has been life changing for us all.
I've stood at the grocery store more than once with tears in my eyes because I can't find a snack that is exactly 15 carbs, a requirement for kids on lantus.
I spend hours every week preparing meals, counting carbs, and giving injections. It's hard to see them hurt and cry…
I wake up in the middle of the night every night at 3am to test my kids' blood sugar numbers to determine if they need insulin, juice, or if they (and I) can go back to sleep. Even when my husband checks them, I'm awake and can't go back to sleep until I know their numbers. Every night when I go to bed, I worry that one of my kids might not wake in the morning as 1 in 20 Type 1 Diabetics die in their sleep from low blood sugar.
It doesn't stop when my kids go to school. There are days when I get 3 or 4 phone calls from both of my kids' school nurses about their blood sugar numbers.
I am one tough mother. My kids are even tougher.

Motherhood is Tough, Flowers Make it Sweeter #OneToughMother
I say all of this to say that being a mom is tough. We all have to be tough mothers.  We have to rise to the occasion – with little sleep every single day – and night. It's our job and I wouldn't trade it for anything in the world.
We are all tough mothers, we all have our own challenges and we all deserve flowers on Mother's Day.
I received product to facilitate this post.
Send Teleflora Flowers this Mother's Day
This gorgeous Painted Blossoms Bouquet has been making me smile all week long. It's so lovely, full of colorful, fresh flowers! I've so enjoyed watching all of the buds open up.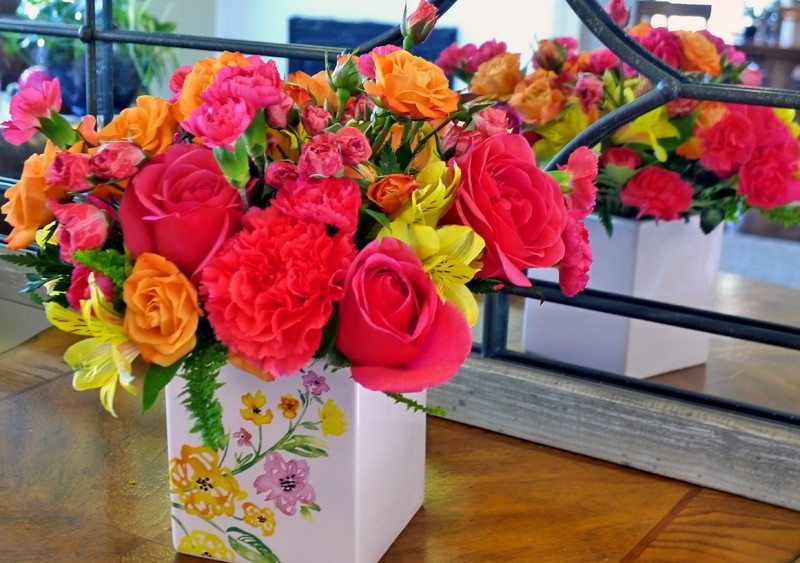 This bouquet is a mix of lovely pink and orange roses with yellow alstroemeria and pink carnations. From every angle, it's gorgeous, as you can see in the above picture and in the below with the mirror reflecting all angles. I'm really enjoying the colorful variety of blooms in this bouquet.
Flowers can turn any difficult day into a beautiful reminder of why we give our all day in and day out. We love our kids, they love us, and every second is worth it. It's so fitting to give flowers on Mother's Day.
The pink ceramic cube vase compliments any decor and can be reused and treasured for years to come.
Teleflora offers amazing floral combinations all year round but I think that TeleFlora's Mother's Day bouquets are the prettiest I've ever seen. Each bouquet is professionally-arranged with fresh flowers in combinations any mother is sure to love.
Receiving the flowers upon delivery is half of the fun!We normally bring flowers to our moms on Mother's Day, it's been a tradition. This year, I decided to surprise my mom and mother-in-law by sending them flowers early. I know how wonderful and even giddy I feel when I receive flowers, so I knew they would enjoy it too. I had no idea how thankful and excited they would be. It was so nice to brighten their days with the flowers.
Teleflora's Garden Pitcher Bouquet
If your mom loves gardening, the Garden Pitcher Bouquet is perfect for her! It comes in a charming, rustic Provencal-style water pitcher that she can use for future bouquets as well as for entertaining as it is food-safe!  Your mom will love the mix of lavender roses, chrysanthemums, fragrant white lilies and eucalyptus. This is a stunning bouquet, especially if your mom's favorite color is purple or lavender like my mom.
Teleflora's Love and Joy Bouquet
The Love and Joy Bouquet screams "Mother's Day" to me with the combination of springtime colors and flowers. My mother-in-law received this bouquet and was astonished by the pink roses that almost looked like they were white roses dipped in pink. It is astonishing how lovely this bouquet is with the roses, miniature pink carnations, huckleberry, lavender stems and lavender chrysanthemums.  The blooming flower and hummingbird vase is one that will be treasured for many years to come.
Teleflora's Luxurious Lavender Bouquet
This Luxurious Lavender Bouquet has to be beyond stunning to see in person! Just look at the  fresh blooms full of luscious dark pink roses and fragrant lilies in that sculpted lavender glass vase. This bouquet is sure to "wow" all tough mothers!
Teleflora's Butterfly Sunrise Bouquet
This Butterfly Sunrise Bouquet displays a colorful and playful mix of peach roses, yellow alstroemeria, and lavender chrysanthemums in a darling oversized keepsake mug.  Mom can even use the mug afterward as a vase or for food since it is food-safe.
Moms Near and Far Enjoy Flowers Delivered
Even though our moms live close by, they still really enjoyed having their flowers delivered! They both went on and on about how much they loved their flowers and how thoughtful it was to send them.  Sending flowers isn't just for people who live far from their loved ones, everyone enjoys receiving delivered flowers.
It was hilarious how both my mom and my mother-in-law thought the flower delivery wasn't for them. They thought it was a mistake until they read the personalized card.
Teleflora makes sending flowers personalized. You pick the flowers that you think your mom will like the most including 3 variations of each bouquet and you can send a personalized note with your bouquet.
Surprise all the tough mothers in your life with a Mother's Day bouquet from Teleflora this year. All of the above Mother's Day bouquets are available on Teleflora.com for purchase beginning on April 18th.
Check out where the toughest mothers in America live. I'm not sure how Ohio didn't make the top 5!
Get social with Teleflora on Facebook, Twitter, and Pinterest.