I love having flowers all over my yard!  The punches of color they provide add beauty to our property, and just make me smile.  But there is work that goes into keeping plants and flowers happy in our yards, especially with hanging plants.  Hanging plants dry out quickly, and never seem to retain enough moisture.  Avant Garden Decor has a new line of CobraCo Hanging Baskets with EcoLiners, which are designed to reduce necessary watering by HALF!  I received a 16 inch CobraCo hanging basket with the EcoLiner for the purpose of my review.
What Makes CobraCo Hanging Baskets With EcoLiners Special?
Aside from the fact that these hanging baskets are aesthetically beautiful and coordinate with any outdoor decor, what really makes them different is the EcoLiners.  The EcoLiners are made from recycled paper products, and are designed to reduce watering needs by 50% over the traditional coconut husk liners.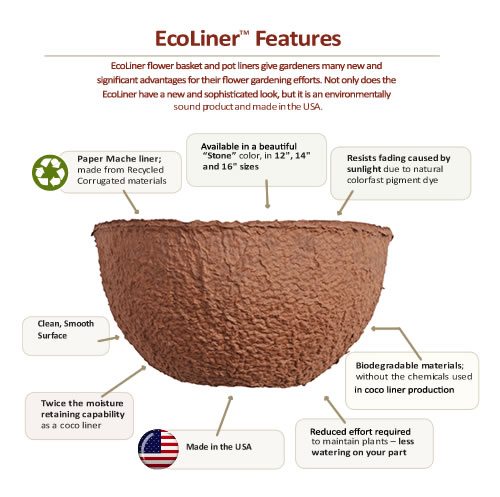 I never realized that the coconut husk liners used in traditional hanging baskets were sprayed with pesticides and latex…yuck!  That's something I, my family, and the plants in my yard can do without!
I love the depth of the hanging basket.  It has plenty of space for plants, even those with deep roots systems.  I packed our planter TIGHT with flowers, and though heavy from them and all the dirt, the metal frame supported it wonderfully.
Another feature I appreciate is the EcoLiner's pebbly texture that is "soft," not scratchy when you touch it.  The coconut husk liners are always abrasive feeling.  Affordable pricing on these great hanging baskets makes purchasing them a no-brainer.  Prices are between $9-$11, depending on basket sizes.
Buy CobraCo Hanging Baskets with EcoLiners from Avant Garden Decor
These great hanging baskets can be purchased in 12, 14, 0r 16 inch sizes directly from Avant Garden Decor's website.
Avant Garden Decor on Facebook
Avant Garden Decor on Pinterest
This was not a paid post. My own opinions were used based on my perceptions and experience. Thank you to Avant Garden Decor who supplied the product for the review.