Northeast Ohio Birds – What's in your backyard?
An interview with ODNR Wildlife Communication Specialist, Jamey Emmert, that will help you spot, identify, and attract northeast Ohio birds to your feeder.
Whether you live in a city or rural area, northeast Ohio has a large variety of birds that might show up at your feeder. Most of us are familiar with the American robin and house sparrow. But unless you have a well-trained eye and know what to look for, you might not realize just how many kinds there are right in your backyard!
Feeding and watching northeast Ohio birds is also a great and inexpensive way to get kids excited about nature! Set up a feeder near a window, fill it with seed, and watch your backyard come to life!
In this interview with Jamey Emmert, Wildlife Communication Specialist with ODNR Division of Wildlife, we discuss tips on identifying northeast Ohio birds, which birds you are most likely to see in your backyard, and tips on feeding and attracting them to your backyard.
What Northeast Ohio birds am I most likely to see in my backyard at this time of year?
Jamey: There are about 17 species you are likely to encounter on a daily basis. Eleven of them are listed here, and three are pictured below. We have these species all year-round in Ohio, although their appearance might slightly change from summer to winter. Watch for: northern Cardinal, blue jay, red-winged blackbird, white-breasted nuthatch, house finch, red bellied woodpecker, downy woodpecker, hairy woodpecker, mourning dove, rock pigeon, and European starling. Grab a field guide at the local library, or better yet, visit wildohio.gov/backyard birding to view images and descriptions of all the species listed above, and more.
How do I start identifying northeast Ohio birds?
Jamey: It takes time and a bit of practice. The more you do it, the easier it will get. If you can borrow or purchase a good set of binoculars, that will increase your abilities and successes by leaps and bounds. Consider adding the birds you find to an online scrapbook to keep track of them all. Birding as a family is a fun family activity as is digital scrapbooking to really capture those family moments.
My first tip is don't look at the field guide…look at the bird! Books (and phone apps) are very helpful, but the book won't fly away. The bird might! Study the bird for as long as you can and look at the book later. This is a great way to help kids concentrate on details and then use a reference manual to solve the "mystery"!
Next, look at the size and shape of the bird. Is it small and round like a golf ball? Or does it look like a large egg? How does the bird "sit"? Upright or more forward? Is the beak short and blunted or long and pointy? Have your kids decipher what that type of food that bird might eat based on it's beak and how it sits and moves.
Check for field marks. Field marks are any distinctive markings that stand out on the bird. These could include stripes, spots, patterns, colors, and highlights that birds have on their heads, wings, tails, etc. If you are watching with your kids, have them draw pictures or take notes to help you remember.
Last, look at what the bird is doing. Is it on the side of a tree trunk pecking at the bark? Or is it on the ground searching for insects and worms? Is it making any sounds? Is it a whistle, song, or harsh cackle? When possible, use your phone to take a video to help you recall the sound and appearance of the bird.
How can I attract northeast Ohio birds to my backyard?
Jamey: Believe it or not, you can bird watch in your yard with or without supplemental feeding!  A yard actually has a good diversity of natural food sources. You might get a glimpse of an American robin feeding on berries, a woodpecker feeding on grubs tucked inside a dead tree limb, or a house sparrow chasing after a flying insect.
That said, if you have kids, it can certainly be fun to set up a bird feeder to attract more birds to your backyard! Fall is a great time to set up a bird feeder as northeast Ohio birds are on the wing searching for reliable sources of food.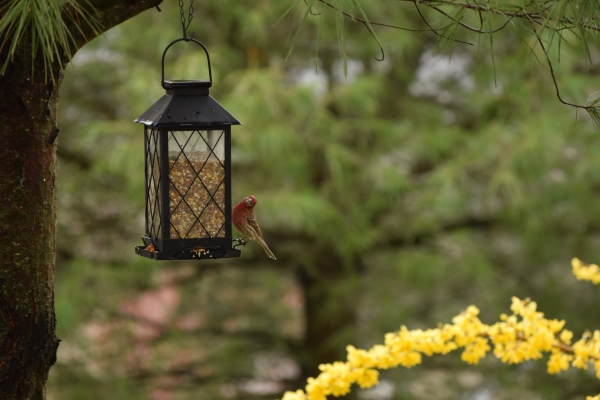 Start simple to attract northeast Ohio birds!
To get started, just set up a standard "hopper" type feeder that hangs from a hook or a tree branch. As you observe northeast Ohio birds, you will notice that different species have different feeding patterns. Some birds prefer to eat perched on a feeder. Others like to eat from the ground. To attract the most birds, consider setting up a variety of feeders and feed types. For more ideas and do-it-yourself bird feeder plans, check out the ODNR's guide to Attracting Birds In Ohio.
Choose the right feeds and seeds to attract more birds. Black oil sunflower seeds are one of the best. Most northeast Ohio bird species like them and they have a high energy content making them great food for winter. Try to find a mix of black oil sunflower seeds and white proso millet, which is a high quality blend suitable for most of the birds you might find in our area. Peanuts, peanut butter, raisins, and meal worms are also excellent food sources that will attract an interesting array of birds…and probably a few mischievous squirrels.
Try to remember to refill the feeder every day. A feeder that goes empty for more than a day or two will not attract birds as well. You will also do your feathered friends a huge favor by maintaining your feeders during extreme cold, snowy, or icy conditions. Birds expend a lot of energy to stay warm, so they can use all the food they can get!
Happy northeast Ohio bird watching, friends!
I hope you enjoyed this post about northeast Ohio birds! I'd love your feedback. Post a picture of your bird feeder or a picture that your kiddo drew of your bird watching and bird feeding adventures!