One of my family's favorite meals is sausage sandwiches with onions and peppers. We have a garden this year and I've been shopping at
Countryside Farmer's Market
this summer so our meals have been very fresh!  The sausage, peppers, and onions were found at the farmer's market, so it's super fresh and nutrient dense.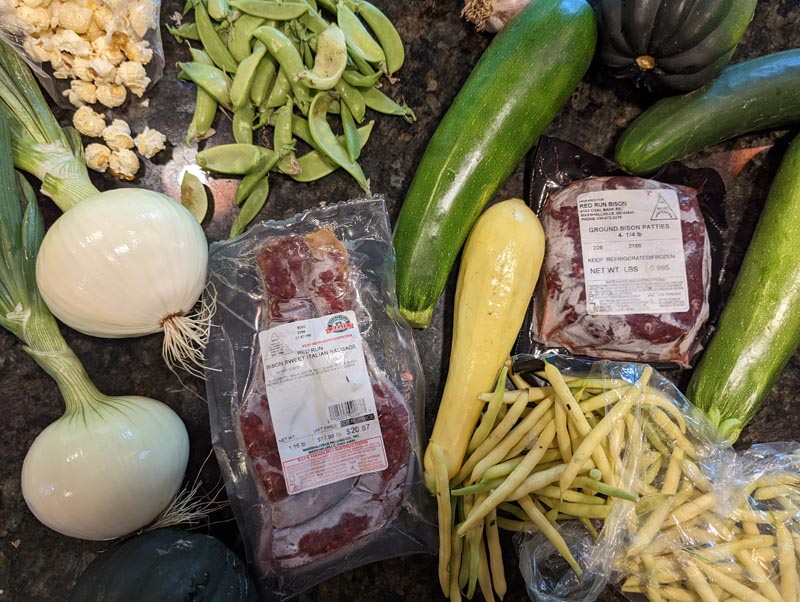 | | |
| --- | --- |
| | |
In a skillet over medium heat, heat extra virgin olive oil. Cook the sausages well on each side until they are brown.

Set cooked sausage aside.

In the same skillet add the sliced onions, cooking until lightly golden.

Add all the sliced bell peppers and cook for 2 minutes.

Pour in red wine and cook until it reduces. Season with basil, garlic powder, oregano, salt, and pepper. Mix in tomato paste. Add a little bit of water to thin out the sauce. Stir well to combine. Reduce the heat and cook for 20 - 25 mins. Add extra water as needed.

Return the sausages to the pan and cook for an additional 15 minutes. Preheat the broiler while waiting for the sausages to complete.

Brush the inside of the sandwich rolls with melted butter and sprinkle with Italian seasoning. Toast under the broiler for 1-2 minutes in a baking pan.

Spoon sausage, peppers, and onions into the toasted rolls, serve and enjoy.
This is an authentic recipe with bison sausage and local peppers and onions from Ohio farms. It's great as-is or on a toasty bun.
I love providing my family with the freshest and healthiest food. Countryside Farmer's Market makes that possible and super easy. Plus, I've found over the years that when I bring my kids to the farmer's market with me, not only do we have a good time shopping and chatting with the vendors but we eat healthier that week with many new types of food that we wouldn't normally find at local grocery stores.
We eat more seasonally when we cook with the foods that naturally grow in Ohio – when you shop at Countryside, you are getting ripe local produce that hasn't been shipped across the country – so you get the freshest, most nutrient-dense food possible.
When I go to the market, I don't generally have a plan on what we'll make that week, I usually shop what looks the best and then decide.  If you have an idea, like THIS recipe, it's great to go with a plan so you don't forget anything! Bring a cooler too if you plan to purchase meat and eggs.
Countryside Farmer's Market is open every Saturday. Pack a cooler to keep meats and produce cool in the car and make it a day in Cuyahoga Valley National Park. It's a great way to explore and have fun in your own 'backyard' every Saturday!
Countryside Farmers' Market at Howe Meadow
4040 Riverview Rd
Peninsula, OH 44264
(234) 334-4622
Saturdays, 9am to 12pm from May 7 – October 29, 2022. They also have a winter market!