Eat your veggies with my Baby Bok Choy and Eggplant in Garlic Sauce Vegetable Bowl recipe!  On the table in less than 30 minutes, this flavorful recipe will give your family the vegetables (and protein) they need for a balanced diet – but just as important, your family will love it!

This is a sponsored post.
| | |
| --- | --- |
| | |
In a small bowl, stir together rice vinegar, sugar or stevia, soy sauce, and ½ teaspoon sesame oil until combined.

In another bowl, dissolve the cornstarch into the water.

Heat 2 Tbsp sesame oil over medium heat in a saucepan. Add and stir minced garlic and cookuntil fragrant (around 30 seconds).

Re-stir the sauce, add it to the saucepan and bring to a boil, stirring often.

Re-stir the cornstarch- water mixture and add it to the sauce a little at a time (stirring as to combine) until it is a desired thickness. The longer it heats up the thicker it will get. If you prefer a thinner sauce, cook less or use less of the cornstarch-water mixture

Set aside until ready to use.

In a large skillet, over medium high heat, add 2-3 tbsp sesame oil and heat until shimmering but not burning. Add chicken and cook until no longer pink. Remove from skillet and set aside.

To the same skillet, add extra oil, if needed. Add peppers, squash, beans, and eggplant, stirring often. Cook until tender, about 8 minutes. The longer you cook the vegetables, the softer the become.

Add bok choy and saute until wilted and tender, about 1-2 minutes.

Add cooked chicken, stir to combine.

Add the garlic sauce to the sauteed vegetables and stir to combine. Heat 2-3 minutes until warm.
I have found vegetable bowls like this recipe is an excellent way to ensure my family gets their recommended daily vegetable intake. Sadly, 90% of American adults don't get their recommended 2-3 cups of vegetables per day. Only 2% of high school kids get their recommended 2.5-3 cups per day and 10% of kids! As you know, vegetables are vital for good health. Without a diet of vegetables (and fruit), you have a higher chance of obesity, type 2 diabetes, heart disease, stroke, and even some cancers.
This is just another reason to try my delicious – quick and easy – Baby Bok Choy and Eggplant in Garlic Sauce Vegetable Bowl Recipe! 🙂

Just look at these gorgeous fresh from the farm vegetables from The Chef's Garden that I used to make this recipe.  Of course, you can use traditional veggies from the grocery store to make a similar recipe but the unique vegetables from The Chef's Garden makes this recipe stand out in freshness, flavor, and nutrition. You can't buy these specialty type vegetable varieties at any grocery store or farm market. Plus, it's so easy because the vegetables are shipped directly to your home from their farm in Huron, Ohio.

My favorite vegetable of this recipe is their baby bok choy! It is so tender and even sweeter than any bok choy I've cooked with before. Plus, I like cooking boy choy because it cooks in seconds. I add it to many stir fries and recipes – even salads!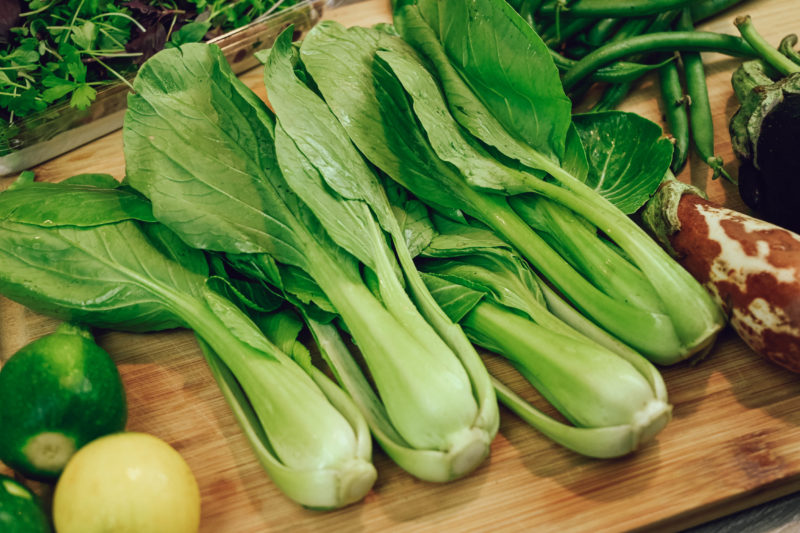 Nothing says summer like fresh beans! These beauties are tender, crisp and picked the day you order so you know you'll get the freshest! I love adding fresh beans to vegetable bowl and stir fries – either whole or cut into bite-size pieces.
The mixed squash is unlike any I've seen in stores – ever. They are small and round and range from yellow to green in color. The smaller size lends to a more tender squash that allows you to use the entire vegetable without scraping out the middle. They had a slightly sweet and nutty flavor to this recipe.


The eggplant is so unique and delicious too – they've narrowed it down from 100 varieties that they grow to the best ones chefs like! I didn't even know there were 100 varieties!  I love trying new varieties of vegetables out with my family and friends.  It's exciting to try something new – another way to get your family eating more vegetables is to add new color and flavors. Maybe they haven't tried their favorites yet! The Chef's Garden has more vegetable choices than you can imagine!
The longest part of the recipe is chopping the vegetables – you can even do that the day before so that when you get home, you can stir fry quickly.
You'll love the garlic sauce too – it adds the right balance of flavor to this recipe.
Mix it all together or serve it separated like I have pictured below. Serve over brown rice, cauliflower rice, or quinoa for a really healthy dinner that's delicious (and pretty) enough to serve guests!
Order Farm to Doorstep Local Produce from Chef's Garden
Now is your chance to order Farm to Doorstep Local Produce from Chef's Garden that was once only available to chefs! Check out all the recipes I've created for Chef's Garden here.
You can also purchase by item. Browse The Chef's Garden website to find gourmet restaurant quality specialty produce for you and your family.