Enjoy the new Bubble Guppies DVD, Bubble Guppies: The New Guppy! with a delicious Bubble Bites snack! Mark your calendar now for March 16th when the DVD release of Nickelodeon's Bubble Guppies is available! Then, bring out the popcorn and a little blue food coloring to make your very own sweet snack to enjoy while watching!
Click below for this easy recipe that you can make with your kids because cooking with kids is half the fun! Your kids will enjoy squirting the food coloring to magically turn the popcorn blue and rolling them up into balls of deliciousness! Who can resist popcorn balls? Plus, you can size them just right for your kids with the below recipe. Click on image below for full recipe with how-to images!
This is a sponsored post.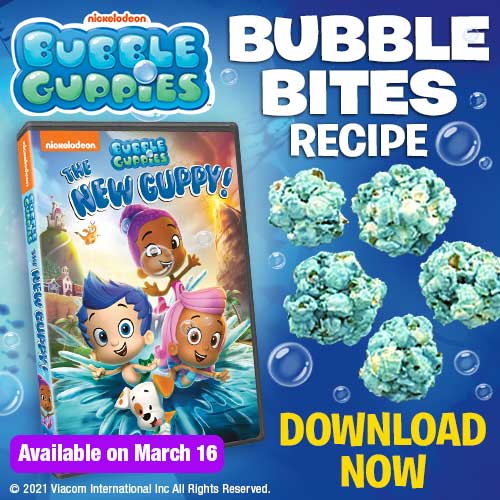 | | |
| --- | --- |
| | |
Combine the butter and marshmallows in a large pot and stir until thoroughly melted.

Add two or three drops of blue food coloring to the marshmallow mixture and stir well.

Add the popped popcorn to the blue mixture and stir until popcorn is completely coated with the mixture.

Grease hands with the soften butter and grab a handful of popcorn. Kids can help making balls and placing them on wax paper or parchment to set. Continue shaping the popcorn balls and greasing hands to prevent mixture from sticking until all popcorn is shaped.
My kids are teens now. sigh. However, I have found memories of Bubble Guppies playing on our TV with plenty of giggles from my kids. It's actually one of the few programs that I enjoyed watching with my kids because of their positive messages!
This all-new underwater adventure introduces your preschooler to a new guppy, Zooli. This DVD has all the makings of an exciting story including magical jewels, Sea Witch, a genie, and friendship. There are 4 episodes – save them or have a Bubble Guppy marathon! Either way, you know your preschooler will watch this DVD over and over and over! Pre-order now on Amazon!
So break out the bubble popcorn and enjoy this underwater adventure!