Say goodbye to boring mashed potatoes this holiday season and hello to Chip Dip Mashed Potato Cups! This crowd-pleasing recipe is sure to become a family favorite.  Adding chip dip to mashed potatoes turns something ordinary into something exquisite.  This recipe can also be used with leftover mashed potatoes.
Chip Dip Mashed Potato Cups Recipe
Mashed potatoes are usually expected on holiday tables. This unique twist on a favorite dish is sure to delight kids and adults alike.  This Chip Dip Mashed Potato Cups recipe is easy to make.
This is a sponsored post for SMITH's Dairy.
| | |
| --- | --- |
| | |
Place potatoes in pot, add enough cold water to cover plus about 2 inches above. Bring water to boil, add 1 TBSP salt. Simmer on medium-low for 20 minutes, or until potatoes are tender when pierced.

Mash French onion dip, butter, and garlic into cooked potatoes.

Whisk together mashed potato mixture with eggs.

Fold in 1-1/2 cups cheddar cheese, Parmesan cheese, chives, parsley, and bacon.

Salt and pepper, to taste.

Mound potato mixture into muffin cups.

Bake at 375°F for 18-20 minutes, until browned. If using large muffin pans, increase time. If using mini-muffin pans, decrease time.

Let cool for 5 minutes. Remove from pan and serve with dollops of SMITH's sour cream and additional cheese, bacon, and chives.
As you can see, this recipe is full of flavor with key ingredients your family already loves. I use gold potatoes or russets because they are starchy and break down better for a creamier mash. Adding buttermilk and chip dip to the mashed potatoes creates an amazingly creamy and flavorful mashed potato. Adding cheeses, bacon, chives, and parsley tops this recipe in flavor.
The mashed potatoes in this recipe has two star ingredients: SMITH's French Onion Dip and SMITH's Buttermilk.
SMITH's French Onion Dip is the star of this recipe, it is amazing how a small amount of chip dip can turn ordinary mashed potatoes into extraordinary! It adds an unexpected flavor that is scrumptious.
SMITH's Buttermilk adds while making the mashed potatoes extra creamy. You'll use less buttermilk than you would cream, milk, and butter in ordinary mashed potato recipes.  I like buttermilk because it lends a natural creaminess that is less in fat than milk or cream.
At this point, you could serve these mashed potatoes as is and get rave reviews from all who enjoy them. The combination of French onion chip dip, buttermilk and garlic in mashed potatoes is unbelievable.  However, continue on to create the ultimate mashed potato dish! This recipe makes 5 cups of mashed potatoes.
If you are using leftover mashed potatoes for this recipe, simply stir the chip dip into the mashed potatoes and proceed with the recipe.  This might be the best recipe for leftover mashed potatoes ever!
Stir in cheddar cheese, Parmesan cheese, chives, parsley, and bacon. Next, mound the mashed potato mixture into a prepared cupcake pan.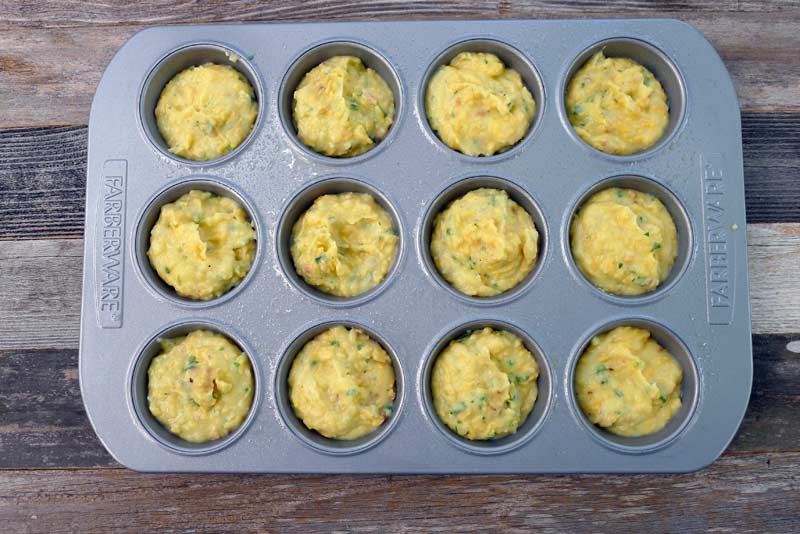 This recipe makes 20 Chip Dip Mashed Potato Cups at about 20 carbohydrates each. Expect people to want at least 2!  Serve with SMITH's Sour Cream, any is fine but I prefer their All Natural kind because it is extra creamy.
You have two choices now. You can top with sour cream and chives or you can add additional cheese and bacon too. They are tasty either way.
For Thanksgiving, I suggest keeping it simple with sour cream and fresh chives.
You are guaranteed bigger smiles if you add the bacon and cheese to the sour cream and chives! Either way, the Chip Dip Mashed Potato Cups is sure to become the most requested dish from now on!
This is the ultimate way to serve and enjoy mashed potatoes this holiday season – and all year long. They are enjoyed by kids and adults alike. I love it when I prepare a new recipe that the youngest kid at our table will enjoy (age 4) as well as the oldest adult (age 91)!
My family trusts SMITH's products for our dairy products. They utilize local dairy farms that do not use rbST, the synthetic growth hormone that increases milk production in cows.  SMITH's offers a few chip dips including French Onion Dip and their All Natural French Onion Dip for this recipe. If you want to spice it up, use their Zesty Onion Dip!
SMITH's offers a variety of sour cream to choose from, all work perfectly well in this recipe.  Choose from Old Fashioned Sour Cream, All Natural Sour Cream, or Lite Sour Cream.
Sign up for SMITH's Dairy Coupons. Get social with SMITH's on Facebook and Twitter.