Chocolate Chip Cookie Bars for Diabetics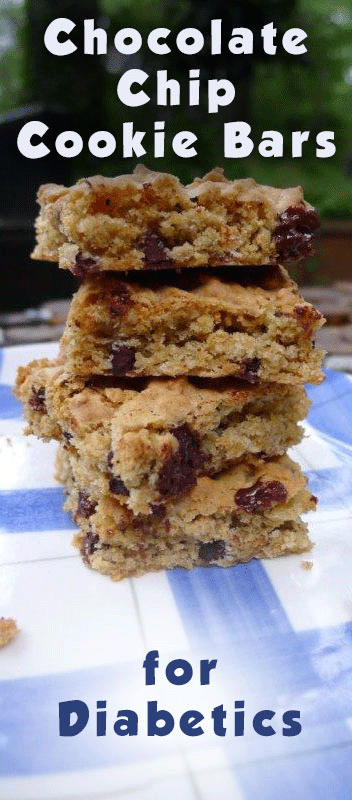 Families that have kids with diabetes may find it difficult to incorporate new lifestyle changes into their family's meal plan.
Cookbooks like America's Best Cookbook for Kids with Diabetes provide recipes good for diabetics because the recipes help keep the blood glucose levels within the target range. The recipes in this cookbook are kid-friendly with nutritional information included, including carbs listed per recipe/per serving.
What makes this Chocolate Chip Cookie Bars Recipe good for diabetics is that the rolled oats contain soluble fiber which helps slow the absorption of glucose from the sugars and chocolate in this chocolate chip cookie bar recipe.
Like most cookies, this recipe is about 20 carbs per serving.
The actual recipe is for cookies, not bars but I find it easier to count the serving size by making bars, plus it takes a lot less time to prepare on a jelly roll sheet than dropping by individual cookies! 🙂
The result are chocolatey cookie bars that will delight anyone, at any age, diabetic or not! I have never made chocolate chip cookies with quick oats and I wasn't sure if my kids would like them since the recipe includes 2-1/2 cups of oats. They loved them! The texture is soft and similar to a brownie, not a typical chocolate chip cookie bar.
| | |
| --- | --- |
| | |
Stir together flour, baking, soda, and salt. Sit aside.

Beat together margarine, sugar, and brown sugar until light and fluffy.

Add eggs, milk, and vanilla to sugar mixture and beat well.

Stir in flour mixture, mix well

Stir in oats and chocolate chips.

Place in prepared jelly roll pan to make cookie bars and bake for 18-20 minutes.

OR drop by heaping tablespoonfuls for cookies onto baking sheets (36 total cookies) and bake for 16-18 minutes.
America's Best Cookbook for Kids with Diabetes Review
My son was recently diagnosed with Type 1 Diabetes, which doesn't restrict him on any foods like Type 2 Diabetes, however we are counting carbs at every meal to give him appropriate insulin.
We've enjoyed making several of the 125 recipes provided in this cookbook for main meals, side dishes, desserts, and everything in between.
America's Best Cookbook for Kids with Diabetes
is a great resource honestly for any family because it is filled with delicious and nutritious foods the whole family can enjoy – without feeling restricted.
The incidence of Type 2 Diabetes for children has risen in the USA and not only for the aging population. Lifestyle and diet changes that these children undergo are healthy changes the entire family can benefit from.
If your child is considered pre-diabetic, America's Best Cookbook for Kids with Diabetes may assist you and your child in preventing Type 2 Diabetes too.
There is no cure and no way to prevent Type 1 Diabetes. My son will be a Type 1 Diabetic for the rest of his life, relying on insulin with every meal to live. It stinks. We also will watch his food intake for the rest of his life, reading every label every time.
I like how this cookbook breaks down the recipes with not only nutritional information you are use to seeing but with exchanges too.
We have always enjoyed eating healthy, well-balanced meals along with treats.  Finding a cookbook like this allows us to continue our lifestyle with even healthier recipes that we can all enjoy as a family.
Who wouldn't like these oven baked fries?
You can pick up your copy of America's Best Cookbook for Kids with Diabetes on Amazon.
Finding a Cure for Type 1 Diabetes
There is no cure for Type 1 Diabetes (T1D). T1D is an autoimmune disease in which a person's pancreas stops producing insulin, a hormone that enables people to get energy from food. The disease can strike in childhood, adolescence, or adulthood, and lasts a lifetime. Just to survive, people with T1D must take multiple injections of insulin daily or continually infuse insulin through a pump. Taking insulin does not cure any type of diabetes, nor does it prevent the possibility of the disease's devastating effects: kidney failure, blindness, nerve damage, amputation, heart attack, stroke, and pregnancy complications
As you can imagine, this diagnosis of T1D has changed all of our lives forever. Not only are we counting carbs to which this cookbook helps but we are also giving my son insulin 4 times a day.
There is no cure for Type 1 Diabetes but we have hope. My family will be taking part in the JDRF Walk to Cure Diabetes, along with a half-million others nationwide. JDRF raises vital funds that power the global movement to help cure, treat and prevent T1D. I'm asking you and your company to help support my fundraising efforts with a donation.
Your tax-deductible gift will help make a difference in the lives of people with T1D.
It is faster and easier than ever to donate. Simply visit our team's page: http://www2.jdrf.org/goto/HopeCompass
Any and all donations are appreciated…just think if everyone who visited this blog donated just $1 this month, that would be tens of thousands of dollars to go toward a cure…