I've been on a roll making Summer-inspired goodies for my family this week! The warmer weather is doing my heart good, it feels like the care-free days of summer are right around the corner. Soon, it will be time for ice cream treats and s'mores!  I baked a batch of the new Pillsbury™ Purely Simple™ Chocolate Chip Cookie Mix with my daughter this weekend.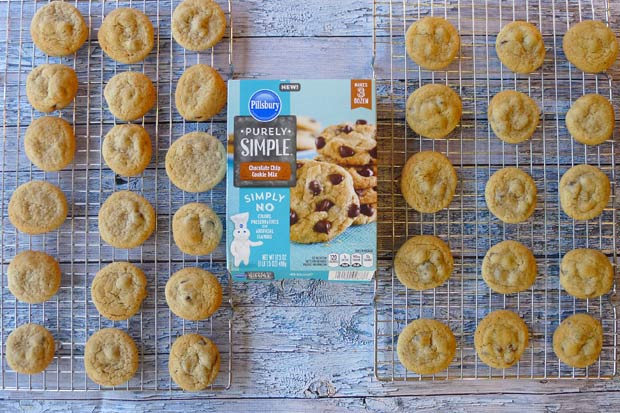 I received compensation, product and a promotional item to facilitate this post.
The Pillsbury™ Purely Simple™ Chocolate Chip Cookie Mix contains no artificial colors, preservatives, or artificial flavors, however, they are big on taste! They were huge hit and taste very much like 'home made' cookies, not 'box cookies' at all. Each box makes about 36, the perfect amount for a weekend of cookies for a family.
Chocolate Chip Cookie S'mores Recipe
After baking the cookies, we were headed outside for our first bonfire of the season. We cleared a LOT of prickly bushes from our woods and collected a zillion sticks and branches that fell over the Winter. We always enjoy s'mores during our bonfires – it is the motivating factor in getting our little helpers to pick up enough sticks for a bonfire! 🙂
Then it happened, my 8 year old daughter Elizabeth said, "How about having chocolate chip cookie s'mores?" What a genius she is!
They were AMAZING, I don't know if we can go back to ordinary s'mores again!
Of course it isn't hard to make and a "recipe" isn't quit necessary, but here it is:
Bake delicious chocolate chip cookies – mine are made per the Pillsbury™ Purely Simple™ Chocolate Chip Cookie Mix directions that created the perfect size for s'mores. They are made with a heaping 1 tsp ball of cookie dough.
Add 3 small squares of a Hershey's bar – 1/4 of a bar.
Add 1 large, ooey gooey marshmallow, roasted over a bonfire preferred!
Simple and delicious for all your upcoming bonfires!! For carb counters, that is 34 carbs of deliciousness!
Chocolate Chip Ice Cream Sandwiches Recipe
One of my favorite spots to find recipes is right on the box at the grocery store. I found a super-yummy looking recipe for Chocolate Chip Ice Cream Sandwiches on the box of the new Pillsbury™ Purely Simple™ Chocolate Chip Cookie Mix and had to try it!
Nothing says summer like ice cream! Pair it with fresh baked chocolate chip cookies and you are a super mom! My kids love Chocolate Chip Ice Cream Sandwiches but they are so expensive to buy at the store, so they don't get them very often. After making this super easy recipe, they are going to be happy kids this Summer!
| | |
| --- | --- |
| | |
Mix together cookie mix with butter and egg until evenly moistened.

Drop cookie mix by level tablespoonfuls onto baking sheets (36 mounds total)

Bake for 8 - 9 minutes or until centers are set.

Cool cookies for 3 minutes on cookie sheet, then remove to wire rack to cool completely.

Put half of the cookies flat side up.

Top with a scoop of ice cream.

Cover with remaining cookies, flat side down.

Roll the sides of each sandwich in mini chocolate chips, nuts, or sprinkles. (If ice cream is melting, place sandwiches in freezer until firm enough to roll in chips.)

Freeze chocolate chip ice cream sandwiches for 3 hours or until ice cream is firm.

Wrap individually in plastic wrap.

Freeze until ready to serve.
The Pillsbury Chocolate Chip Ice Cream Sandwiches Recipe was super easy to make and well worth it! I like that I can freeze this in individually wrapped portions for easy serving. I plan to make a couple batches up and have them ready!
This recipe is made with the new Pillsbury™ Purely Simple™ Chocolate Chip Cookie Mix which contains no preservative or artificial flavors. I think it is great that Pillsbury is providing healthier foods to bake with.
You can customize this recipe by rolling the edges in mini-chocolate chips, nuts, or sprinkles. If you have a theme for a birthday, 4th of July, etc, you can use different color sprinkles to coordinate too.
Chocolate Chip Cookie Sandwiches with Frosting
Another really easy twist on chocolate chip cookies is to add your favorite frosting between two cookies. We used the new Pillsbury Fluffy Frosting in Chocolate Marshmallow flavor, they also have Funfetti Vanilla, Strawberry, and Vanilla flavors.
Yum! The frosting is super airy and fluffy, perfect for not only cookies sandwiches, cupcakes, and more! It reminds me of marshmallow fluff but not as sweet, sticky, or sweet. It has a great taste and I really like the texture. Plus, it is about 1/3 less carbs per serving than ordinary frosting too – great for us carb counters where every carb counts.
Lower Carb Cookie
Many of you know that my son is Type 1 Diabetic, we have to watch and count carbs for every single thing he eats and give him insulin. You probably don't know this until you are counting carbs too but most cookies are about 20 carbs EACH. This new Pillsbury™ Purely Simple™ Chocolate Chip Cookie Mix makes 2 cookies for just 22 carbs – that is amazing and makes this mama happy. I also use a natural ice cream when making these sandwiches, keeping the overall carbs less than 30 per serving! For diabetics on insulin injections, the difference between these cookies and other is the difference between having a shot or not to eat the cookie – this is HUGE!
Not only does the Pillsbury website offer great recipe ideas but so does their  Pinterest and Facebook pages.
Win Pillsbury Celebration Starter Kit and $100 VISA
You have the chance to win a $100 VISA Gift Card and a Pillsbury Celebration Starter Kit that includes:
Pillsbury Purely Simple Chocolate Cake Mix
Pillsbury Purely Simple White Cake Mix
Pillsbury Purely Simple Chocolate Chip Cookie Mix
Pillsbury Key Lime Cake Mix
Pillsbury Key Lime Frosting
Pillsbury Funfetti Bold Purple Vanilla Frosting
Pillsbury Fluffy Frosting Vanilla
Pillsbury Fluffy Frosting Strawberry
a Rafflecopter giveaway

This promotion is in no way sponsored, endorsed or administered by, or associated with, Facebook. In order to comply with the latest Facebook Promotion Guidelines (revised 5/11/11), the following statements are true:
* Giveaway participants release Facebook from any responsibility whatsoever.
* Giveaways on this blog are in no way sponsored, endorsed or administered by, or associated with, Facebook.
* Giveaway participants are providing information to this blog and giveaway sponsors only; not to Facebook.
30 Day Winning Rule applies. For complete contest rules, please see our Contest Statement and Blog Disclosure.
Contest ends at 9pm EST on April 23, 2015 when a winner will be drawn at random. Winner will be notified and allowed 24 hours to respond.