Eating seasoning means enjoying what nature provides when it provides. This time of year means delicious squash. You'll love the combination of  tender roasted acorn squash with flavorful sausage, tender apples, soft oat groats, with onions and peppers.  I've been shopping at Countryside Farmer's Market this summer and finding so many delicious foods to feed my family. One vendor already had acorn squash, so I created this recipe for Bison Sausage and Apple Stuffed Acorn Squash for Countryside.
This is a sponsored post.
| | |
| --- | --- |
| | |
Bring 3 cups water and a dash of salt to a boil in a medium saucepan. Add 1 cup organic oat groats, cover, and reduce temperature to a gentle simmer for 40 minutes, stirring occasionally, until soft and water is absorbed. Set aside.

While oat groats are simmering, Cut the acorn squash in widthwise and scoop out the seeds with a metal spoon.

Place acorn squash cut-side down onto your baking sheet. Bake for 20-25 minutes or until your acorn squash is soft when you press on the skin. Remove from oven and let cool

While squash and oat groats are cooking, add olive oil to a large skillet over medium heat.

Add onion, green peppers, garlic, and celery stems and leaves, sauté until onion is translucent, about 3 minutes.

Add Bison sausage and cook, breaking it up until no pink remains. Remove from heat.

Spoon the bison mixture into the cooked acorn squash halves.

Make a whole in the center for the egg. Crack an egg into each side of the acorn squash and sprinkle with salt and pepper.

10. Bake another 10 - 15 minutes or until the eggs are cooked to your preference.
With so many choices, you won't go home empty-handed from Countryside Farmer's Market. I load up my family with plenty of fresh produce, meats, and treats everything we visit. For this visit, I had a mission of creating a recipe with all the ingredients I found. Eating seasonally means you eat what's fresh in your area at the time, it provides your boy with more nutrition and a variety of vitamins since your eating a larger variety of fresh produce. Go to the market with an idea of what you'd like to cook that week but with an open mind to discover new foods.
Every single ingredient of this Bison Sausage and Apple Stuffed Acorn Squash recipe was purchased by local farmers at Countryside Farmer's Market in Peninsula.
I met the owners of Mud Run Farms earlier this Summer. They are a fantastic second-generation family farm that has fresh organic produce as well mill their own grains fresh the day before each market.  For this recipe, I purchased their Oragnic Oat Groats and brown eggs.
I've never cooked with oat groat before so I had to learn a little. I knew that I wanted a grain in this recipe so I thought I'd try something new. I was very surprised and pleased to learn that oat groats is a natural super food and nutrition dense-packed with important vitamins, minerals, and antioxidants. It's easy to prepare too; just cook in water until tender for this recipe.
I love acorn squash because they are a tender squash with a nutty flavor. It's perfectly sized and beautiful to look at for individual servings too. I found really good produce at Front 9 Farm's booth this summer and was delighted to see an early harvest of acorn squash from Lodi, Ohio.
For this recipe, I cut 6 in half and removed the seeds and baked.
I also bought the fresh garlic from him.
Baker's Fresh Produce & Honey is a family farm business that's going strong after 20 years from Wadsworth, Ohio. They have a realy large booth with gorgeous produce. I love their large white, candy, and red onions with greens.
For this recipe, I used1/2 of a large white onion with greens, both chopped.
Martha's Farm is always a popular booth, specializing in ethnic traditional farming using tested traditional she learned in her country of Ecuador combined with modern technology.
For this recipe, I used one stalk of celery with leaves. There is so much nutrition packed into celery leaves that you can't get at grocery stores.infinite
Infinite Garden Farm from Medina, is a small family-owned farm that sells seasonal produce at the market. They have the best peppers!
I used one whole fresh green pepper, chopped in this recipe. Look at that rich green color, you can almost taste the freshness.
We've purchased several types of bison from Red Run Bison from Marshallville, Ohio this summer and they never disappoint. Their farm-raised buffalo meat is lean, like nothing you can find at grocery stores.
We used about a pound of sausage for this recipe. It's a flavorful sausage that adds protein to this recipe without a lot of extra fat like other sausages.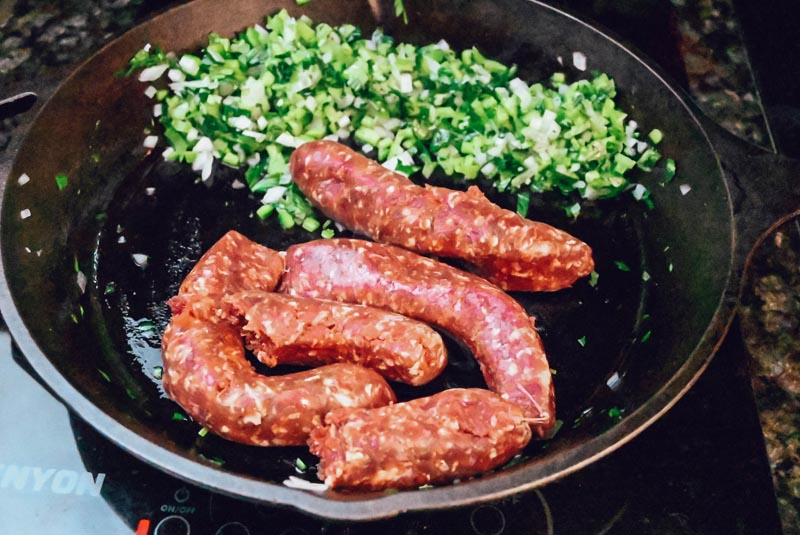 It cooks quickly with less grease than other meats.
I was able to pick up the first-of-the-season green apples from Dillion Fruit Farm, a family-owned and operated business since 1978 in Lisbon, Ohio.
The apples add a tender and tart flavor to the recipe.
Add all but the squash and eggs to a skillet and saute. It's that easy.
After the initial baking of the acorn squash, fill the halves with the stuffing mixture.
This next step is optional but I highly recommend it. I purchased brown eggs from Mud Run Farms to crack on top.
After the acorn squash with filling is baked, crack an egg on top and bake for another few minutes until cooked.
What you have now is a completely local, fresh, and amazing entree or side dish that is seasonally fresh and full of nutrition. This mouthwatering meal has all the perfect fall flavors. The sweetness from apples and squash pairs well with the flavorful sausage like you wouldn't belive. Adding a fresh egg on top takes this recipe over the top in flavor and nutrition that will satisfy any appetite.
If you plan to keep warm and serve for a holiday gathering or party and want to skip the eggs, that's completely fine. It's still a hearty meal or side dish. I like to add some fresh fruit on the side and call it a meal. Just one acorn half is quite filling for dinner or lunch.  
I hope you enjoy this recipe and it inspires you to create your own seasonal meals for your family with local ingredients from local farmers.
Make Countryside Farmer's Market part of your weekend every Saturday. Pack a cooler to keep meats and produce cool in the car and make it a day in Cuyahoga Valley National Park. It's a great way to explore and have fun in your own 'backyard' every Saturday!
Countryside Farmers' Market at Howe Meadow
4040 Riverview Rd
Peninsula, OH 44264
(234) 334-4622
Saturdays, 9am to 12pm from May 7 – October 29, 2022