With Spring finally here, I feel like celebrating! There is so much to celebrate in Spring – warm weather, Easter, end of school, start of sports, gardening, muddy feet (both dogs & kids), and the start of all things new!
We tend to have family and friends over more when it is warmer and I'm always looking for a new recipe to serve that is delicious and fun. Pillsbury® has a new line of Bold Funfetti® cupcake and cake mix and frosting that was just made for celebrating everything Spring and Summer with exciting, bold colors!
I received compensation, product and a promotional item to facilitate this post.
#GoBold with Pillsbury Funfetti Bold
I checked out the Pillsbury Pinterest Board for inspiration. The new Bold Funfetti products come in aqua blue, orange all star, neon yellow, and vibrant green. There is a Pinterest board for every color with fun recipes your family will absolutely adore!
For this post, I was asked to create a new recipe, something fun and bold. We love cake pops – who doesn't?! My husband and I thought that this new line of bold colored cakes and frosting would be perfect for festive, fun cake pops – but we wanted to add a new twist. I say "we" because my husband is super creative and likes to experiment in the kitchen too. In fact, he is the one who game me the idea for the Perfect Potato Pockets recipes that got me voted as America's Favorite Crescent Cook a few years ago.
We thought it would be so fun to create mini cakes that can be shared with just one or two people. It is the perfect size to celebrate anything this season – from a your kid's home run at a baseball game to birthdays to playdates with friends. Then, we thought how fun if it looked like Edible Playdough?!
#GoBold Edible Playdough Mini Cakes Recipe
This is a quick and easy recipe that even your kids can help you prepare for an upcoming celebration or just for fun. I used all 4 of the new Pillsbury Funfetti Bold cake mixes and frosting to make these fun #GoBold Edible Playdough Mini Cakes. As the name suggests, they look just like playdough, although not intended to be played with like playdough!
Prepare each cake per package instructions, bake, and allow to cool.

Crumble each cooled cake into small crumbs into individual bowls, you may use a mixer to quickly crumble.

Mix in 2 TBSP Funfetti Frosting in coordinating colors (orange for orange cake, yellow for yellow cake) per cake. Use Pillsbury White Frosting with the green and blue cakes.

Press rolled balls or cut pieces of "playdough cake" into food ring, press flat from top, remove ring

Frost with additional icing, as desired

Enjoy your GoBold Edible Playdough Mini Cake
Preparing the cakes is easy, bake per package instructions, cool, crumble, and add frosting. This gives you a large ball of "edible playdough" to work with.
Next, get creative! This recipe will make any celebration – big or small exciting and fun! If you've never worked with a food ring before, you are missing out on so much fun. Buy one that is adjustable so you can make treats big and small. I shaped cake balls – kinda like cake pops – and pressed them into the food ring for adorable mini cakes that serves between 2-3 people. Remember, this is compressed cake with frosting, so it is more dense, moist, and filling than a slice of cake the same size!
The best part about this recipe is you can do anything you want with it! I rolled out and sliced the cake playdough to create a confetti looking mini cake. I also just used a cookie cutter to create a playdough looking stack of pancakes – it's all about having fun – kinda like playing with real playdough.
Next, add the remarkable bold Pillsbury Funfetti frosting to your creations!
My kids LOVED helping us create these mini cakes and had even more fun eating them. We had friends over and they all said it looked just like playdough!
The kids weren't sure if they were allowed to eat them or not! Just be sure that when you serve these #GoBold Edible Playdough Mini Cakes to children that they understand that it is not really playdough and that they should never eat real playdough.
Enter the Pillsbury Baking #GoBold Contest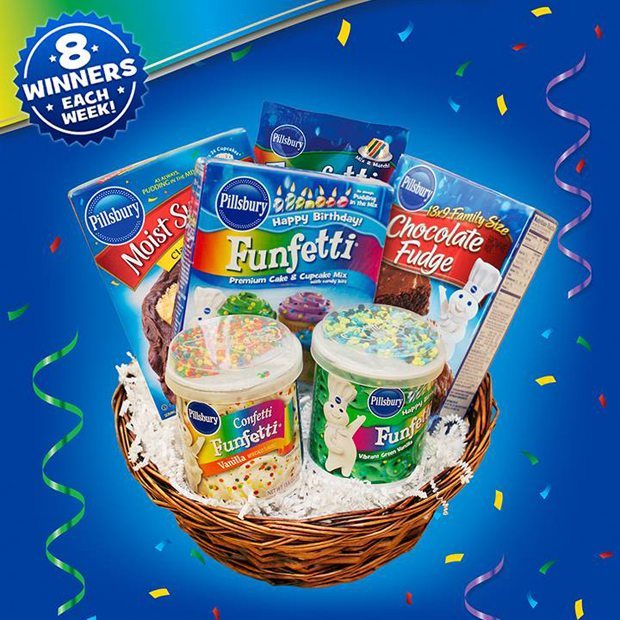 Pillsbury invites you to #GoBold too for a chance to win an assortment of Pillsbury Funfetti & BOLD cake mixes and frostings weekly now through April 28, 2014. Show them your bold creation using has tag #GoBold and @PillsburyBaking on the Pillsbury Baking Facebook Page, Instagram or Statigram. 8 Winners announced weekly.
©/® The J.M. Smucker Company. Pillsbury is a trademark of The Pillsbury Company, LLC, used under license.