Treat your family and friends to the best this New Year's with Filet Mignon. This Filet Mignon Appetizer with Creamy Horseradish Sauce recipe is guaranteed to make your guests feel welcomed and special while not breaking the bank!
This is a sponsored post of SMITH's Dairy.
Filet Mignon Appetizer with Creamy Horseradish Sauce Recipe
This recipe for Filet Mignon Appetizer with Creamy Horseradish Sauce is easy to prepare, feeds a large crowd, and is very tasty. The flavor combination of Filet Mignon with a creamy horseradish sauce is an epic duo that your guests will rave about. This recipe is easy to prepare. Watch the recipe video on Smith's website!
| | |
| --- | --- |
| | |
Preheat oven to 450° (or 440° for Convection Oven)

Bring Filet Mignon to room temperature - about 15 minutes out of refrigerator, pat dry with paper towel. Sprinkle with pepper and salt (I use sea salt).

Heat pan over high heat with olive oil.

Place Filet Mignon in a hot pan and sear each side about 2-3 minutes. This will lock in the moisture, keeping it tender on the inside and sealed on the outside.

Roast Filet Mignon in preheated oven for 7-8 minutes for medium-rare or 8-10 minutes for medium-well.

Let meat rest under aluminum foil for 10 minutes before slicing.

For the Creamy Horseradish Sauce:

Combine SMITH's Old Fashioned Sour Cream, prepared horseradish, tarragon, mayonnaise, and Worcestershire sauce (optional) together.

Cut bread into bite-size pieces about 16-20 per loaf.

Brush olive oil on both sizes of each slice of bread.

Bake for 6-8 minutes until desired crispness.

Assemble your Filet Mignon Appetizers:

Place a few pieces of arugula leaves on each toasted bread, add a slice of Filet Mignon, dollop of creamy horseradish sauce, and garnish with capers.
There are a couple key ingredients in this recipe. First is the Filet Mignon. I would order Filet Mignon whenever we dine out if it wasn't for the high price tag. Nothing compares to Filet Mignon, it is the most tender cut of beef and the most desirable. For this recipe, the creamy horseradish sauce is another key component. Although you'd guess that the horseradish sauce itself is the key ingredient, it is actually the sour cream. Quality sour cream gives this sauce the perfect creaminess to complement the Filet Mignon.
Back to the Filet Mignon, this steak is both lean and tender, making it a perfect choice for entertaining. Filet Mignon is the tenderloin, the most tender cut of beef making this also the most expensive cut of beef. The good news is that for this recipe, we are only using 1-1/2 – 2 pounds which will set you back just about $30. For an extraordinary appetizer, it is well worth the price.
The creamy horseradish sauce is very easy to whip up and can be prepared ahead of time to save time on the day of your party. Although there are many choices for sour cream on the market, I choose SMITH's Old Fashioned Sour Cream for a number of reasons. First, I like the texture and consistency of this old fashioned sour cream. It works amazingly in this recipe. Plus, SMITH's is a local company that has been a trusted household name in kitchens since 1909. Finally, I trust SMITH's products because their dairy products are made without the synthetic growth hormone rbST, that is very important to me.
Filet Mignon may be the easiest steak to prepare. There is no need for tenderizing or marinading as this tenderloin is lean and offers a savory flavor like no other. The key is to sear it at high heat before cooking it on the oven. Searing it will lock in the juices and provides a nice browned exterior. Once seared for a few minutes, transfer to a pre-heated oven of 450° for just 7-8 minutes for medium-rare or 8-10 minutes for medium-well. Filet Mignon is best enjoyed medium-rare, however my kids are very picky when it comes to any red in meat so I prepare it medium-well as shown below.
Let the meat rest for 10 minutes under aluminum foil before slicing. To spread this steak out even further, use an electric knife to slice even thinner pieces than I did.
Preparing the creamy horseradish sauce couldn't be easier. Simply stir together SMITH's Old Fashioned Sour Cream, prepared horseradish, tarragon, and mayonnaise together. Add a dash of Worcestershire sauce, if desired. Chill in the refrigerator until ready to use. This can be prepared ahead of time to save you time on the day of the party.
Turn down the oven to 425° toast the bread. Again, to spread this recipe further, you can slice the French bread to smaller serving sizes. Mine are cut at about 2″ thick and I got about 25 pieces for this recipe. This recipe can easily serve 40 pieces if you slice the bread and meat thinner. It depends on how hearty you want your appetizer, how many you are serving, and how many other appetizers you'll be serving at your party. Bake the bread for just 6-8 minutes until browned.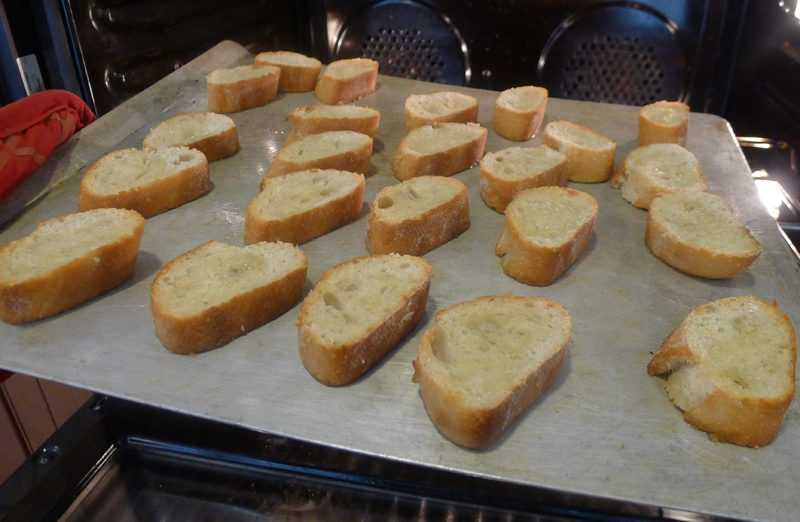 Allow bread to cool and start assembling. Place a couple pieces of arugula leaves on the toasted bread. I like the appearance and flavor of arugula for this recipe, however you could use spinach instead.
Next, place a piece of Filet Mignon on each toast. Since French baguette bread is narrow in diameter, even small slices of steak appear substantial.
Next, add a generous dollop of the creamy horseradish sauce to each appetizer.
This creamy horseradish sauce is amazing. You'll want to add it to all your steaks from now on, trust me! I am not a huge fan of horseradish sauce however it goes very well with Filet Mignon. This recipe calls for a very little amount of horseradish, just enough to have the flavor. If you are a big fan of horseradish, feel free to add more. The texture of this creamy sauce is divine when used with the old fashioned sour cream. The thick and creamy texture of the sour cream carries over into the finished sauce.
You may wish to serve this appetizer as-is without the capers. It is delicious either way.
I personally enjoy adding capers to this and other recipes as it livens up recipes with a bit of a Mediterranean taste.
I hope you'll treat your family and guests to my Filet Mignon Appetizer with Creamy Horseradish Sauce recipe this New Year's Eve!
You can find SMITH's Dairy products locally at Acme Fresh Markets. Sign up for SMITH's Dairy Coupons. Get social with SMITH's on Facebook and Twitter.