Do you ever wonder why your mashed potatoes aren't as creamy as the ones you are served at restaurants? How can they make them so creamy and delicious? I recently found out the secret and can't wait to tell you!  But first, I want to share with you my favorite Garlic Parsley Mashed Potatoes Recipe.
Garlic Parsley Mashed Potatoes Recipe
This recipe is a showstopper at any dinner table, especially during the holidays. It is full of delicious flavor of fresh garlic and parsley.
| | |
| --- | --- |
| | |
In a large pot, boil salted water. Add peeled potatoes and garlic cloves, cook until potatoes are soft when pierced with a knife.

Drain the potatoes and garlic, add butter to pot and let melt.

Combine the Half & Half with Snowville Creamery Crème Fraîche and parsley, simmer over low heat.

Add Creamy mixture to the potatoes.

Mash potatoes. I use my electric mixer.

Salt and pepper to taste.
This recipe is easy to make and prepare ahead of time with these few ingredients.
This recipe is sure to give your friends and family a huge smile on their faces. It goes beyond ordinary mashed potatoes with plenty of fresh flavors. Your mashed potatoes might even smile back at you like mine – do you see the smiley face below? I didn't until I uploaded the picture!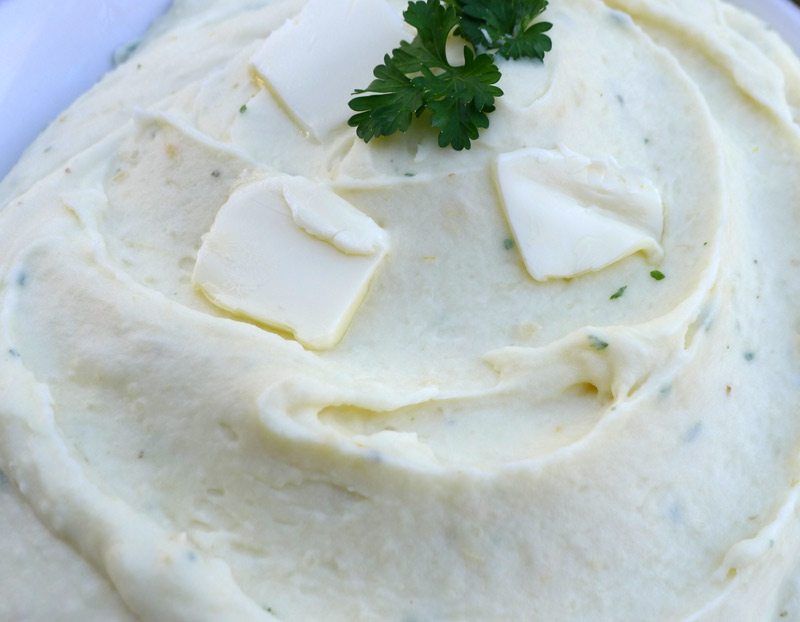 This is a sponsored post for Snowville Creamery.
Secret Ingredient Revealed in Garlic Parsley Mashed Potatoes Recipe
Now, it is time to reveal the secret ingredient to this and any mashed potatoes recipe. It is the Snowville Creamery Crème Fraîche! It is amazing how one single ingredient can change the entire texture and taste of a recipe like mashed potatoes. You haven't enjoyed creamy mashed potatoes until you add Snowville Creamery Crème Fraîche to them.
Not familiar with Crème Fraîche? It is used in many recipes that call for sour cream, milk, or heavy cream for cooking and baking. You can even use it as a topping for sweet and savory dishes.
Shop Local with Snowville Creamery
I choose Snowville Creamery for Crème Fraîche because they provide a a lower fat version of Crème fraîche with a more complex flavor than others.
All of Snowville Creamery products are uniquely rich in flavor because of their genetically diverse, pasture grazed herd. They are intentional in their practice of traditional dairy farming to provide healthier products with a healthier herd instead of pushing their cows for greater output. Their sustainable dairy farming practices provides more nutritious products for our families.
Plus, Snowville Creamery is a local company that I can feel good about supporting.
Snowville Creamery is a local company in Pomeroy, Ohio with products available Ohio, Pennsylvania, Maryland, West Virginia, Kentucky, and Virginia. Snowville Creamery 6% plain yogurts is fantastic alone or added to recipes.
Find your local retailer here. In the Akron, Ohio area, you can find Snowville Creamery products at Giant Eagle, Earth Fare, Mustard Seed Market, and Krieger's Health Food Market.
Connect with Snowville Creamery on Facebook and Twitter.