ARE YOU READY KIDS? SpongeBob is back in the brand new prequel series Kamp Koral: SpongeBob's Under Years! Now you can eat what SpongeBob eats with this recipe is inspired by the new Kamp Koral. It is just right for your next camping adventure whether that happens to be in your own backyard or in the wild!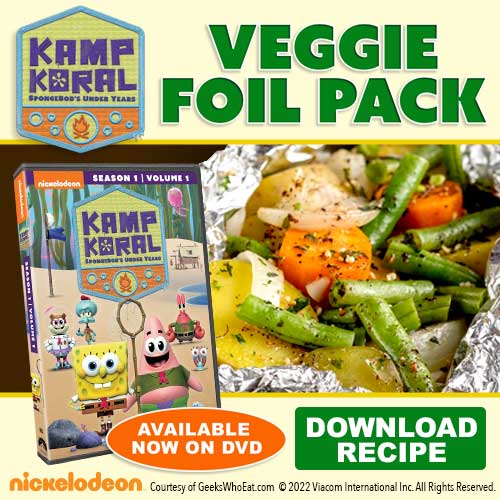 This recipe is perfect for backyard campfires or to take with you on your next camping trip.  Being SpongeBob themed, you may be able to get away with sneaking in a meal packed full of vegetables!
Evenly distribute ingredients among 4 pieces of foil approx. 12" x 12", putting them in the center.

Spray with avocado oil spray and season with salt and pepper.

Fold by aligning the edges and then fold those edges over creating a pouch.

Grill for 20 minutes over medium heat.

Carefully open and top with nori rice seasoning. Server and enjoy.
Kamp Koral: SpongeBob's Under Years is now available on DVD – make this a fun family night by watching the DVD and enjoying this recipe together!
This recipe is very similar to a recipe that was a life-saver for my family during COVID. When nobody wanted to get together inside, we made these Make-Ahead Shrimp Packs on the grill and enjoyed eating together (6 feet apart) outside.
You can sub out the shrimp with bite-size pieces of chicken too. You can easily add small pieces of chicken to the Kamp Koral Veggie Foil Pack to make it a complete meal too since it will be grilling for 20 minutes – just double check that the chicken is done before consuming! I created this recipe for Acme Fresh Market and it's become a staple for my family over the past 1-1/2 years! Check out other Acme Fresh Market recipes that I've created for them!