This Low Carb Buckeye Cups Recipe includes the delicious peanut butter and chocolate flavors of a Buckeye Candy with less carbs and sugar. At only 6 carbs per serving, it is good for diabetics and those watching their sugar and carb intake. This recipe is also gluten-free.
This is a sponsored post for Jif.
Low Carb Buckeye Cups Recipe
I am always searching for low carb dessert recipes that my kids, who are both Type 1 Diabetic can enjoy. This is a light dessert that can be enjoyed just about any time of day with 6 carbs or less.
| | |
| --- | --- |
| | |
Stir together Jif Peanut Powder and Whipped Cream.

Add peanut whipped cream mixture to chocolate cups.
My kids and I enjoyed creating this recipe together, using a few simple ingredients. The star of this recipe is the new Jif Peanut Powder. Jif Peanut Powder is amazing. You can add it to just about anything to enjoy delicious peanut butter flavor with less fat and carbs.  Plus, it boasts an impressive 8 grams of protein per serving! Add Jif Peanut Powder to smoothies, desserts, and sauces.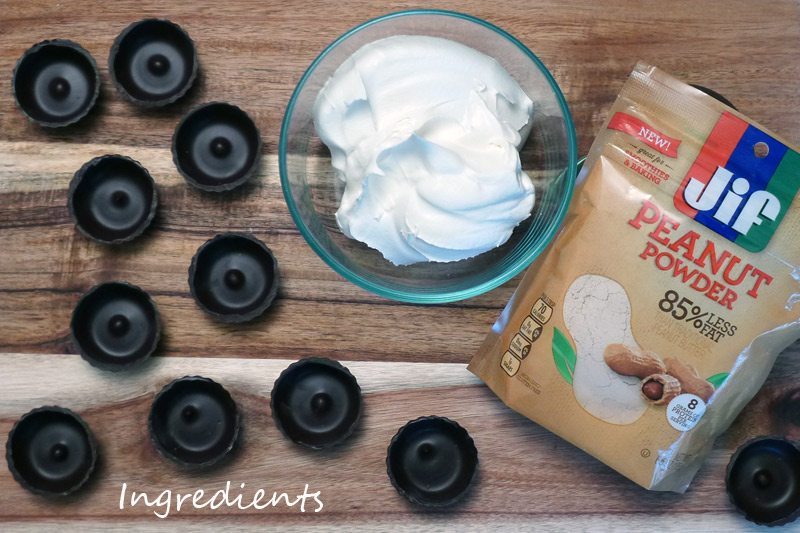 We combined the Jif Peanut Powder with whipped cream for the filling of this easy, no carb buckeye peanut butter cup recipe.
Next, we placed the mixture in a pre-made chocolate cup and added a cherry on top. For even less carbs, skip the cherry and it is only 4 carbs per cup! This simple, yet delicious Low Carb Buckeye Peanut Butter Cup recipe will satisfy your cravings this holiday season with low sugar, low carbs, and low calories.  It is an easy recipe to whip up for unexpected guests, an after-school treat, and party dessert.
Low Carbs for Type 1 Diabetics
Many of you know that my children are both diagnosed with Type 1 Diabetes, aka Juvenile Diabetes. Type 1 Diabetes is an autoimmune disease that attacks the pancreas so it can no longer produce insulin. There is no cure, diet and exercise is not a contributing factor like Type 2 Diabetes. We manage it with insulin with everything our kids eat.
At only 6 carbs (or 4 carbs without the cherry), this recipe is a sweet treat that diabetics can enjoy without taking extra insulin. This is huge for my family, especially during the holiday season when there are sweet treats out at every holiday party. It can get very frustrating for my kids to have to choose between 1) having nothing or 2) having a treat accompanied by an extra insulin shot. With this recipe, everyone wins with a tasty dessert that needs no additional insulin. 🙂
I hope you and you family will try our Low Carb Buckeye Peanut Butter Cups recipe this holiday season. You can purchase pre-made chocolate cups in the bakery aisle at your local grocery store or baking supply store. The Jif Peanut Powder can be found at retailers nationwide and on Amazon.com.
Check out other delicious peanut butter recipes on the Jif website. You can purchase Jif peanut butter at retailers nationwide. Get social with Jif on Facebook and Twitter.