Make this Raspberry Yule Log Bûche de Noël Recipe a family tradition for your family this Christmas. This French classic dessert is usually served at Christmas, representing the yule log. Burning a special log or yule log is a tradition that dates back before the birth of Christ. Often burned for good luck, it is surrounded by gatherings of family and friends with songs, stories, dancing, feasts, and fun.
A traditional Yule Log Bûche de Noël recipe is a flourless chocolate cake rolled with whipped cream. My revision includes a small amount of flour and the addition of fresh raspberries for an even more special winter-time dessert.
This is a sponsored post for SMITH's Dairy.
Raspberry Yule Log Bûche de Noël Recipe
This Raspberry Yule Log Bûche de Noël Recipe is a beautiful dessert with a balance of rich chocolate and creamy whipping cream. Your family will appreciate this beautiful display and the decadent flavor combination. Scroll down to watch the how-to video!
| | |
| --- | --- |
| | |
Spray or Butter a 9x13 inch jelly ban, line with parchment

In a medium bowl, whisk together flour, cornstarch, cocoa powder, baking powder, and salt, set aside.

Beat 4 egg whites and 1/4 tsp cream of tarter on medium-high speed until foamy and wet, soft peaks form (about 2-3 minutes).

Gradually add 1/4 cup and 1 TBSP sugar to egg white mixture and beat until stiff peaks form (about 3 minutes), set aside.

In a separate bowl, beat 5 egg yolks, vanilla, 1/4 cup sugar plus 1 TBSP on medium-high for 4 minutes.

Fold in half of the flour mixture into the egg yolk mixture until fully incorporated. Repeat with remaining half of flour mixture.

Gently fold in the egg white mixture with light, long folds.

Gently pour batter into prepared pan, being careful not to ruin the air bubbles.

Bake 7-8 minutes, until the cake springs back when lightly pressed.

Sprinkle powdered sugar on a clean dish towel.

Sprinkle immediately with powdered sugar.

Scour the edges of the cake.

Flip cake over onto powdered dish towel.

Peel away the parchment paper inch by inch.

Gently roll up the sponge cake from the short side, towards the other short side with the towel as you go.

Set aside and allow cake to cool inside the towel.

For the Chocolate Ganache:

Place 9 oz Bittersweet or Unsweetened Chocolate in medium size bowl.

Heat 1 cup SMITH's Heavy Whipping Cream over medium-high heat until it reaches a boil, remove from heat.

Pour heated whipping cream over chocolate and allow to sit 1-2 minutes to melt chocolate.

Whisk the chocolate until smooth and creamy.

Refrigerate 15 minutes before use.

In large mixing bowl, whisk together SMITH's Whipping Cream, 3/4 cup powdered sugar and almond extract.

Beat until stiff peaks form, about 5 minutes.

Once cake has cooled, unroll.

Spread whipped cream filling evenly over cake.

Sprinkle halved raspberries on top.

Gently roll the cake in the same direction as before into a log shape.

Place on serving platter.

Cut a diagonal slice from one end of the cake and attach to one side of the log (acting as a branch off of your log).

Frost the log with chocolate ganache, covering one end of the yule long, leaving one end and end of branch exposed with whipped cream spiral revealed.

Run tines of a fork down the log to looks like bark.

Decorate with additional raspberries and mint leaves (optional).

Refrigerate until ready to serve.

Sprinkle with powdered sugar before serving.
There are three parts to this recipe: chocolate sponge cake, whipped cream filling with raspberries, and chocolate ganache. The combination is remarkable and so decadent.
A key component of this recipe is the heavy whipping cream. High-quality whipping cream is essential for both the cream filling and the chocolate ganache. I use SMITH's Dairy Heavy Whipping Cream because it is a high-quality heavy whipping cream made up of 36% cream. This will offer you a more stable whipped state. Be sure to note that Heavy Whipping Cream and Heavy Cream are not the same thing and you will not get the same results.
Although this recipe takes some time to prepare, about an hour, it is not difficult as long as you follow the instructions. If you have never made a roll cake before, don't fear, I have step-by-step instructions for this Raspberry Yule Log Bûche de Noël Recipe to make it easy.
The first step is to combine the dry ingredients, you'll notice that there is very little flour in this cake. This is a sponge cake, not a traditional cake, which is another reason why you must prepare this recipe from scratch and not from a box mix.
I recreated this recipe for Acme Fresh Market Website with some minor changes – watch the video!
You'll beat the egg whites with the cream of tarter. Next, in another bowl, you'll beta the egg yolks, vanilla, and sugar. Next, you'll fold in the flour mixture.
Finally, you'll gently fold in the egg white mixture. It is essential that you gently fold the whites into the batter with long, light folds. You'll batter will be quite sticky, nothing like a traditional flour cake.
This sponge cake bakes very quickly, about 7-8 minutes. You will know it is done when the cake springs back when lightly pressed. Once out of the oven, sift powdered sugar on the top.
Sift powdered sugar on top of the clean dish towel you are going to use to roll the cake as well. This powdered sugar will help prevent the cake from sticking to the towel.
Score the edges of the cake with a sharp knife.
Flip your cake onto your powdered dish towel. Gently pull away from the parchment paper.
Next, trim the edges of your cake.
Notice how thing this sponge cake is. Don't worry, it is supposed to be thin. Next, roll the cake starting at one short end and working to the other short end. Allow the cake to cool in the towel. 
While the cake cools, prepare the chocolate ganache. Chop 9 ounces of semisweet or unsweetened chocolate. The choice is yours, in fact, you could use milk chocolate if you would like but the ganache will be a much lighter brown color.
Heat SMITH's Heavy Whipping Cream over medium to high heat until it just reaches a boil. SMITH's Dairy is noted for high-quality standards and quality. I like that they are a local Orrville, Ohio company too. This dessert is nothing without whipping cream.
Once you bring the Heavy Whipping Cream to a boil, pour over the chocolate in a bowl. Allow to start to melt for a minute or two, then whisk until it is smooth and creamy. Refrigerate for at least 15 minutes before frosting your yule log.
The best part of this recipe is the whipped cream filling. The combination of SMITH's Heavy Whipping Cream with almond extract and powdered sugar is phenomenal.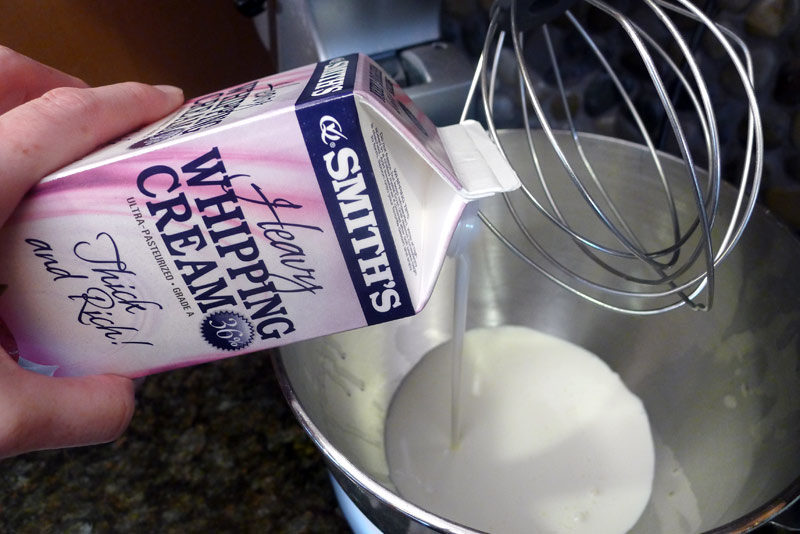 Beat the three ingredients until you have stiff peaks on a medium to high speed. If your cream is too thick, add more cream. If your cream is too thin, add more powdered sugar.
Once your cake has cooled, unroll it and gently spread the whipped cream filling edge to edge.
Sprinkle raspberries all over. I cut my raspberries in half so they fold easier.  Roll the cake back the same way you unrolled it. It should easily roll.
Next, place on your serving platter. The next step is optional. You can keep your yule log as one piece or add a branch coming from the side. If you choose to add a branch, cut a diagonal slice in your yule log. Place that along the side of your cake.
Place your branch alongside the yule log.
Take the chocolate ganache out of the refrigerator and pour it by spoonfuls on the yule log and spread. Don't worry if it is not perfect, it is a log, it is supposed to have bumps and imperfections.  
If you like, after spreading the chocolate ganache, you can keep it like this and serve as-is.

However, to make the 'bark' look more realistic, run the tines of a fork along the chocolate ganache. Again, it is not supposed to be perfect, add variations in your lines for a more realistic appearance.
Garnish with raspberries and mint leaves, as desired. I also add extra raspberries to the ends of the yule log for a more appetizing appearance. The result is an amazing yule log dessert that you will be proud to serve to family and friends on Christmas Day and at other Christmas and New Year's celebrations.
Keep as-is or add powdered sugar to resemble snow on a yule log. You'll want to add the powdered sugar just before you serve. If you sift the powdered sugar ahead of time, it'll dissolve into the chocolate ganache.
From every angle, this Raspberry Yule Log Bûche de Noël Recipe looks and tastes amazing. This recipe serves 8-10 people or more depending on the size of your cuts.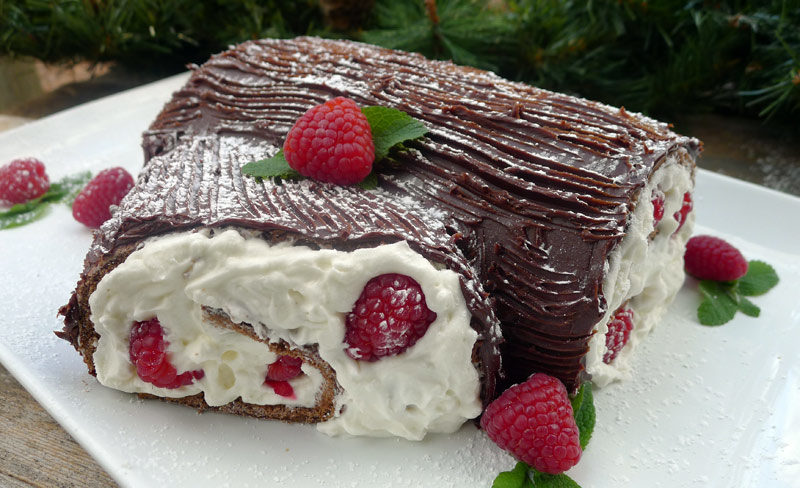 I choose to frost the back end of my yule log, however, you can keep it open as well for a more impressive presentation 360°.
Just look at that amazing cream filling. Kids and adults alike will devour it.  You can feel good about serving this to your family and friends knowing that you made it with love, especially if you use a quality product like SMITH's Dairy. They never use the synthetic growth hormone, rbST that other dairy companies use. This hormone increases milk production in cows but it is banned in other countries. rbST has been linked to medical conditions that I don't want to risk with my family. I trust the local farmers that SMITH's uses because they provide their cows with a healthful environment and quality care.
I hope you will add this Raspberry Yule Log Bûche de Noël recipe to your family's Christmas tradition this year. It is a rich French food tradition that deserves a chance on the dessert table in all American homes as well.  Gather around this Yule Log this Christmas for plenty of smiles, and fun.
You can find SMITH's Dairy products locally at Acme Fresh Markets. Sign up for SMITH's Dairy Coupons. Get social with SMITH's on Facebook and Twitter.