Looking for a zero-carb, hearty side dish? Trying to get more vegetables in your diet? Looking for a cauliflower recipe that your kids will actually eat? You've come to the right place! All of this and more can be found in my  Roasted Cauliflower Steaks with Havarti Cheese Recipe! This roasted cauliflower recipe is fork tender, topped with crispy bacon, and smothered in a creamy Aged Havarti cheese that can't be beat.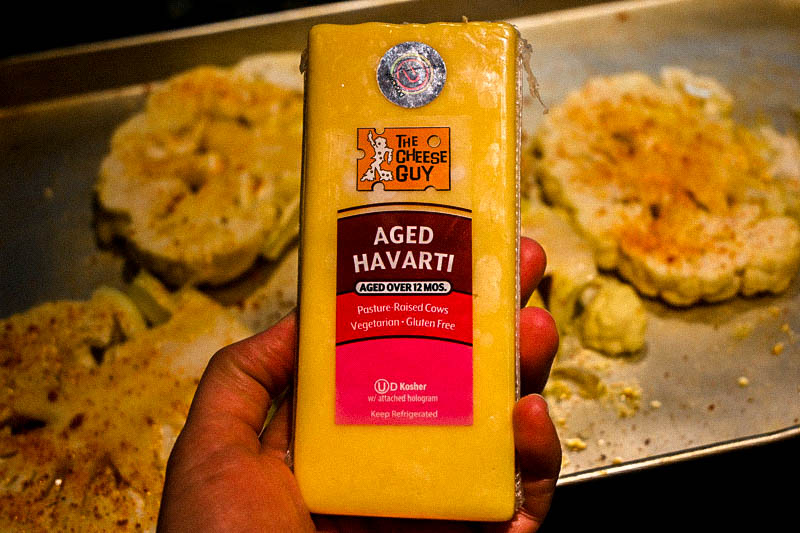 | | |
| --- | --- |
| | |
Cut cauliflower into 4 'steaks' by cutting cauliflower into 1" thick slabs by cutting from the top to the bottom lengthwise.

Place cauliflower steaks on cooking sheet. Drizzle with olive oil. Season with seasoned salt, smoke paprika, and black pepper. Roast for 40 minutes or until fork tender.

Cook bacon in a large skillet over medium-high heat to your preferred crispiness. Transfer to a paper towel lined plate. Crumble.

Add crumbled bacon onto each cauliflower steak. Top with shredded The Cheese Guy Aged Havarti Cheese. Place back in oven under broiler on an oven rack about 6" from the top. Broil for 2 minutes, until cheese is bubbling.
This recipe is a keeper!  You can also top with diced green onions to add color to the dish but there is already plenty of flavor. I love preparing this cauliflower steak recipe with The Cheese Guy Aged Havarti cheese. It's my family's favorite for melty dishes. Specifically, The Cheese Guy brand is extra good because it is handcrafted in small batches which makes all the difference in flavor and quality. It's aged for over a year to get the slightly acidic, buttery, sweet flavor. If you aren't familiar with Havarti cheese in general, it is a milder flavor of something like Monterey Jack, so you can easily sub it out for that type of cheese.
We also like Havarti in mac and cheese, grilled cheese sandwiches, or on its own with fruit or crackers. It is a very versatile semi-hard cheese that makes everything taste extra smooth. You can purchase The Cheese Guy Havarti Cheese on the The Cheese Guy website and have it delivered right to your door or at a local grocery store near you.
I've never been big cauliflower fan, only really ate it on a veggie tray until I started experimenting with zero-carb food when my kids were diagnosed with Type One Diabetes. Although my kids can eat anything that anyone else can eat, they just need to take insulin to cover the carbs. However, there are days that one of them is running a little higher and it is at that point that I reach for one of my low-carb recipes for dinner.
And actually cauliflower is an often missed vegetable in meals. It is high in fiber (great for enhancing weight loss & digestion) and B-vitamins, provides antioxidants and phytonutrients that can protect against cancer, provides choline for learning and memory (we can all use this!!), and many other important nutrients.
If you like this recipe, please share it on social media and check out our other family-friendly recipes!