This Whipped Honey Pumpkin Butter Recipe is easy to make and makes everything taste fantastic this Fall.  I became a fan of flavored butter just recently when my sister-in-law started bringing flavored butters to our holiday gatherings. Everyone raved over it, so I decided to pull my favorite Fall flavors together for this Whipped Honey Pumpkin Butter recipe and it sure is a winner!
Spread this Whipped Honey Pumpkin Butter on rolls, breads, English muffins, and even baked sweet potatoes this season. The combination of cinnamon, nutmeg, ginger, pumpkin and honey is amazing. I personally love whipped butter, making this recipe a total winner in my book.
Whipped Honey Pumpkin Butter Recipe
| | |
| --- | --- |
| | |
Bring butter to room temperature.

Beat butter until light and fluffy.

Stir in cinnamon, nutmeg, ginger, and salt.

Beat pumpkin until fully combined.

Add honey and vanilla, beat until mixture is fluffy.

Serve at room temperature, store in covered container in refrigerator.
Like I said, this recipe is easy. If your kids like to cook with you like mine do, they will enjoy watching the transformation of an ordinary stick of butter into a whipped delight! This recipe is a good way to teach kids how to measure with a measuring spoon too.
You'll want to set the butter out on the counter for at least 20 minutes to get it at room temperature before you start. Then, beat the butter with a mixer until it is light and fluffy. Next, stir in cinnamon, nutmeg, ginger, and salt. You can skip the salt if you are using salted instead of unsalted butter.
You can also use 1 tsp pumpkin pie spice instead of cinnamon, nutmeg, and ginger if you prefer, you'll get similar results except without the flavor of ginger. Speaking of ginger, if you are not a fan, you can skip it in this recipe, however, I recommend giving it a try. Ginger adds a tiny bit of a spicy bite to this recipe, giving it an added edge that will entice your taste buds. I find that ginger pairs amazingly well with recipes that call of honey. That is why I added ginger and honey to the Buttermilk Honey Thankful Rolls recipe that I recently developed too. This whipped honey pumpkin butter is amazing with the rolls.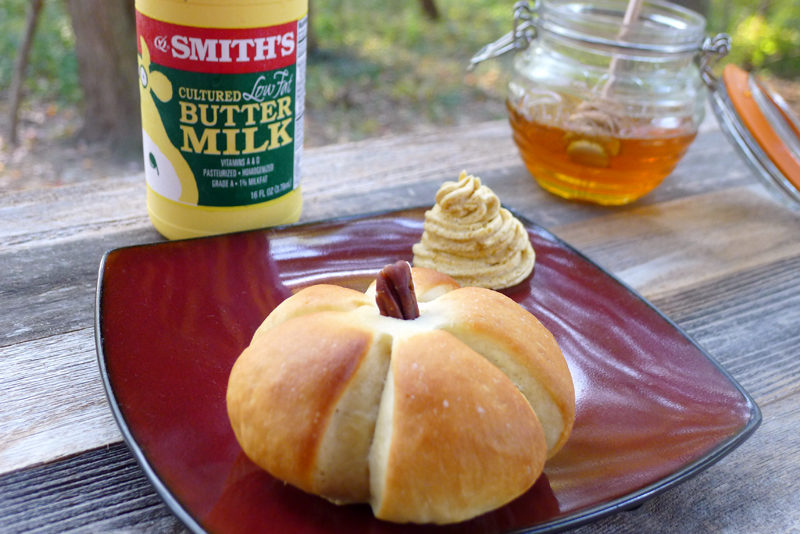 Once the spices are added to the butter, beat the canned pumpkin until fully incorporated. This recipe calls for canned pumpkin, not pumpkin pie mix.  Next, beat the honey and vanilla until fluffy. Once I started using Nielsen-Massey Vanilla, I've never gone back to generic vanilla extract. It adds a richer level of flavor to everything I prepare. I suggest getting a higher quality vanilla like Nielsen-Massey on Amazon.com.
I've seen quite a bit of people using an icing bag to pipe the whipped butter into small mason jars. I liked that idea and copied. You can certainly just put the mixture into a small bowl to serve. My sister-in-law has been known to create little flower buds using frosting tips to proudly serve on a serving dish. That would look adorable with this recipe as well.
No matter how you serve it, this Whipped Honey Pumpkin Butter Recipe is sure to be a hit on your Thanksgiving dinner table this year. Be sure to refrigerate in a covered container in the refrigerator after dinner. This recipe is best when brought back to room temperature before each use.
Enjoy!