I can't put them on! It's too hard! I need help. You do it. Just a few phrases that young kids might use when you ask them to put on their socks. Why does it have to be so difficult to put on those socks anyway? My 5 year old is cool with his socks, except for the one set of Nike tube socks that are super tight on top, who knows what's going on with those! My 3 year old daughter loves her independence. She wants to do everything herself, including getting dressed. She does get frustrated with things like socks. When I was approached to review EZ Sox, I wondered how much easier could they really be?
EZ Sox Little Hands On Review
EZ Sox come in a variety of super adorable animal designs that kids will love. The design acts as a guide for kids to know how the sock goes on. Then, they simply pull on the reinforced loops to pull on their EZ Sox. I love the non-skid bottoms of the socks to keep your little ones safe when they run around in just their socks. Plus, the toes are seamless so even kids that are sensitive can have fun wearing these socks.
So, here's the test. I gave my 3 year old the socks and had her put them on. She wiped them right on! Lightening fast, like she's been doing it all her life! Seriously!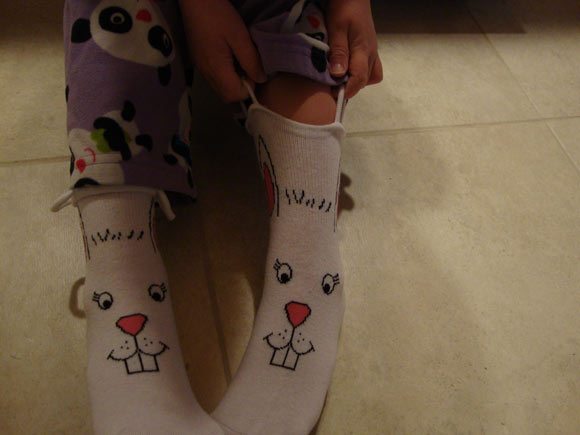 Elizabeth was so proud that she could put on her own socks without any problems at all. She said, "I can do it!" just like the EZ Sox commercials. Don't you just love the American Standard Generations Vanity in this picture. It has a pull out step that is absolutely amazing for kids so they can reach the sink! We love it. More on it to come now that our kids bathroom project is 95% complete.
Buy EZ Sox
You can buy EZ Sox online or find a store near you for just $4.99 each. Right now, buy 6 and get 1 FREE!
Win EZ Sox (Closed)
EZ Sox is giving you the chance to win your choice of any of their adorable training socks.
Updated 1-31-11 Winner Announced: Congratulations, Rachel.
Contest ends at 11:59pm EST on January 25, 2011 when a winner will be drawn at random and announced the next day. When commenting, please include your email address (not visible to public). I will notify the winners and they will have 36 hours to respond!
This was not a paid post. My own opinions were used based on my perceptions and experience. Thank you to EZ Sox who provided the products for review & giveaway.