If you are a mom of little ones then you know just how important your stroller is!  If you are out of the stroller stage then I am sure when you see us stroller moms you think back to how that stroller was like another appendage for those precious but busy years!  Expecting my second baby here pretty soon I have upgraded to a double stroller (yikes!) and since I purchased a second hand stroller I was researching into the latest accessories for strollers and quickly came across CityGrips.  They are so cool that I wanted to share them with you AOM readers!
CityGrips
CityGrips was born purely out of necessity for fellow mom and founder Camie Gontier . The idea for CityGrips began one hot summer day when it became unbearable to push the stroller barehanded and Camie was completely grossed out by the sticky germ infested handle bar.  Immediately a grip cover that was soft, durable, washable and stylish came to her mind to create for not only herself but for other mom's who were looking for a similar product. CityGrips is the perfect stroller accessory and can also be used in other areas of the home! CityGrips comes in 2 styles; double bar handlebar and single bar handlebar.
Why use CityGrips?
CityGrips are so simple but I feel so important for today's mom.  With the cold and flu season coming up I REALLY think that CityGrips is a wise investment for not only our children's health but for us as mom's too.  Feeling "under the weather" as a mom is one of the biggest challenges for me…trying to take care of my family and trying to heal my body at the same time is such a difficult task and after using CityGrips for the past few weeks I think that we might just have a healthy NorthEast Ohio Winter after all! CityGrips keep your hands clean and comfortable, protects your grips from wear and tear, and adds a stylish accent to your stroller.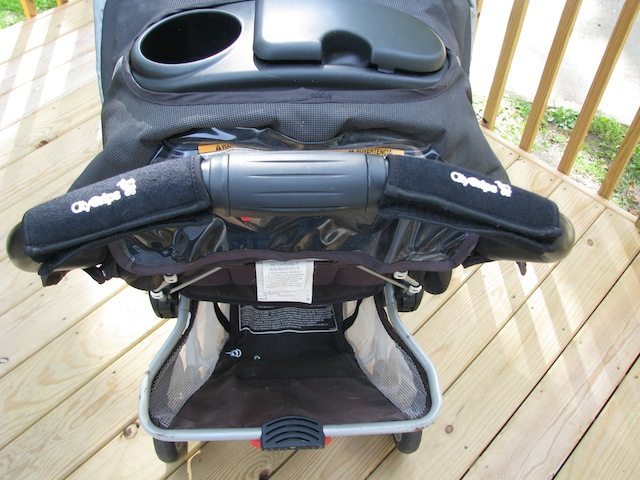 Check out the reasons below why CityGrips would be a great item for every home!
CityGrips Features:
soft, stylish and comfortable fabric used (helps set apart your stroller from everyone else's)
easy to attach to ANY stroller handlebar/s with durable velcro
durable-will hold up with even daily washing
protects grips from wear and tear of everyday use
CityGrips also have a terrycloth toweling option great for absorbing sweat for more active moms/runners!
machine wash and dry
helps hands avoid sweat, grime and germs that ALL stroller handlebars will have
literally takes a few seconds to attach/detach CityGrips as they slip right onto/off handlebars
comes with 2 grip covers
CityGrips cost just $12.95 per pair
Aren't these cool!  Moms have also found other ways to use their CityGrip covers too!  You can easily use them for the grocery cart, wheelchairs, car seat strap covers and exercise equipment!  They really are an amazing versatile product!  Once you use CityGrips you'll never want to stroll without them, we promise!  These would make a perfect stocking stuffer for a new mom or dad too!!
To learn more and purchase CityGrips:
Pleas visit the CityGrip website to learn more about their products and to purchase a set or two of CityGrips for your home! You can also friend them on Facebook, follow them on Twitter.
To WIN a pair of CityGrips:
The kind folks at CityGrips have generously offered one AOM reader a chance to win one set of CityGrips of their choice (double bar handlebar or single bar handlebar).  Good Luck!
a Rafflecopter giveaway

This promotion is in no way sponsored, endorsed or administered by, or associated with, Facebook. In order to comply with the latest Facebook Promotion Guidelines (revised 5/11/11), the following statements are true:
* Giveaway participants release Facebook from any responsibility whatsoever.
* Giveaways on this blog are in no way sponsored, endorsed or administered by, or associated with, Facebook.
* Giveaway participants are providing information to this blog and giveaway sponsors only; not to Facebook.
30 Day Winning Rule applies. For complete contest rules, please see our Contest Statement and Blog Disclosure.
Contest ends at 11:59pm EST on October 8, 2012 when a winner will be drawn at random. I will notify the winners and they will have 36 hours to respond or another winner will be selected!
This was not a paid post. My own opinions were used based on my perceptions and experience. Thank you to CityGrips who provided the products for review and giveaway.