As new moms or even veteran moms, we all sometimes have a hard time getting a baby to settle in for the night. Scarlett is now 7 weeks old and while she is a pretty good sleeper and a great baby, she still has about one hour of colic every night. She simply has a hard time settling after an exciting day, but I have created a routine with Mommy's Bliss. I have used products by Mommy's Bliss for 7 years now and I want to share with you how we make it though the rough moments.
I received product to facilitate this post.
Upset Tummies
Let's start with the inside of my little girl. All 3 of my children get hiccups… sometimes it feels like they will never go away. When Kelton was little I used gas drops only at first. I really hated giving him them but they helped somewhat. Then one day after he had hiccups on and off all day, I went hunting for a solution. That's when I found Mommy's Bliss Gripe Water, it's an all natural herbal supplement, the ginger root and fennel seed help soothe upset tummies. I use Mommy's Bliss Gripe water for hiccups, our colic hour, and to help with general gas discomfort. For my children it stops hiccups almost instantly!
Soothing Baths
Bath time is already pretty soothing for must babies but with Mommy's Bliss Sweet Slumber 3 in 1 baby wash you can make bath time serene! The extracts of lavender, chamomile and ylang ylang are exactly the right mix to settle my "should be sleeping" beauty. She loves bath time and I love that it's sulfate and paraben free!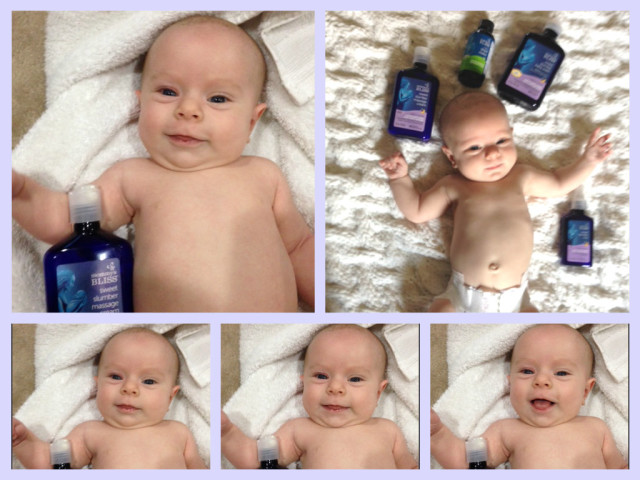 Relaxing Massage
Every baby bath can be made even more enjoyable with a massage. Mommy's Biss Sweet Slumber Massage Cream's non greasy formula is great for long or short baby massages. I always start with Scarlett's feet and work my way up! this cream is made with natural soothing botanicals and organic Shea butter. Shouldn't every day end in a massage? ( Mom's need them too!) The video below is by Mommy's Bliss and shows how easy you can establish a routine for you and your baby.
Relaxing in Bed/ Monster Deterrent
Mommy's Bliss makes this wonderful Sweet Slumber Mist. I use a light mist on the sheet before putting Scarlett down for the night.  The scent is light and very makes even me feel still. I recently started using it for Kiernan too. He is at the age where he thinks the monsters will try to get him at night. So at bedtime we spray the bed, in front of his door and window, and anywhere he thinks the monsters may try to come from. Within a few short days he was going to sleep more quickly and staying in his bed!
Safe and Healthy
Mommy's Bliss products are soothing but better then that, they are safe. There are no sulfates, phthalates or parabens. No artificial fragrances, gluten or soy. They are made here in the USA and the bottles are made from 100% post consumer resin.  So they are both BPA and Phthalate free.
Where to Buy Mommy's Bliss Products
You can buy Mommy Bliss Products at  your local Walmart, Target, Walgreens, Whole Foods Market, CVS and Rite Aid. Here is a link to save $1.00 on any Mommy's Bliss Product.
Enter to Win
You have the chance to win Sweet Slumber Giveaway(wash, lotion and spray.)
a Rafflecopter giveaway

This promotion is in no way sponsored, endorsed or administered by, or associated with, Facebook. In order to comply with the latest Facebook Promotion Guidelines (revised 5/11/11), the following statements are true:
* Giveaway participants release Facebook from any responsibility whatsoever.
* Giveaways on this blog are in no way sponsored, endorsed or administered by, or associated with, Facebook.
* Giveaway participants are providing information to this blog and giveaway sponsors only; not to Facebook.
30 Day Winning Rule applies. For complete contest rules, please see our Contest Statement and Blog Disclosure.
Contest ends at 11:59pm EST on June 10, 2015 when a winner will be drawn at random. Winner will be notified and allowed 36 hours to respond.