My kids are not shoppers, unless we are going to Five Below, a.k.a. the "Yes" store!
Choose from hundreds and hundreds of items for tweens and teens for their rooms, sports, tech, crafts, party, t-shirts, gifts, and more with everything priced at $5 and below!
I like it because I know entering the store that any item that my kid begs for is within our budget, plus my kids love spending their own money because they can get more cool things for their money at Five Below than anywhere else.
This is a sponsored post for SheSpeaks/Five Below.
Our Five Below Shopping Spree
I surprised my kids with a Five Below Shopping Spree this week. They each had $20 to spend on anything they wanted. It was like Christmas to my kids, you wouldn't believe how excited they were!
You can find all sorts of cool items at Five Below including tons of sports gear! What kids doesn't love a new ball? They make excellent gifts year-round and affordable at Five Below! It is easy to say "yes" to a new soccer ball, football, or basketball when they are each $5 and below!
Even big kids like to play and have fun at Five Below, including these two teens/young men that I found sword fighting. They were happy to pose with their best pose!
It is no wonder why we spent 1-1/2 hours exploring the store! It is a seriously fun place to shop, especially when you run into friends. My kids ran into 2 friends and they had so much fun exploring together, especially the Gag and Magic section! I've never seen so many gags in one place, truly a tween boy's ultimate source of fun! At $1 to $5 each, it is easy to say "yes" to good old fashion pranking fun!
I wish I had taken a few picture of my kids and their friends running around and shopping together but it was the first time I had met their mom, so I didn't want to ask her to sign a photo release! ha!
Five Below has the coolest items in every category, including style! Choose from many on trend items including nail polish and cosmetics. The prices were fabulous too, just 3 for $5 for trendy nail polish colors girls love.  "Yes, you can have as many as you want!"
There are even exercise equipment and weights. My kids have weights from Five Below already and use them just about daily – on their own accord for strength for gymnastics and swimming. They think it is cool – and so do I. We always say "yes" to fitness and exercise, no matter what form it comes in.
My son, however thinks that the Ab Wheel is a bit funny! 🙂
One of my daughter's favorite finds is this adorable Zebra Glow Pet. The entire body of the zebra glows pretty colors on an automatic timer. She loves to sleep with it, it's so soft too. It is hard to believe that it is only $5! I have spent $30 for similar products in years past, so of course I can easily say "yes" to this $5 extreme value!
Five Below has all the leading brands you love too including Lego®, Wilson®, Hasbro™ and Peeps® and hot licenses from Disney® and Marvel® such as Star Wars™, Despicable Me™, Frozen™, and Avengers®.
We are all at the edge of our seats waiting for the new Star Wars movie!! Even my kids' teachers are showing trailers in the classrooms. Get everyone geared up with the dynamic inventory of Star Wars toys, collectibles, t shirts, costumes, light sabers, mugs, crafts, decor, and more at Five Below!
Decorate bedrooms with cool licensed posters too!
In fact, Five Below has so many cool items to decorate bedrooms and more with items like strobe lights, mirror balls, lamps, wall decor, prints, fake security cameras, and more. 
Both of my kids had to buy a fake security camera. They are actually pretty cool and so realistic that it makes people think they are real. They are battery operated and motion activated, so when someone walks into their room, the camera rotates toward them and a red flash appears as if recording! Freaky! Initially I said, "no" but since they were free to spend it on whatever they wanted, I said "yes" and now I see why it's such a huge hit!
Of course I said "yes" when my daughter asked for such a practical thing as an umbrella. It's high quality, fun, and practical at just $5!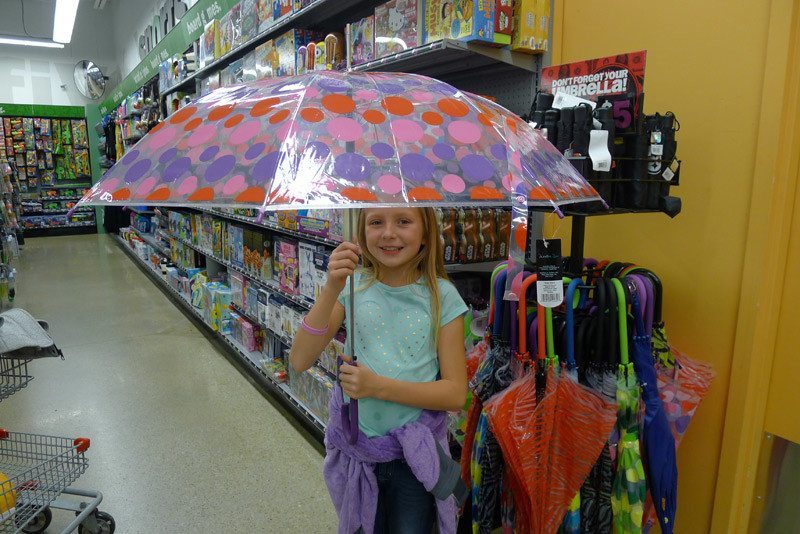 No tween / teen store could be complete without a huge selection of candy! Five Below has all the fun varieties – perfect for birthday parties, tooth fairy treats (for younger kids), stocking stuffers, movie theater treats, and everyday fun!
Halloween at Five Below
Five Below always has a fun seasonal section right in front of the store. They even have a 'scarefie' prop to share on social media right now just for fun! We all took our turn and shared with #5BSCAREFIE and shopped for cool costumes, decor, treat baskets, pumpkin carving tools, and more.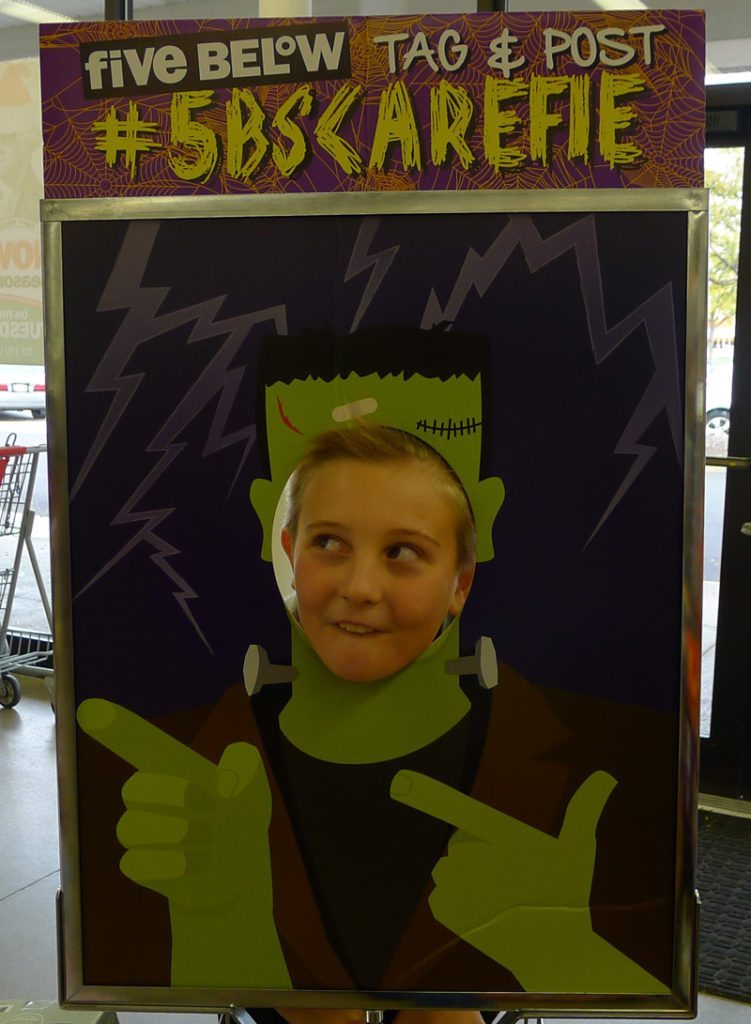 Can you tell how much fun we were having?! There is still time to decorate and get ready for Halloween at a great price.
As you can see on our header image, my kids bought a LOT of really cool finds for just $20 each. They were happy to hand over our Five Below Moolah gift cards! In fact, my son asked for a Five Below gift card for Christmas this year.
We always have a fun time shopping at Five Below but never this much fun with $20 each! For me, Five Below allows my kids to have choices that they wouldn't have at any other store. They are getting the leading brands that they want and the selection of tween-friendly items at prices they (and I) can afford. It is the perfect spot to spend their allowance and shop for presents for friends and family for birthdays and Christmas too.
Stop by your local Five Below with your tweens and teens soon! In the Akron, Ohio area, there is one in Cuyahoga Falls, Stow, Fairlawn, and Macedonia.
Get social with Five Below on Facebook, Twitter, and Instagram using #shop5B too!