There was a gas line disturbance in our neighborhood earlier this year which led to the gas company going door to door to inspect our homes. Thankfully we were fine but they turned off our water heater. They said that it wasn't safe anymore and that they had to turn it off before they left. The flame was no longer blue, it was 30% orange and that funny smell that we were smelling were actually fumes. Yikes!
Time to Upgrade Your Water Heater?
I was thankful to have this impromptu inspection to alert us that it was time to replace and upgrade our water heater but you may not be as lucky. I was able to interview a local plumbing and heating expert from W.F. Hann & Sons about when to replace a water heater.

This is a sponsored post.
As you heard, there are many reasons to replace and upgrade your water heater, next, we had to decide the brand.
Why We Chose Bradford White to Upgrade Our Water Heater
We contacted Bradford White to replace our water heater because it is a brand we have trusted in our previous homes. There are many reasons to choose Bradford White water heaters.
Bradford White is known to be innovative, striving to continually provide the highest quality, top-of-the-line products that meet or beat industry standards. Their water heaters come with a unprecedented 6-year limited warranty and optional 10 year warranty upgrade! Their Made in the USA products are very competitively priced too.
We chose a 50 gallon, natural gas water heater with atmospheric vent. Although our previous water heater needed replace, it was also a Bradford White unit and provided more than enough water for our family of 4. Even quality water heaters need replaced every 8-10 years. Our heater was 12 years old.
Don't worry if you don't know what kind of water heater you need, another reason that I like Bradford White is because they are only sold through plumbing professionals who will ensure you receive the best water heater for your home and needs. You don't have to guess!
Professional Installation of Bradford White Water Heaters
My husband and I are very hands-on, do-it-yourself type of homeowners, but not when it comes to installing water heaters.
Bradford White hot water heaters are available through professional installation only for two main reasons:
Safe installation
Best water heater selected for your home
Safe Installation of Water Heater
Safety First! When dealing with gas lines, water lines, and vent lines, it is best to leave installing water heaters to licensed professionals that know what they are doing!
We chose W.F. Hann & Sons, a local heating and plumbing company to install our water heaters. They come highly recommended by Bradford White and serve the Greater Cleveland area, Summit County, Lake County, Geauga County, Cuyahoga County, and surrounding areas.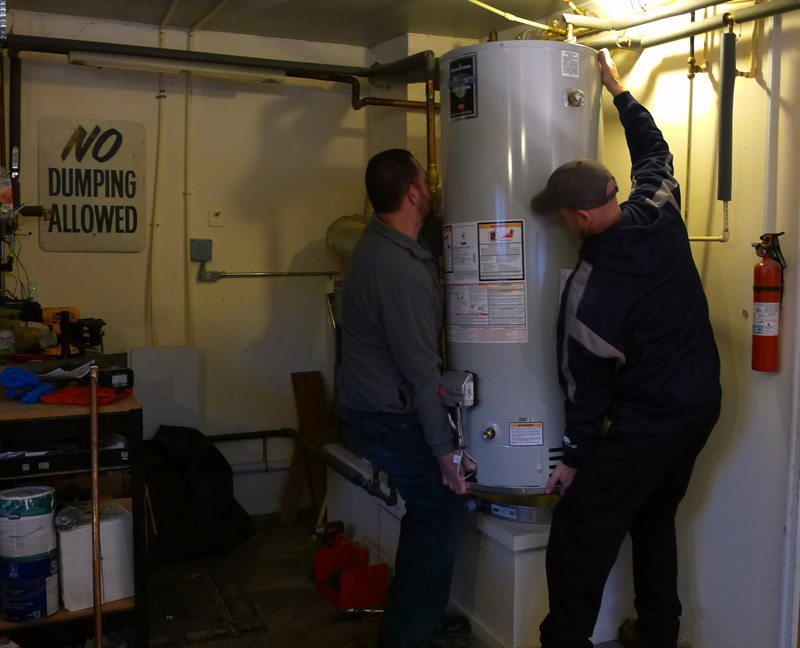 With a licensed professional, you get the peace of mind of knowing the product is installed correctly, to code.  Plus, they will ensure you have the hot water heater you need based on an evaluation of your needs, house size, and life situation. 
There are so many state requirements and codes to abide by, it just makes sense to hire a licensed professional.
Best Water Heater for You
Your licensed professional will help you determine the best water heater for your home and family's needs. There is more to water heaters than heating up the water.  I'm so impressed by the quality and innovations of the Bradford White water heaters.
Only Bradford White water heaters comes with a Hydrojet System that will improve the overall performance of your water heater by keeping everything moving and flowing within the water heater so you don't have sediment trapped inside.
Safety is priority for me, so I'm thrilled with the Bradford White Defender Safety System that protects my family and home from fires! If a Bradford White water heater detects flammable vapors from a spill outside the water heater, the water heater automatically shuts down, saving your family from a potentially life threatening situation.

Do you need to replace the water heater in your home? Start with the Homeonwer's Resource Center on the Bradford White website where you'll find answers to all of your water heater questions. You can even locate a contractor near you to get started, or contact W.F. Hann & Sons to get started.