It is go-time for completing your Christmas purchases! Cross off all the gifts on your list at Summit Mall.  This is your one-stop shopping location with guaranteed perfect gifts for everyone on your list. Best of all, there is no running around, get everything under one roof for stress-free shopping!
This is a sponsored post.
One-Stop Christmas Shopping for Your Entire Gift List at Summit Mall
Summit Mall is a beautiful, thriving mall in Fairlawn, Ohio with over 100 specialty shops that makes it easy to find unique gifts for everyone this Christmas! There is something extra special about shopping during Christmas at Summit Mall. We make several trips as a family, with friends, and then we get down to serious shopping when it is just my husband and I!
Today, I want to share with you some excellent gift ideas for everyone at Summit Mall!
Our fist stop is always Macy's. They literally have something for every age and interest. They even have this clever "the gift list" to give you ideas if you are struggling. 🙂
I love the brands at Macy's and know that when I give a gift from Macy's that it will be a quality product that my friends and family will really enjoy. The selection is out of this world too, as are the deals right now.
If you have a man or woman on your list that enjoys perfume, now is the time to get extra savings with boxed gift sets!  Same goes for cosmetics, the top quality brands are all offering additional savings and gifts.
There are plenty of fashion accessories, bags, and purses at Macy's for all the ladies. This Michael Kors bag is gorgeous! I'm sure my sister, friends, and mom would love it – I know I would. hint hint 😉
Dillard's is another favorite spot at Summit Mall. I like how you can really stay focused with the two Dillard's locations at the mall, be sure to visit both for gifts for men, women, and children.
The North Face is one of my son's favorite brand so I was happy to see the great selection at Dillard's.
Beyond apparel, Dillard's has so many other unique gifts that you can't miss like these smartwatches! Perfect for the active and tech-savvy person in your life.
Find plenty of fun gifts for the whole family at Dillard's as well.  The Atari Flashback system is good for kids and teens as well as people old enough to know Atari in its original form. Bring the kid back into you or adults in your life with an actual fun gift this Christmas.I know my mom would like Atari, it would bring back so many memories!
Speaking of fun, these UGG boots are super fun too! The fashionista on your gift list will love the bling and sparkle. Even without the sparkle, Dillard's has a great selection of UGG boots for the whole family in many styles – always a popular choice for Ohio's winter!
Speaking of being fashionable, check out these gorgeous dresses perfect for Christmas parties this year at Dillard's! This is in the junior's department, but I found similar pretty dresses in women's department, and of course handsome outfits for men at the Men's Dillard's.
Versona is another favorite store of mine at Summit Mall. They have so many affordable accessories that it is easy to find the perfect jewelry gift in every style for anyone on your list – without breaking the bank.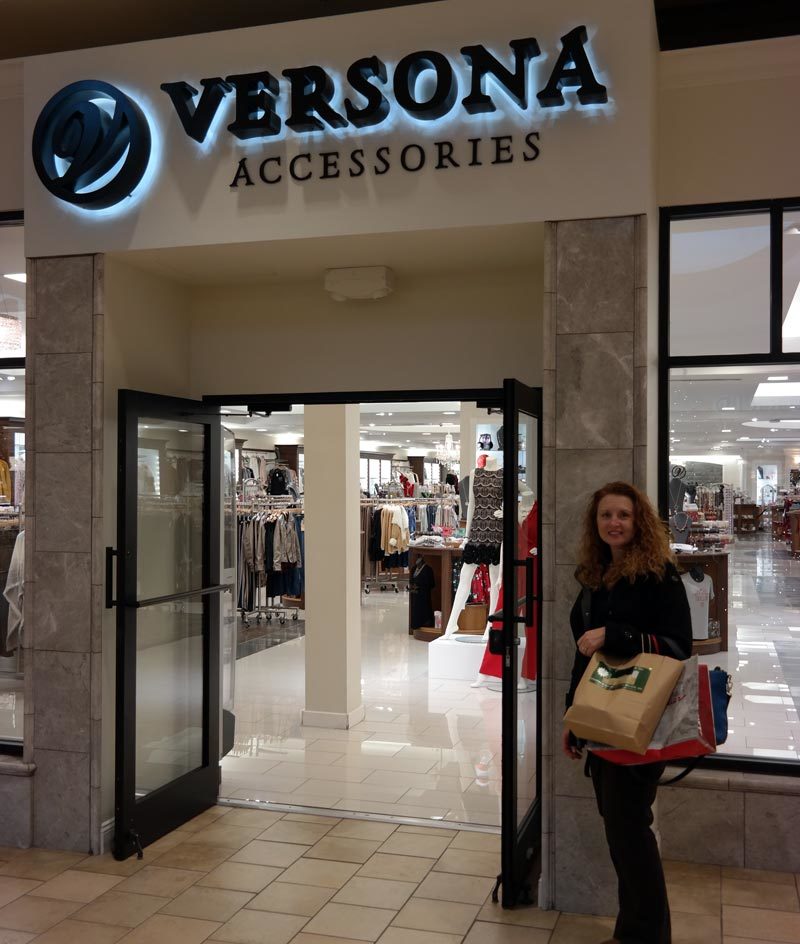 Versona also has lovely clothing, including styles perfect for Christmas parties and gatherings this year for women. Find something fun for yourself.
Gymboree always has the most delightful clothing for babies and grade-school age children.
They have lovely Christmas dresses already discounted, so hurry in for the perfect Christmas outfits.
Speaking of great deals on Children's clothing, stop by Children's Place for plenty of gift options for babies – children's size 14.  We always give gifts of clothing to all children on our gift lists. #1 Children need clothing because it is guaranteed that clothes from last year don't fit the way they grow so fast. #2 It is a practical gift that parents appreciate and kids don't mind as long as there is a toy followed up with!
With cute styles like these, kids may even light up when they open a gift of clothing too! Children's Place has so many good deals right now, be sure to know all the sizes of kids on your list before you go!
For teens and adults, stop by Express for the latest trends in men and women's clothing.  Again, it is a practical, yet appreciated gift, even for teens. At this point, my almost-teenage daughter asks for clothes more than anything else. If you aren't fashion-savvy, at least you know what you get at Express will be on-trend for those younger on your gift list.
If you have outdoorsy people on your gift list, be sure to stop by Eddie Bauer! They have 'perfect gifts, guaranteed' and it is true. The quality of their clothing is top-notch, as are the styles. This is one of my teenager son's favorite stores especially since their coats and shirts are lightweight but offer plenty of warmth so he doesn't have to be bundled up like Randy from The Christmas Story to stay warm in Ohio's cold winters!
Justice is by far my daughter's favorite store at Summit Mall. They have the cutest & most on-trend styles for tween girls as well as plenty of accessories and toys that girls love!
Shoes and boots are great gifts for anyone on your list. Just be sure to get their sizes before you shop! Journey's carries the hottest brands and the latest styles like these UGG Neueml Casual Shoes with their signature suede uppers and sheepskin footbed.
Another must is Foot Locker. You'll find the best athletic shoes there, including the brand new Jordan 11 Concord sneakers starting on December 8th!  This and other selections will thrill any boy, teen, or young adult on your gift list!
Have you visited Dry Goods at Summit Mall yet? They have really pretty clothing for women. This upscale store has something for every fashionista on your gift list, including accessories and stocking stuffers.
For the local loving person on your list, you must stop by CLE 23 at Summit Mall. They have a store near Dillard's and near the food court with hundreds of Cleveland and Akron designs on shirts and hoodies. They have many new styles that I haven't seen anywhere else.
Even some hilarious shirts for die-hard Ohio fans! Again, a gift of clothing is always appreciated but especially when it is a fun and clever shirt or hoodie because then it becomes a thoughtful gift. They will remember you whenever they wear it.
I'm also a big fan of Where I'm From. They have a t-shirt store near the food court. They have plenty of new styles for Akron, Cleveland, and Ohio themes for every age. I love wearing their shirts around town but especially while traveling!
Any athletic fan will appreciate officially licensed pro and college team hat & gear from Lids! They are packed full with teams from across the country, so you should be able to find something for every fan.
In addition to Victoria's Secret at Summit Mall, there is a specialty PINK store with the popular brand favorites in loungewear, hoodies, sweats, and collegiate clothing.
Another favorite is American Eagle Outfitters for on-trend clothing and jeans that fit every body. We especially like their selection of jeans for that in-between age of going from kids clothing to adult. Their styles are perfect for the active, yet stylish person on your gift list. Their clothing is great for outdoors or for those that just like the outdoorsy, clean-cut style.
I could get lost (and often do) in Altar'd State. This boutique apparel store has stylish clothing as well as jewelry, accessories, and home decor. I love their unique and positive style. Find gifts for all the women on your list here!
Summit Mall is one of the only local places to have a full service Apple Store! Any gift you purchase here will be a favorite for sure including Mac, iPhone, iPad, Apple Watch, and more.
I know a couple people on my wish list have their eye on an Apple Watch. The salesperson will show you all the variations to choose from so you can get the perfect one.
Must have gifts can be found at Sephora for women on your gift list. Shop their extensive line of skin, hair, and body products from top brands or maybe you'll want to pop in for your own makeover before Christmas!
Load up on entertainment themed gifts at FYE. We love this store for fashion, gifts, and of course, the latest new movie, music, and game releases.
Right now, they have plenty of stocking stuffers and small gifts kids will love opening this Christmas!
Where else can you find a Harry Potter Albus Dumbledore made of chocolate?! FYE carries so many unique items that will put delight, joy, and a smile on the face of anyone who receives.
Stocking stuffers galore for kids and adults. There are great priced items for small gift exchanges and white elephant gits too.
Popular Fortnite gifts can be found at FYE at Summit Mall too.
We also found a few Fortnite items at Spencer's!
Pick up desk or wall calendars at the center aisle kiosk near Zumiez. They also have board games and toys for all ages.
Claire's is the place for jewelry, accessories and cosmetics to fashion-aware girls, tweens, teens and young adults! Maybe this is the year that you surprise your daughter with a trip to Summit Mall to get her ears pierced!
Plus, they have Ty Beanie plush toys that girls simply adore – just look at those eyes!
The brand new Claire on a Chair has arrived at Summit Mall too!
The Kopper Popper has been serving delicious fresh-popped popcorn of all flavors for as long as I can remember at Summit Mall. This is the perfect place to stop by for popcorn and icee while shopping AND for tasty gifts. They have bagged popcorn and popcorn tins that are perfect for gifting anyone on your list.
They have popcorn gifts of all sizes, making it a perfect go-to destination for gifts for teachers, bus drivers, friends, family, business partners, and more. Plus, it stays fresh at least 2 weeks, so you can pick up extras for drop-in Christmas guests!
I hope I've given you plenty of ideas for Christmas gifts for everyone on your gift list – there is so much more to discover and explore at Summit Mall, I couldn't possibly post it all here!  When all else fails though, a Summit Mall Simon Gift Card or other gift card always makes for the perfect gift.
Be sure to bring your kids to see Santa this year too! He is waiting to visit your children daily! You can even reserve a FastPass to skip the line this year at no additional charge!! Plus, purchase your photo package online to save even more time.
I just love how beautiful the mall is decorated throughout, it makes shopping at Summit Mall even more delightful.  The food court is a great place to rest half way through shopping to check over your list and grab a bite to eat.
Don't forget the 6 quality sit-down restaurants at Summit Mall too. Make it a reward after crossing off the last gift item on your list to enjoy a delicious meal at BJ's Restaurant & Brewhouse, Bravo, Dewey's Pizza, First Watch, P.F. Chang's China Bistro or The Rail. Make plans now to visit with friends and family over a delicious meal at one of these excellent restaurants choices.
Summit Mall is conveniently located in Fairlawn, Ohio just 1.5 miles from I-77. Check out their extended holiday shopping hours.
Summit Mall
3265 W Market St
Fairlawn, OH 44333