How is your tan? If you still don't have a golden tan, consider getting a custom airbrush UV free tan from Sinfully Good Body and Soul in Stow, Ohio. As a red-head, I never tan. I wanted to look tan while on vacation, so I decided to get an airbrush spray tan beforehand. I loved everything about it – in just minutes, I had an amazing tan that lasted my whole vacation.  If you want to look your best too, read on!
This is a sponsored post.
Sinfully Good Body and Soul
Sinfully Good Body and Soul in Stow, Ohio is your tanning headquarters. They offer three levels of premier vertical tanning booths for 360° tans as well as UV-free airbrush spray tanning and automated spray tanning. No matter what you choose, you'll be in a safe, clean environment at Sinfully Good Body and Soul.
Sinfully Good goes the extra mile to make sure every guest is comfortable.  What I noticed most about this trendy tanning salon is that the entire place is immaculately clean. They also offer the best in tanning with top of the line equipment. They even have a little powder room with essentials you may have forgotten at home to freshen up after tanning.
Similar to their vertical tanning booths, you can get an instant spray tan in their UVFree Mystic "MyMyst" Booth. Follow the prompts to get a spray tan with total privacy in this booth. There is an attached changing room, making it easy to get the perfect spray tan in no time at all – with no tan lines!
Sinfully Good Body and Soul specializes in custom airbrush spray tanning. With this service, you'll receive a customized tan by a Master Certified specialist in airbrushing. They are certified in colorology to give you the best, most natural looking spray tan. This private room gives you privacy to get a custom spray tan. Sinfully Good does more than spray tan you, they also add contouring and sculpting to give you a leaner, stronger look.
This was my first custom spray tan, so I was a little nervous but they put me right at ease with their professional and friendly staff. Basically, you stand in the tent above and they spray tan you from all directions as you turn your arms and legs in specific ways to ensure an even tan. I loved the contouring and sculpting as I can use all the help as I can get! They had everything I needed there including special wipes to remove makeup or deodorant. There are also disposable thongs if you prefer to use that.
This is my before picture – so very white!
These are my after pictures at Death Valley below and in California at the beach.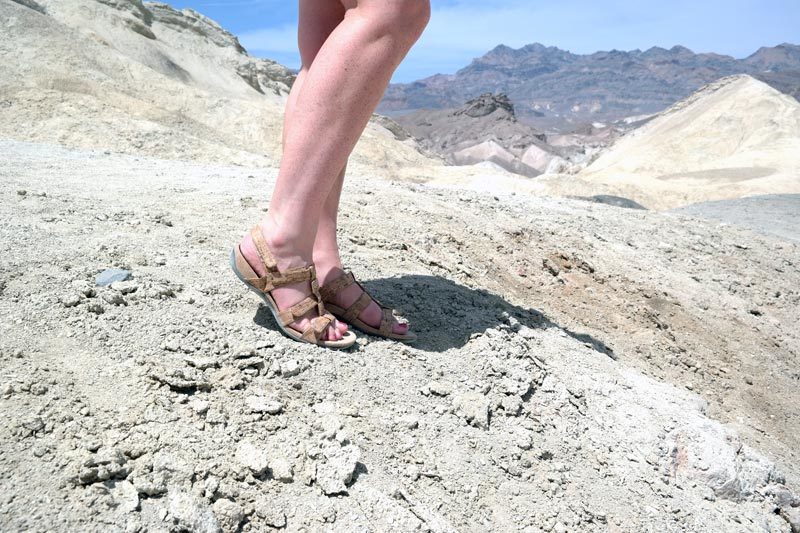 I love how tan I was for our vacation. The moment I left Sinfully Good Body and Soul, I felt healthier looking and so good about how I looked and felt. It was incredible.  I loved being tan while on vacation.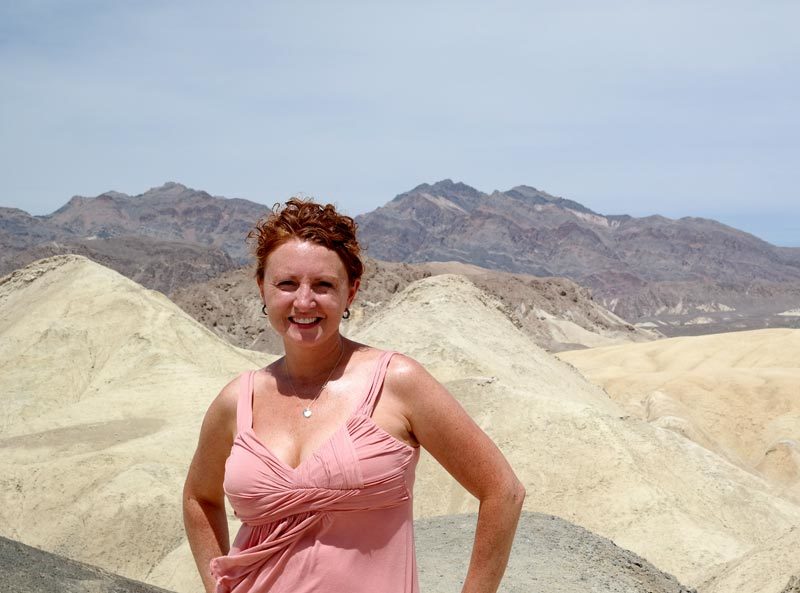 I've gained some weight over the past couple years and I'm working on losing it. However, the spray tan helped conceal some of the weight and made me look healthier. I just feel so good with a tan. You and your Master Certified and Colorology Certified technician will determine the best shade for you. I love the color we chose for me, it was natural looking without being too dark for my skin tone and complexion. It is not one-color-fits-all at Sinfully Good, they work hard to give you custom color and exactly what you want.
I highly recommend checking out Sinfully Good Body and Soul for a custom airbrush spray tan. You'll feel so good and look even better. Plus, it is UV-free, so it is the healthiest tan you could ever get.
The people at Sinfully Good Body and Soul are the friendliest, most professional people. They will give you the best tan you've ever had with privacy and professionalism. Men and women alike visit Sinfully Good for spray tans, especially for special events like vacations, weddings (whether you are attending or in the wedding), reunions, graduations, bodybuilding competitions, beauty pageants, and more. They were even featured on Fox 8!
Sinfully Good Body and Soul
320 Kent Rd
Stow, OH 44224
330-686-9551
Call ahead or stop by during their convenient hours and tell them you heard about them on AkronOhioMoms.com!
Monday-Friday 10am-9pm
Saturday 10am-7pm
Sunday 12pm-6pm