I have been a fan of Vionic footwear for years and have reviewed several items including sandals, pumps, and boots. I love how Vionic Shoes combines style with supportive footwear. I'm excited to announce that Vionic Shoes opened their very first retail store in Fairlawn, Ohio at Lucky Shoes!
I had the pleasure of visiting on opening day – along with many other Vionic fans! Vionic has it's own exclusive store located next to Lucky Shoes in Fairlawn, Ohio.  The associates are knowledgeable about Vionic products and the technology behind their supportive shoes that include built-in Orthaheel technology.  If you have sore feet, stop by the new Vionic store in Fairlawn – your feet will thank you, I promise!
This Vionic store is the first retail store in the USA offering the complete line of Vionic products, including shoes, sandals and orthotics.
Mr. Tom Luck, SEO of Lucky Shoes was at the grand opening, ready to greet everyone. I was able to chat with him about the opening. He previously carried a select few Vionic shoes within Lucky Shoes and said he had a loyal following for the brand. He initiated the partnership to be the first Vionic store in the USA and I'm so glad he did!
I've never had a pair of Vionic shoes that I didn't love. I've always ordered them online but I'm so excited that now I can try on the styles before purchasing. Right now, you'll find an amazing collection of summer footwear including sandals of all shapes and styles.  
From dressier to flip flops, you will love the support Vionic footwear offers your feet this summer no matter which style you choose. I love the selection and variety of Vionic footwear offered at our very own Fairlawn, Ohio Vionic Store!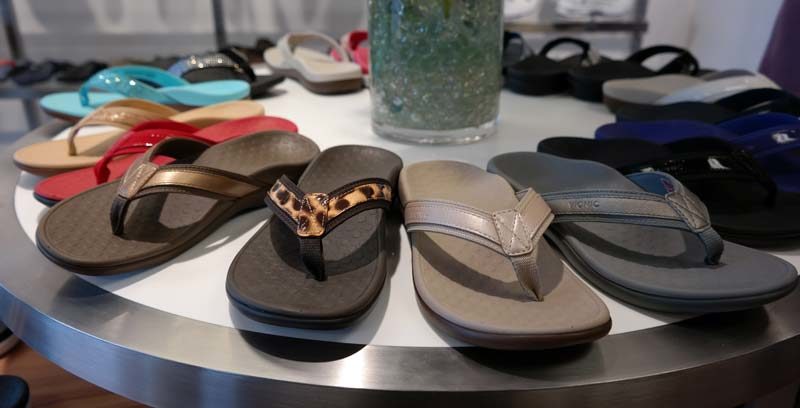 Vionic footwear offers you all day support and comfort with built-in Orthaheel technology. Whether you choose flats or heels, the Orthaheel technology evenly distributes weight and offering natural alignment . Many Vionic products carry the American Podiatric Medical Association Seal of Acceptance.
The service and support at any Lucky Shoes location is top notch. The associates at the Vionic store will help you get into the right shoe for you.
The associates take time to ask questions about your lifestyle, where you will wear the shoe, and more to make sure you get the best shoe for you.
They will help you get the best fit and style for your needs. I love the personal, one-on-one attention Vionic gives to their customers.
Vionic Footwear continues to develop and offer new and innovative footwear with built-in Orthaheel technology with a diverse selection of active styles, boots, heels, sandals, slippers and more for women. I'm excited to see you can also find a collection of Vionic men's footwear as well at the Fairlawn, Ohio Vionic store!
Learn more about Vionic footwear on the Vionic website. Be sure to like the new Vionic Store on Facebook.
VIONIC
Fairlawn Town Centre
2685 West Market Street
Fairlawn, OH 44333