We all know that forts are a hit with kids. Usually it comes in the form of couch cushions and blankets all over the living room floor…. you've had that scene at your house too, right??
That's what usually happens here when my daughter wants to build a fort… until we discovered the AirFort!
AirFort Is A COOL Fort For Kids
The AirFort is a way for kids to have a really awesome fort without taking all the cushions off the couch! It inflates from the air from a box fan. That means that it is not only simple to inflate, but it is also a cool place for the kiddos to hang out in.
This is a sponsored post that contains affiliate links, which means at no extra cost to you, I earn on qualifying purchases.
With the fort, you get 4 square Velcro pieces to put on each far corner of your fan and then the straps connected to the fort have Velcro on them so you can connect it to the fan!
The kids can't touch the fan from inside the fort because there is a "tunnel" between the fan and the inside of the fort! The "tunnel" and the inside of the fort are separated my a mesh layer.
AirFort Makes Old Toys More Fun
We try to not have tons and tons of toys in our house. We are really good about keeping the favorites and donating the others. However, there still seems to be phases where she isn't interested in any of the toys and would rather play with everything that is not a toy. You know what I mean, right??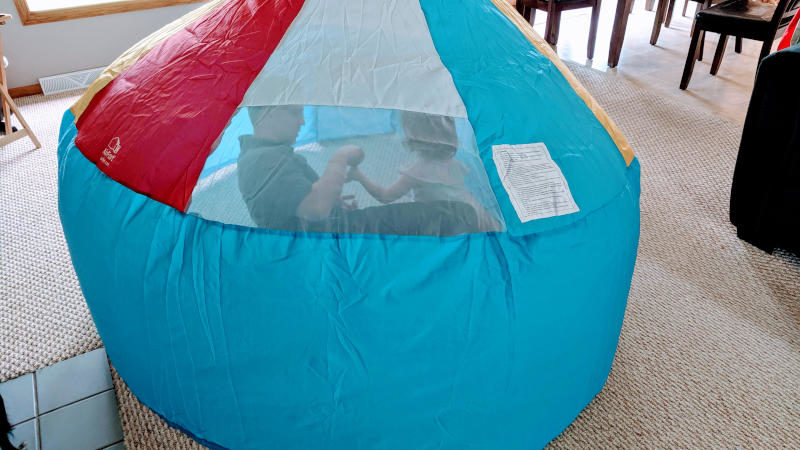 Well, when we got the AirFort, she started taking toys in there to play with because it made it more fun. It was a new & interesting space to play which made those old toys exciting again!
AirFort Is Good For Those Hot Days
I think the AirFort is going to be a go-to place to cool down this Summer. It already has been. Here in Ohio, we have had days where it has been hot but not many hot days in a row. So, we really haven't turned on the air conditioning yet. You better believe the one day it was really warm in the house, all three of us (myself, my husband, and my daughter) were in the AirFort reading books because that was the "coolest" spot in the house!
I see it being a go-to place to cool down when we come in from playing outside this Summer as well.
Some Of The AirFort Features
Here are some of the features of the Airfort:
5 color options
No floor for an easy entrance and exit
Viewing window for kids to see in and out
A light polyester fabric that is both breathable and durable
A mesh divider to prevent access to fan
Velcro stickers to secure AirFort to fan
A weight of  only 24 oz. that fits into its own matching carrying bag
My favorite feature is the easy clean up. I like to clean up the house a little in the evenings and all you have to do is simply turn off the fan and the AirFort deflates quickly. Then, I usually just toss it on a chair or the edge of the couch because my daughter has been playing with it every day. However, it also comes with a carrying bag so you can simply put it in there to store it or travel with it as well.
The AirFort is available on Amazon and you can also read more about it on AirFort's website!