Once the home of royalty, the ancient ruins of the jungles of South Asia is now the home of over a thousand monkeys, and the backdrop to Disneynature's new MONKEY KINGDOM.

When we first saw the preview for MONKEY KINGDOM, I knew we would have to see it! My son has been asking me about it daily for about a month now. We were lucky enough to see it a day early last night – and we all loved it. I fell in love with those beautiful monkey and their piercing, gorgeous eyes.
MONKEY KINGDOM is the story of Maya, an 8-year-old female who lives at the bottom of the monkey social ladder, and of Castle Rock. Maya was born at the bottom, as did her mom, and grandma before. There are many rules that the monkeys follow regarding their complex social hierarchy. It seemed unfair many times throughout the movie to see Maya have to work hard for the scrapes of food while the Alpha male and the "sisters" got what their tummy's full. In the animal kingdom, you stay in the social rank you were born in, most of the time.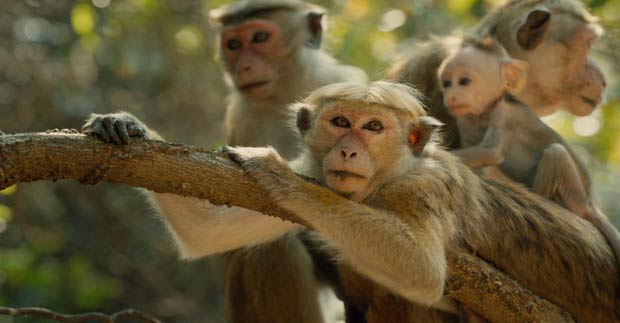 Luckily for Maya, she was born with a good work ethic and had a little good fortune thrown her way when this handsome outsider swings into town.
Soon after, young Kip was born. Maya was more determined than ever to care for Kip, even as a "single mom" when her man was put in excel by the Alpha Male.
Maya was up for the challenge and cared for Kip, always providing food for herself and him, despite her social standing.
You'll love the adventures of these curious, strong, expressive monkeys from the ancient ruins to the city streets to the kids' birthday party! I loved the scene with the dog, and you will too!
The movie is engaging from the beginning to the sweet, sweet end that everyone will love.
MONKEY KINGDOM is in theaters starting TODAY! Watch it during opening week (April 17-23) and Disneynature will make a donation in your honor to Conservation International to help protect monkeys in their very own natural habitats.
Get social with Disneynature on Facebook, Twitter, Tumbler, and Instagram.