It is the fear that I think we have all thought about, being trapped in your own body without being able to communicate or move. It was the life of Martin Pistorius, aka Ghost Boy for 12 years. I first learned about Ghost Boy on Facebook and just had to read the book. It is no wonder that Ghost Boy is a New York Times Bestseller. Once you start reading, you won't want to put it down!

I received a book to facilitate this post.
Ghost Boy Book Review
I was intrigued from the moment I heard about Martin Pistorius' story.  I don't get the chance to read many books for pleasure as a busy mom, but I couldn't put Ghost Boy down, even if I tried. Martin's story is amazing, as is his writing skills.
As soon as I started reading the book, I wanted to skip to the end, to be sure that this same boy really grew up and wrote this amazing book. It seemed impossible from the state in which he lived his life for a decade. Martin Pistorius was struck with paralysis and unable to communicate with a mysterious disease as a child, his abilities left him one by one, leaving his family and doctors confused and with no treatment.
Martin talks about his life at home and at day care centers. He talked about how he tried on many, many occasions to will his arm to move or voice to speak and he could not. He talks about how he was put in a corner and given up on by the staff but not by his loving family, especially his father who set his alarm to wake him at night so he could turn his son over every 2 hours so he didn't get a bed sore.
Martin had resigned to live inside his own mind with his creative imagination, he decided this was how it was going to be. What I found most remarkable was how he felt the presence of God with him, even though his family did not practice any faith when he was a child and he wasn't influenced by the TV at the day care centers as it was typically Barney on the TV. When I read this, it gave me goose bumps, to know that God was very real with him in the darkest time any one could imagine.
At one point, Martin is able to start communicating through a loving and caring nurse that really connected with Martin.
It was through her that Martin's life changed. To find out how, you have to read the book!
Now, Martin Pistorius is alive, alert, and living a full life.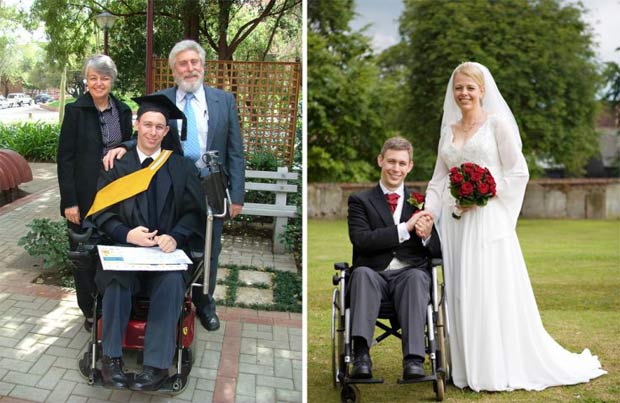 Ghost Boy is a must-read, buy it in paperback or e-book today.