A lot of us have the goal to get outside more often, sometimes a new shiny product is all it takes. Below are some gifts inspired to get people you love outside.
This is a sponsored post.
Inside or Outside Fun
This is a fun gift that can be enjoyed being played inside or outside, which is good for those below freezing days in Ohio! Bring the outdoor fun inside with this Axe Throwing Kit by Outside Inside. This is a fun gift for all ages – kids and adults – Harness your inner lumberjack skills with these lightweight, yet sturdy compact axes. Throw the axe to hit the included bullseye target.
This is a fun family activity that can be played indoors or even outdoors! I wouldn't throw it in the living room around the TV but in the basement would be just fine. It's an active fun activity for family fun that doesn't involve sitting at the table for a board game.
Outside Inside Gifts has a variety of fun outdoor games and sports that make great gifts year round for kids and adults, be sure to check out all their gifting ideas!
Gifts for Happy Feet
If you are over the age of 30, you probably know that to get and stay outdoors for any period of time, you need to be comfortable. Or is that just me? 🙂 I need quality shoes and support for hiking or I can't go far. Give the gift of all day comfort with Tread Labs insoles. They offer molded arch supports that are literally built to last a million miles, making this a lifetime of happy feet gift. They provide firm arch support and even have interchangeable top covers to allow you to move the insoles between your different shoes.

Tread Labs Unique 2-Part System from Tread Labs on Vimeo.
Before I can go anywhere, I need coffee. From personal experience, I can tell you that a hot cup of coffee on a cold winter hike is the absolute best.  My son will tell you that a fresh cup of coffee after camping overnight in the winter is even better. That's right, my teenage boy camps in the snow, so a hot, fresh cup of coffee that he can brew in the morning is essential.
I'm loving this Microlite Java Press! It is a to-go French press – perfect for backpacking, skiing, travel, and anyone that likes coffee on the go!

Our dog Sammy photo-bombed this pic which is fine since she is always on those winter hikes! This French press is vacuum insulated, holds 15 ounces and can be carried with you wherever your adventure goes – outside in the woods or to work. Either way, this is a fitting gift for any coffee lover, especially those that like to take their coffee out in the cold with them.
I can't tell you how many times I've had to ask my son for a knife while we are hiking, camping, or in the backyard. He's always got his Opinel classic pocket knife on him.
Practically everyone (adults and responsible teens) can use a pocketknife when outdoors. It's made of carbone steel which is extremely hard making this knife excellent for many tasks! Gosh, even having one in your picnic basket in the summer for cutting crusty French bread and hard cheeses is a good idea!
My son researches knives and likes this brand because it is a quality knife at a great price. In fact, Opinel has been making knives in the French Alps unchanged for 130 years. Why change the best?
I purchased the below Opinel pocket knife at nearby Appalachian Outfitters up Rt 8 in Peninsula for my teenage nephew that loves to get outdoors with my son but never has his own knife. He's going to love whittling wood this winter and I know he'll use it when he goes fishing this summer. It's a do-it-all type of folding knife that make a great gift.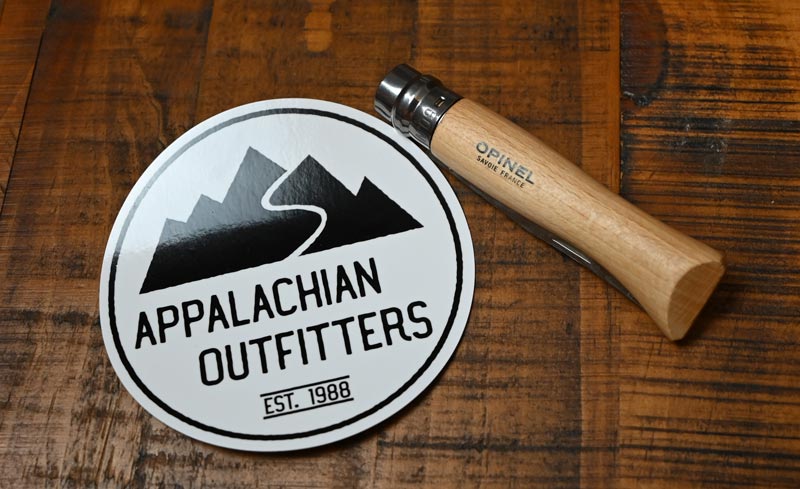 I hope the above ideas sparked some interest and that you can finish your Christmas shopping with some unique gifts that will get people eager to get outdoors and have fun!