Need extra seating in your family room? Does your child need a comfy place to chill in her room or play room? Look no further than this new Glitter & Pom Inflatable Chair.  This fun inflatable chair instantly adds extra seating and fun to any room.  Your kids and teens are going to love it!
Extra Seating & Fun with Glitter & Pom Inflatable Chair
There is always a need for extra seating with you have kids! Go for the fun option with this Glitter & Pom Inflatable Chair! Kids will love it –  in fact, they may fight over it so get two – they are inexpensive! Inflatable anything is always fun. Glitter anything is always fun. Put the two together and you have an instant hit that will make your kids squeal in delight! 
Don't worry, you won't be blowing this chair up and exhausting yourself. There is an attachment that you can use to blow the inflatable chair up with your hairdryer! It is quick and easy, my daughter did it on her own. There is a smaller outside portion that needs blown up by mouth but it literally took 30 seconds, so it is no big deal.
This inflatable chair is perfect for game rooms, play rooms, kids bedrooms, family rooms, dorms, for travel, and any small spaces that needs extra seating. It holds up to 250lbs so even adults can enjoy this fun and playful chair! It is actually much larger than I expected, which makes it perfect for even teens and adults. Measures 40"D x 46"W x 28"H I've sat in it a few times when my kids weren't already calling dibs and it is comfortable even for an adult. It is quite low to the ground though, so fair warning on getting back up! ha!
We ended up keeping it in our family room for now because my kids love sitting on it while watching TV together. Eventually, we will put it upstairs in the 'kids cave' which is an extra bedroom that we turned into a sitting area to watch TV, play video games, and such. It'll get more use in the family room, so it is here for now and such a cute addition.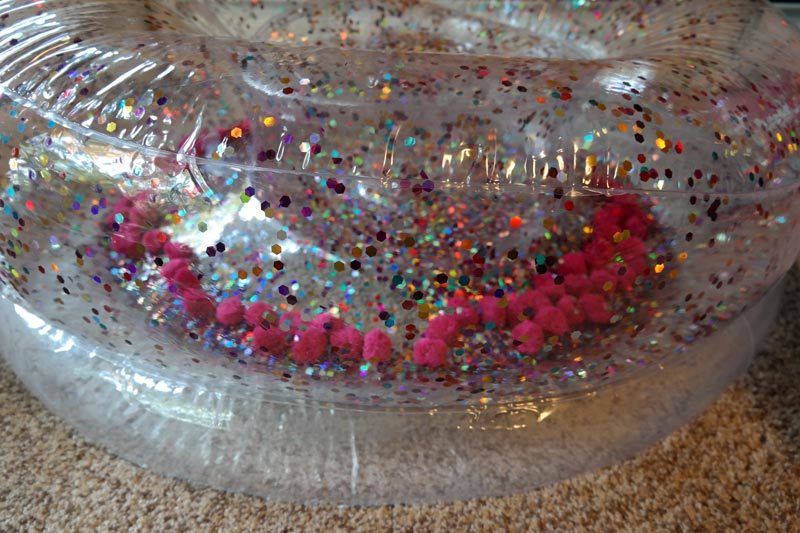 My kids think the glitter and pom poms are so fun and so do I! My daughter likes to spin the glitter and pom poms around in the chair to look at, just for fun.  It really is a fun and clever design.
You can purchase the Glitter & Pom Inflatable Chair at Kohl's which means you can even use your coupons toward it and earn Kohl's Cash!