Halloween is this week! With trick or treating, school parties, and neighborhood events, your child will want to be the best super hero, princess, and character around. I enjoy dressing my kids up each year in fun themes. My kids get a lot of use out of their costumes when they play dress up throughout the year.
My 6 year old daughter, Elizabeth wanted to be Aerial this year. I was excited – I finally have a red-headed child! LOL
I participated in a campaign on behalf of Mom Central Consulting for Stride Rite. I received products to facilitate my review and thank me for my participation.
Halloween Theme Shoes from Stride Rite
The one thing that I always forget about for Halloween costumes are the shoes. They never match and really distract from the costume. This year, I was excited to learn about the Halloween Theme Shoes from Stride Rite. Now, their costumes will match with their "rite" fit shoes.
They have themed shoes for babies through big kids sizes up to size 6 in the season's hottest costumes themes including Spider-Man, Captain America, Star Wars, Disney Princess and Minnie Mouse, and more. They really complete any costume look.
Even if you don't go for the character theme, Stride Rite has many brands to choose from like Stride Rite, Sperry Top-Sider, Keds, Saucony and Jessica Simpson to match with your costume. Some even light up for extra safety!
Girls Halloween Theme Shoes
Elizabeth loves Arial and loves her Stride Rite for Disney Wish Lights Ariel mary jane shoes.
It is a great combination of a mary jane shoe and sneaker. I like the colors with sparkly accents.
They compliment her costume while still being practical as a comfy sneaker for trick or treating. Have you seen the little girls in high heels for trick or treating? They may be cute at home but not safe or practical for trick or treating.  I like that Stride Rite shoes are age-appropriate in design, style, and fit. Let's let little girls be little girls and skip the heels until high school.
Now that I've been introduced to the character shoes from Stride Rite, I plan to implement them in future costumes as well. It's the magical touch to complete any Halloween costume. Speaking of magic, Stride Rite for Disney Wish Lights Ariel features New Wish Lights technology. The heart-shaped Ariel gem at the top of the shoe changes colors from white to pink several times a day, letting your little princess know it is time to make a wish! Every time she steps, the shoes also light up, giving her another chance to make a wish! The lights are bright, making it easy to spot her while trick or treating at dark too!
The Stride Rite for Disney Wish Lights Ariel mary janes are now Elizabeth's favorite casual shoe. They go with anything from jeans to casual dresses. I like that they are well designed and great for kids' feet. They are perfect for trick or treating, going to school, and playing on the playground.
Boys Halloween Theme Shoes
My son wanted to be a ninja for Halloween this year.  Basically he was dressed in all black with a blue mask and armor.  Having white sneakers would have looked very un-cool.  We were happy to check out the black Stride Rite Cooper Lace sneakers. They really completed my son's all black ninja costume for some pretty serious ninja moves!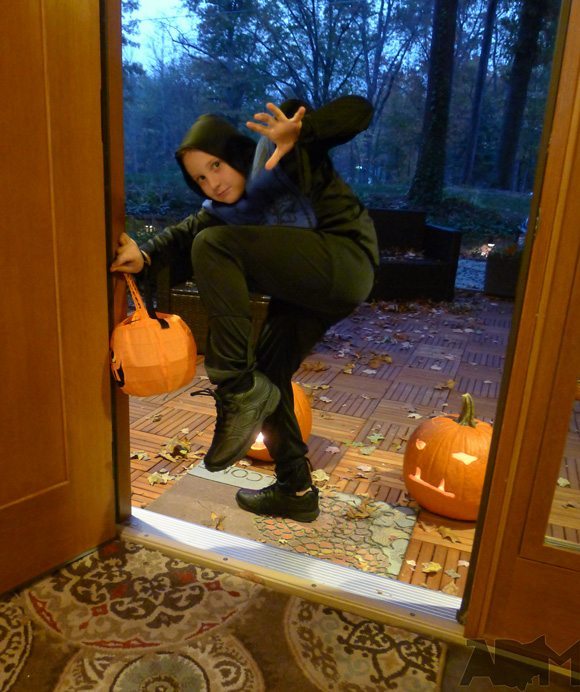 They are a great looking pair of sneakers and are so comfortable, according to my son. It was the perfect option for this costume. I would have never considered this before checking out all the Halloween themed shoes at Stride Rite. If you have a younger son or one that likes super heroes, you have to check out all the light-up themed shoes, including Star Wars!
My son has a wide foot which can make shoe-shopping difficult. I have found Stride Rite to carry a lot of shoes in a wide width and even extra-wide width. I love that! Plus, one thing that I have really appreciated is that every Stride Rite store offers free and precise foot measuring. It was the only place I would take my kids when they were babies because it was impossible for me to find the right size for them
I like the Stride Rite Cooper Lace sneakers shoes for a dressy casual look. When we go to church or out to dinner, I don't make my son wear his black dress shoes. However, sneakers don't really cut it. These black sneakers are perfect for a semi-casual dress outfit like this one.
Plus, the bottoms are non-marking so he can wear them to gym class too.
Stay Safe while Trick or Treating!
Have fun and stay safe trick or treating this week!   Since my kids are still rather young, we always stick with them and don't let them go off with friends just yet. I'm sure we will implement a walk with numbers rules in the near future for my 8 year old.
We always sort through the candy and inspect each piece before they eat them, just to be sure. I heard it really only happened to Halloween candy a couple times and it was from people they were related to, but we need to be extra sure. We only trick or treat in our neighborhoods or at company trick or treat places too.
Be sure to check out all the styles at Stride Rite for your kids' Halloween costumes. If you purchase one of the many with light up features, that is just another safety (and fun) measure to put into practice this Thursday night!
Happy Halloween!