We are remodeling a Frank Lloyd Wright inspired home. Although we like the overall style of the home, the floor plan was not well designed for an active family. We are redesigning the entire first floor living space. The house doesn't even have a front door! It needs help!  I didn't know where to begin or what the rooms would look like if we changed things around.
Lucky for me, I found Chief Architect 3D architectural software for residential and light commercial design. Millions of people already use Chief Architect  home design software and now I know why.
Chief Architect has professional 3D design software for builders, remodelers, kitchen & bath designers, interior designers, architects, drafting & CAD, academic, and even for the DIY home enthusiast.
I was able to review the Home Designer by Chief Architect. This product was designed for the Do It Yourself people like my husband and I. It is based off of their Chief Architect professional line and actually works with that program if you are working with a professional on your building project. Home Designer gives you the tools for home design, remodeling, kitchens & baths, landscaping, decks, outdoor living, and cost estimating.
Hands On Review of Home Designer by Chief Architect
For only $59, the Home Designer software can be downloaded right to your computer or you can order a DVD. We downloaded the software, it was quick and easy. You can even download a FREE demo!
The Quick Startup Guide that gives great how-to tutorials to get started right away on designing your home. There was no downtime for learning this product for us and we had no experience in house design. The House Wizard gives easy layout options for rooms to get you jump started.You can choose various styles of furniture to place in each room to get a visual of what the space will look like. Then, you can walk through it! I loved being able to visually see what each room would look like, walking through from room to room with this software.
With the Home Designer Software, I was able to visually see what each layout would look like and how it would feel.
Our Floor Plan Variations
Once we measured the entire house inside and out, we began designing our new floor plan. My husband and I worked on it together and came up with the below floor plan. The entire back of the house is windows floor to ceiling. We wanted to preserve this as it was the feature that sold the house to us.
We moved the current kitchen from the new entry into the current living room! It moved the guest bath from the front center of the house to the current laundry room. It created a large great room.
So, we went through several floor plans until we came up with the one below.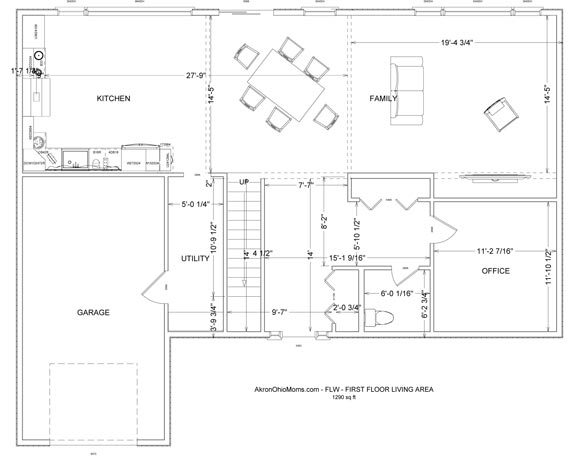 Currently, we have a floor plan that we feel will work very well with our family. I know that I will like this layout because I already 'walked through' the house! You can see the rooms with different elevations with the advanced 3D camera tools. This new floor plan also moves the kitchen from the new entrance to the current living room. It keeps the guest bath right where it is which will save a lot of time and money running new plumbing since we are on a concrete slab. It also creates a new entrance from the garage right into the kitchen which will make bringing in groceries easier! We moved our home office from upstairs to downstairs with easy access from the front door for clients. Overall, I love the new plan and I know we could not have done it without Home Designer! It just feels like home.
Designing my dream kitchen
Next, with this software, we can actually design each room, including the kitchen. The kitchen design will be the largest project to design in the house. I can't wait to design my dream kitchen! With this software, we can choose cabinet designs including styles and colors of cabinets. We can choose from the entire library to plug in fixtures, countertop, appliances, and more. This will make designing our kitchen fun and easy. I can't wait. I hope to get this project started in the next couple months.
Landscaping with Home Designer
After our home remodeling project is complete, we will begin the landscaping outside. My favorite activity! The Home Designer software actually allows you to create gardens, pathways, patios, decks and landscapes to fit your yard and elevations. We are starting with a clean slate in the backyard. It is hilly and I've never worked on landscaping a hilly area. This product will come in handy as I learn out to terrace garden.
Features of Home Designer
Detailed information on Home Designer can be found on their website.  Here are the key features of the product taken from their website:
Home Design, Remodeling, Interiors, Kitchens & Baths
Visualize your design ideas in 3D
House Wizard – Quickly drag-and-drop your New Home Design
Design in 3D and 2D Plan View – simultaneously
Use the automated building tools to assist you in your design process. The tools have commonly accepted defaults for most building practices.
Create Accurately Scaled Floor Plans
Choose from over 4,000 built-in Library Items
Here are a few pictures to show how the program looks. You can see the amount of detail the program allows you to input to get a realistic visual of your finished project. Also notice the different elevation views.
Home Designer by Chief Architect